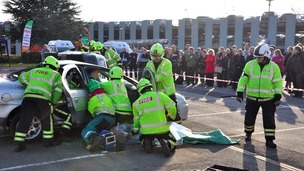 Firefighters in Wiltshire have been raising awareness about road safety.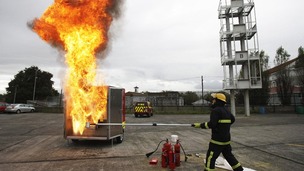 People are being warned of the dangers of chip pan fires as the nation celebrates its favourite food.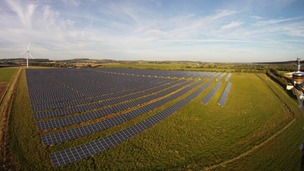 Local residents have successfully taken over a solar farm - making it the largest community owned solar farm in the world.
Live updates
Teenagers die in Wilts crash
Three men in serious condition after A419 crash
Three men injured in a crash on the A419 near Swindon which killed two young women are in a serious but stable condition in hospital, police have said.
Wiltshire Police has thanked the public for heeding their warnings not to try and leave flowers at the accident site for fear of causing further accdients.
The family of Shaya Rae Leigh who was eighteen were taken by specialist family liasion officer to the site to lay flowers. Her seveteen-year-old friend Kerrylee O'Leary-Staniford also lost her life in the crash.
Teenagers die in Wilts crash
Family visits scene of crash
The family of Shaya Leigh who was killed when a car came off the road in Swindon have visited the spot where the accident happened.
At 2pm the family of Shaya Leigh, one of the two young women who died in the A419 crash in Swindon yesterday, was taken by Wiltshire Police officers from Gablecross police station to the scene of the tragedy. The inside northbound lane of the A419 was coned off so that Shaya's family, including her mother, could lay their floral tributes at the spot where the car plunged down the embankment"
– Inspector Paul Longden - Wiltshire Police
Advertisement
Teenagers die in Wilts crash
Police: No flowers for friends
Friends and relatives of the two women who were killed when their car left the road in Swindon have been warned by police to avoid leaving flowers at the crash scene for their own safety. The car came off the road Saturday morning.
We have had one or two people pulling up at the scene to pay their respects,

This stretch of road is a clearway with traffic travelling at speeds of up to 70mph.

Anyone who attempts to stop, no matter how briefly, could be putting themselves and others at risk of serious injury."
– Wiltshire Police
Teenagers die in Wilts crash
Police name victims of crash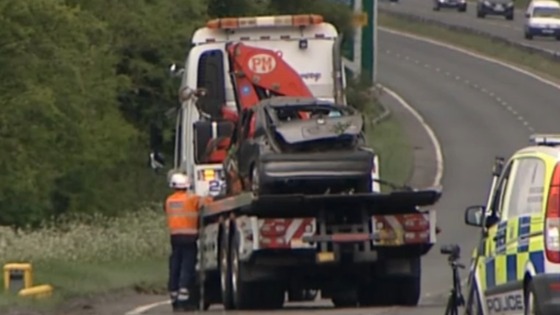 Police have named the two teenage girls killed in Saturday morning's crash in Swindon. The 18 year old driver - Shaya Rae Leigh was pronounced dead at the scene and the front female passenger Kerry Staniford who was aged 17 died in hospital.
Teenagers die in Wilts crash
Two young women have died after a car came off the road in Swindon. Three others are seriously injured in hospital. The Renault Clio car left the road on the A419 and the vehicle was discovered by officers twenty metres from the road in undergrowth just after five o'clock this morning.
There were five occupants - three young men and two young women - all from the Swindon area and aged 19 or 20. The 19-year-old female driver was pronounced dead at the scene. A second female was later pronounced dead at the Great Western Hospital in Swindon.
Two of the male passengers are described as being "very poorly" at Frenchay Hospital in Bristol. A third male is being treated for his injuries at GWH.
Friday's travel news
TRAVEL: Wiltshire - M4 lane closures
An accident on the M4 westbound in Wiltshire has led to the closure of two lanes between junction 16 A3102/B4005 (Swindon West) and junction 17 A350/A429/B4122 (Chippenham). Traffic is queueing.
Advertisement
7 sentenced for drug dealing
Wiltshire police thank public for tackling drug abuse
This is the first time Wiltshire Police has taken out an entire organised crime group - from the street dealers to those at the top.

Most of the initial evidence on criminal activity in our communities comes via the local NPTs who are familiar, trusted faces in our towns and villages.

I would also like to thank the local community for the role they play in helping us reduce crime – community based intelligence is crucial in both detecting and solving crime.
– Wiltshire Police Superintendent Gavin Williams
Afghan tour for 4 Rifles
Deployment to Afghanistan for '4 Rifles'
Servicemen and women from Fourth Battalion the Rifles in Wiltshire, said goodbye to their loved ones just two weeks ago, and deployed to Afghanistan for a six month tour.
British forces are scheduled to withdraw next year, so the troops focus is now on supporting and training the Afghans. Sally Lockwood reports.
Former newspaper owner rape trial begins
A jury at the Old Bailey has been sworn in in the case of former newspaper owner Eddy Shah who is accused of rape.
Shah, 69, of Chippenham, Wiltshire, denies raping a girl under 16 during the 1990s.
Shah and a man and woman are accused of sex offences against the girl between the ages of 12 and 15.
Anthony Pallant, 53, of West Malling, Kent, denies rape and indecent assault. Susan Davies, 53, of Swanley, Kent, denies indecent assault, aiding and abetting rape and child cruelty.
Shah, who is charged under his birth name of Selim Shah, founded the now-defunct Today newspaper in 1986.
Measles Vaccination Catch-up
In response to the outbreak of Measles in Wales, NHS England has unveiled its plans to vaccinate in the ITV Meridian region. GPs in Dorset, Hampshire, Wiltshire and on the Isle of Wight will offer the MMR jab to 10 to 16 year olds who haven't previously had it.
Load more updates
Back to top