We are appealing for help to find Harry Went.
Family and friends are concerned about the welfare of the missing teenager, aged 16.
Harry left a family meal at a restaurant in High Street, Winchester around 4.30pm yesterday, Sunday March 15 and hasn't been seen or heard from since.
Harry is described as white, 5ft 10ins, slim build, auburn hair and blue eyes. He was last seen wearing a thin cotton long sleeve top which is grey / pale blue in colour, grey slim fit jeans and grey/blue coloured Nike cotton trainers. He is carrying a HEAD rucksack which is blue in colour.
Anyone with information is asked to contact PC Cass at North Walls police station on 101.
"Harry, if you are reading this, please get in touch with us. You're not in trouble. We're concerned for you and want to talk to you to make sure you're ok. If anyone else has spotted Harry, particularly in the Winchester or Andover area, or knows where he is, please let us know."
– PC Annelisa Cass
The works of Japanese printmaker, Utagawa Hiroshige, will go on show in Winchester next month,
Hiroshige's master series, Fifty-three stations of the T?kaid? Road, which was first published in 1833, is a depiction of the journey between Kyoto and Edo, the former name of Tokyo.
Known to have been an influence on other artists such as Monet and van Gogh, the series showcases Hiroshige's typical strong outlines, unusual compositions and flat expanses of bold colour.
The touring exhibition 'Hiroshige's Japan', on loan from the Ashmolean Museum at the University of Oxford, will visit The Gallery at Winchester Discovery Centre between March 7 and May 24. The exhibition is free.
Advertisement
The family of a Winchester man murdered in India have launched an appeal - to find his killers. Andrew Rodick's body was found wrapped in a carpet and dumped in a street in Delhi last April.
His family say they want to raise money for a reward to kickstart the police search for the killers of Andrew who was 39 years old. And some of the proceeds would go to help his three children now aged seven and twins aged ten.
Winchester City Council suffers blow in its plans to transform Winchester city centre, as High Court judge upholds challenge by councillor.
Read the full story ›
Asana Greenstreet @AsanaITV
An earthquake in an area of Hampshire, which had a magnitude of 2.9, was of "high intensity" according to geologists because of its proximity to the surface.
People reported feeling the shockwaves as far away as Newbury and Bournemouth, but the epicentre of the quake was at Winnall near Winchester.
Residents reported hearing a large bang and thought a plane had crashed.
Asana Greenstreet has been speaking to people who felt the earth move:
CCTV cameras have captured the moment an earthquake hit Winchester. The cameras are installed at an industrial estate near the epicentre.
Advertisement
A 2.9 magnitude earthquake shook houses and sent scared residents running into the street. Figures show quakes are on the rise.
Read the full story ›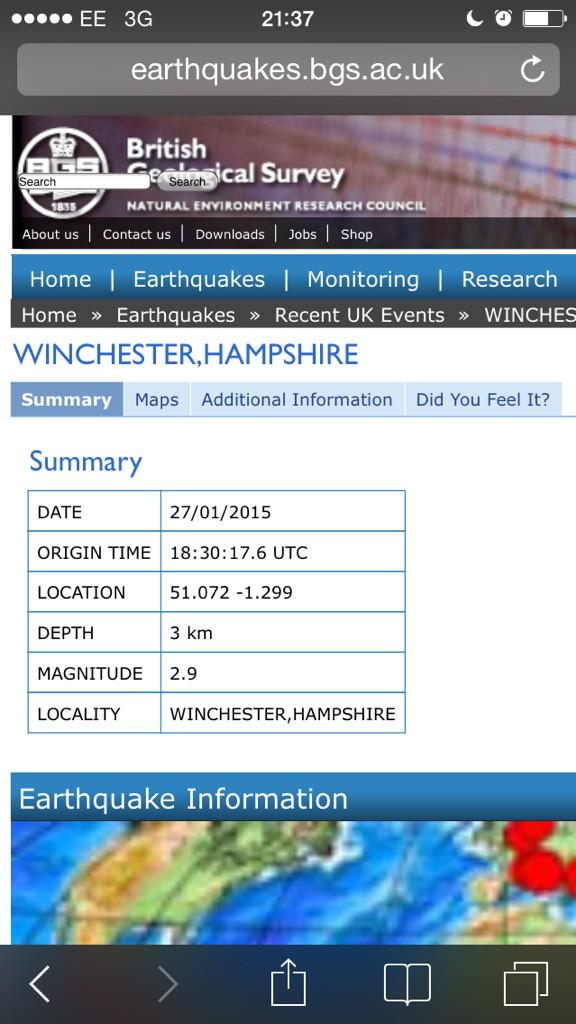 More information on the earthquake can be found on the official British Geological Survey site here
ITV journalist Kim Hewitt has just sent us this video clip to explain what the Winchester earth tremor felt like where she lives in the city.
Load more updates