Asana Greenstreet @AsanaITV
An earthquake in an area of Hampshire, which had a magnitude of 2.9, was of "high intensity" according to geologists because of its proximity to the surface.
People reported feeling the shockwaves as far away as Newbury and Bournemouth, but the epicentre of the quake was at Winnall near Winchester.
Residents reported hearing a large bang and thought a plane had crashed.
Asana Greenstreet has been speaking to people who felt the earth move:
CCTV cameras have captured the moment an earthquake hit Winchester. The cameras are installed at an industrial estate near the epicentre.
Advertisement
A 2.9 magnitude earthquake shook houses and sent scared residents running into the street. Figures show quakes are on the rise.
Read the full story ›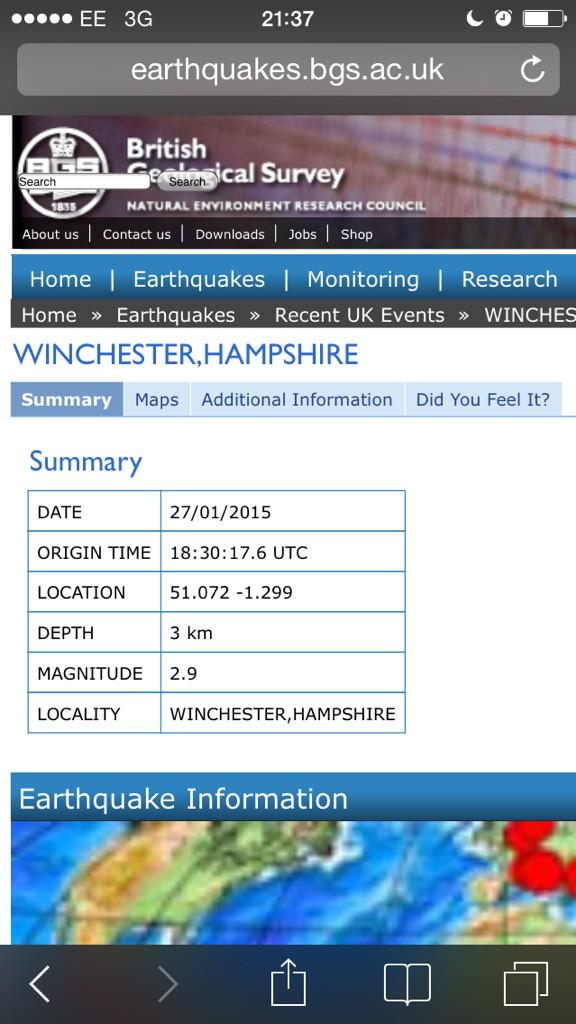 More information on the earthquake can be found on the official British Geological Survey site here
ITV journalist Kim Hewitt has just sent us this video clip to explain what the Winchester earth tremor felt like where she lives in the city.
Advertisement
British Geographical Survey site shows earth tremor spike around 6.30pm this evening.
Earthquake in Winchester. The whole room flexed for about 3 seconds. My first quake!
At the risk of sounding a bit dramatic, did Winchester just have a tiny tiny earthquake?
Preliminary 2.8 earthquake near Winchester in Hampshire, many felt reports from Winchester on Twitter.
Load more updates