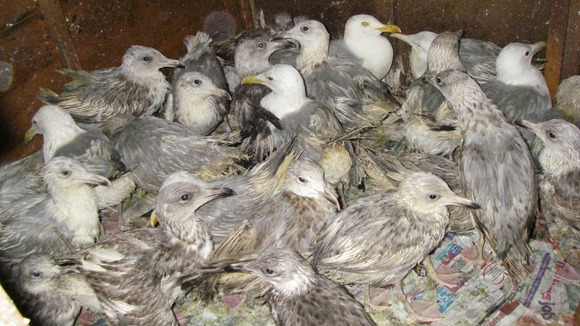 Members of a gull rescue group have been found guilty of neglect and causing suffering to 47 gulls kept in overcrowded conditions and untreated for injuries. Tim McKenzie, 55, of Vicarage Road, Hastings and Jean Tyler, 66, of Pebsham Lane, Bexhill-on-Sea, were banned from keeping birds for 10 years.
Magistrates at Hastings also ordered them to pay costs of £2,000. The RSPCA received complaints about the welfare of the gulls which were being kept by the 'National Gull Rescue and Protection group' in a back garden in Bexhill. Vets concluded that the birds had been suffering for up to 2 months.
RSPCA inspector Tony Pritchard said: "The defendants believed that they were rehabilitating the gulls and that they would all have recovered had they kept them.
"The vet evidence did not support this version of events and many birds were clearly left to suffer."