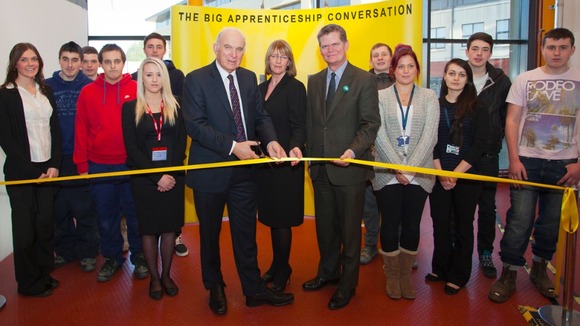 Business Secretary Vince Cable has visited Sussex Downs College in Eastbourne to launch a new campaign aiming to help young people into work.
The Secretary of State for Business, Innovation and Skills was accompanied by MP for Eastbourne Stephen Lloyd to officially launch The Big Conversation - which aims to encourage employers in the town to create new apprenticeship vacancies.
The College, in partnership with the Eastbourne Chamber and other local organisations, is spearheading the initiative, which has been devised to help create meaningful employment opportunities for youngpeople and adults, and respond to the needs of local businesses in a difficult economic climate.
The Big Conversation will also demonstrate how the structure of an apprenticeship provides the ideal start for someone seeking their first step into employment or retraining in a new role.