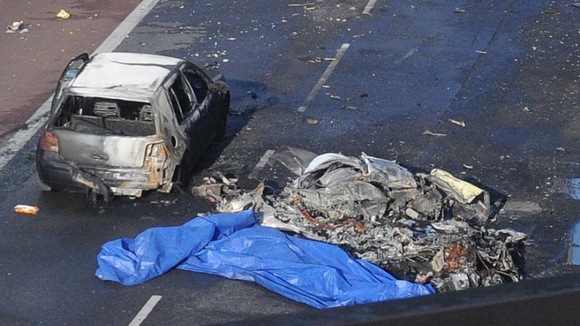 The pilot who died in a helicopter crash in central London had been diverted because of bad weather before his aircraft clipped a crane and then plunged to the ground, an inquest was told today.
Pete Barnes, 50, from Reading, died from multiple injuries after the helicopter he was flying hit a high-rise crane on The Tower at St George Wharf, Vauxhall, and crashed into Wandsworth Road.
Mr Barnes, a father of two, had been flying from Redhill Aerodrome in Surrey to Elstree in Hertfordshire but was diverted to Battersea heliport due to the bad weather, Southwark Coroner's Court heard.
He was flying a twin-engine AgustaWestland 109 helicopter.
Police, the fire brigade and the HEMS air ambulance all attended the scene and Mr Barnes was pronounced dead by the HEMS doctor, London Inner South Coroner Andrew Harris heard.
Dr Harris said he would review the case in three months and did not set a date for a future hearing.