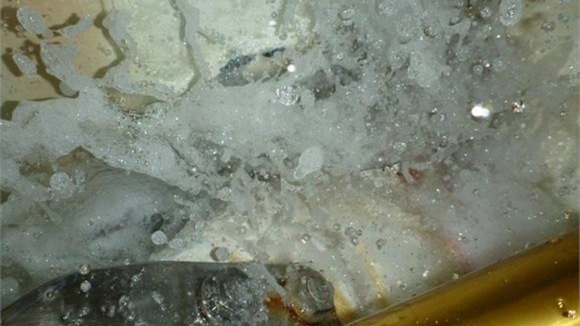 Mike Golding, skipper of Gamesa in the Vendee global yacht race, has called in to his Southampton crew following problems with his keel pivot fairing.
"The solution we have come up with is holding," he said. "I can't afford to stop and my focus is to keep the boat moving towards the finish.
"The situation has improved slightly as a result of the rope we wrapped around the bearing plate to stem the flow, and at the moment the level and pressure of the water is being controlled. I'm keeping a close eye on it.
"There are other things that I could do but that involves stopping, and I'm in a race to Les Sables d'Olonne, fighting for fifth and stopping is not an option I want to consider right now."
The skipper sent through the picture above in the keel box lid, with the bow of Gamesa at the top of the image.