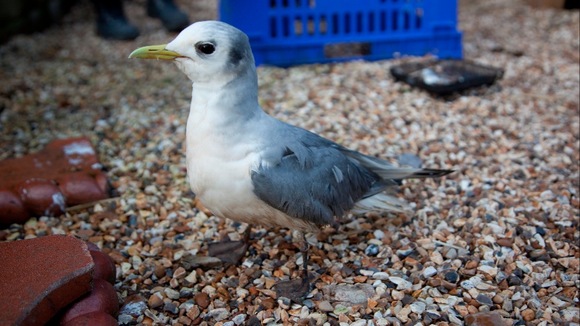 Hundreds of seabirds have died after being covered in a "refined mineral-based oil mixture", with many of them found along the Sussex coast, the Environment Agency has said.
Almost 200 birds - mostly guillemots - are being treated at RSPCA centres along the southern coast after they were washed ashore covered in the white, sticky substance.
There was earlier speculation the mystery substance may have been palm oil, but scientists working to identify it have since reported that it is a refined mineral oil.
Staff took samples from the affected water in an effort to establish the cause of the pollution.
A spokesman for the Environment Agency said: "The results show that it is a refined mineral-based oil mixture, but not from an animal or vegetable-based oil, which rules out palm oil."
RSPCA deputy chief inspector John Pollock, who has been leading the rescue mission in Dorset, earlier described the substance as "white, odourless and globular".
He added: "It is like a silicone sealer. The best way I can think to describe it is 'sticky Vaseline'."
Staff at the RSPCA West Hatch centre near Taunton, Somerset, have been treating the birds using margarine and washing up liquid to clean the substance from their feathers.
Peter Venn, manager at West Hatch, said: "What we are hearing are reports of birds showing up on the Sussex coast, so that may mean that the weather is pushing them more easterly.
"This certainly adds up from the basis that we were getting birds earlier in the week from Cornwall, Devon, then up through Dorset and have had birds from Hampshire today, so everything is certainly not over by any means."