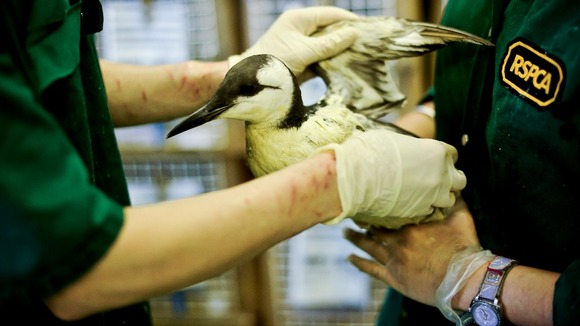 Sea birds rescued after they were contaminated with a colourless synthetic rubber are to be released back into the wild.
More than 300 birds, mainly guillemots but some razorbills, were taken into care by the RSPCA after being contaminated with Polyisobutylene (PIB) or butyl rubber.
They were rescued along the south coast shores at the end of January and were being cared for at the RSPCA's West Hatchwildlife centre in Taunton, Somerset, and Mallydams Wood in Hastings, East Sussex.
Peter Venn, manager at West Hatch, said: "Our staff have done a fantastic job in cleaning and caring for these birds and now some of them are strong and fit enough to be released back to the wild where they belong.
"They arrived in quite a weak state and needed quite a bit of care and attention to get them rehydrated, fed and strong again before we could wash the sticky substance off them."
Today, the birds will be taken to a cliff-top in the Portland area of Dorset and then released.