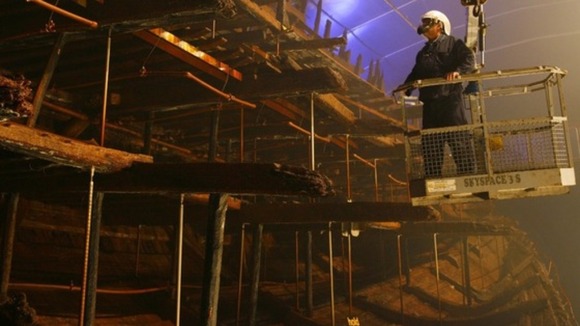 Four weeks from the official opening of the new £27 million Mary Rose Museum, staff at Portsmouth Historic Dockyard have announced that spray jets have been turned off for the first time.
For almost three decades since being raised from the Solent, Henry VIII's 500-year-old flagship has been continuously sprayed, first with chilled fresh water to remove salt and then with Polyethlene Glycol (PEG), a water soluble wax which prevents shrinkage of the timbers.
Switching the jets off today marks a "new historic milestone" in the conservation of the ship, which was submerged for more than 400 years.
The Tudor warship will now enter an air drying phase, where over 100 tons of water will be extracted from the hull over the next four to five years.
With a pioneering design, the new museum will encircle a "hot box" chamber that houses the hull of the ship as the drying out process takes place.
The Mary Rose will be the only sixteenth century warship on display anywhere in the world.