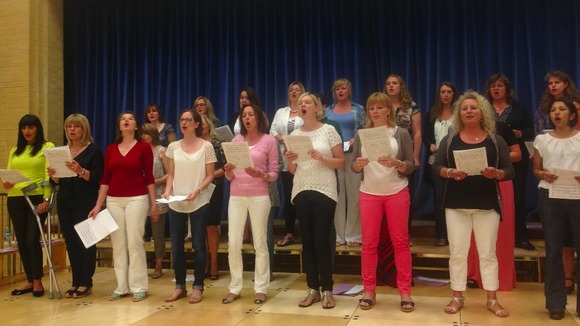 A group of mums from a Maidstone school have turned the tables on their children by forming their own choir. The women, who call themselves "Mumma Mia", are based at Sutton Valence Preparatory School.
Choir founder Sarah Geering says she's surprised at how quickly the choir, and its popularity, has grown. It all started with children being rather embarrassed at the thought of their 'tone deaf Mums' actually trying to sing. But then the choir went from strength to strength.
"What emerged was a feet tapping, arm swaying choir and some rather surprised kids. The majority of the "Mumma Mia" members claim they can't sing and originally came along for bit of fun but soon found choir practice to be the highlight of their week. Many say it's improved their self confidence."
Since then, the choir's gone from strength to strength and the group's been playing to packed audiences. Inspired by two of their members, who are recovering from breast cancer, Mumma Mia is now raising money for Breast Cancer Care with a special show on the first of July at the school at 7pm.