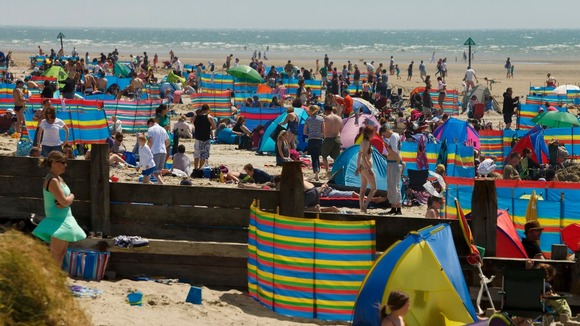 Officials sent out health warnings for the South East today as Britain continued to swelter in the country's first heatwave for seven years.
After five consecutive days basking in 30C plus temperatures, the Met Office issued a "level three heat health watch" for the region.
Level three warnings are only one notch below the most serious alerts and are put out when high temperatures place the very young, the very old and those with chronic diseases at risk.
Forecasters said today could again break the record for the warmest day of the year, with temperatures expected to creep up as high as 32C (89.7F) in parts of England.
Gemma Plumb, forecaster with MeteoGroup, said: "There is no proper definition of 'heatwave' in the UK - but we are undoubtedly in the midst of one now.
"It is the longest period of hot weather since 2006, with prolonged temperatures above the average for the time of year."
Sun-worshippers can expect to enjoy balmy Britain for a while yet.
Miss Plumb added: "At the moment it looks as though the warm weather is going to stay well into next week at least."