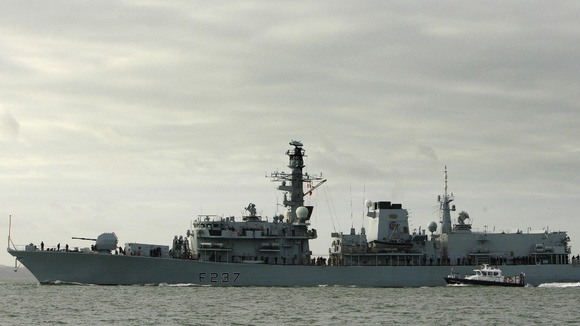 The type 23 frigate HMS Westminster will dock in Gibraltar as part of the exercise, while other ships in the task group expected to visit Spanish ports.
The vessels, which include helicopter carrier HMS Illustrious, will be taking part in what defence officials stressed was a long-scheduled deployment codenamed Cougar '13 in the Mediterranean and the Gulf.
The vessels set sail from Portsmouth as a diplomatic spat continued between the UK and Spain, triggered by the creation of an artificial reef by the Gibraltarian authorities which the Spanish claim will destroy fishing in the area.
Spanish defence minister, Pedro Morenes, has meanwhile said that it is "totally normal" for British warships to dock in Gibraltar in what is a "routine visit", according to reports.
Mr Morenes reportedly told the Europa Press news agency: "Neither the British nor the Spanish government have an interest in there being bad relations."
He also said that aircraft carrier HMS Illustrious had requested and been granted permission to stop off at the southern Spanish naval base of Rota on August 18, proving that there was no military escalation between the two countries