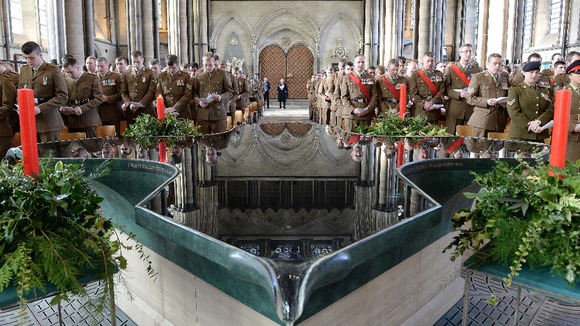 The 1st Mechanized Brigade has held a Thanksgiving & Memorial Service at Salisbury Cathedral in Wiltshire to mark the troops' return from a tour in Afghanistan.
The Brigade Commander Brigadier Rupert Jones MBE said: "With the focus of the Brigade being Tidworth and Bulford it is a great privilege for us to be hosted in Salisbury today.
"I think it is very important at the end of a tour that you do commemorate your fallen and sadly we had others back here in Britain who died, it is important to remember them and also pause and remember the Afghans who died during the tour as well.
"This summer the Afghans took the lead for the first time, it was a genuinely decisive moment where they had to stand up and they did that very, very, effectively and exceeded everyone's expectations, not least their own.
"Now the Brigade turns its attention to the next challenge with the Army restructuring.
"The Brigade will take its rotation on to readiness in due course as we re-role into an Armoured Infantry Brigade in 2014 and that is where our focus is."