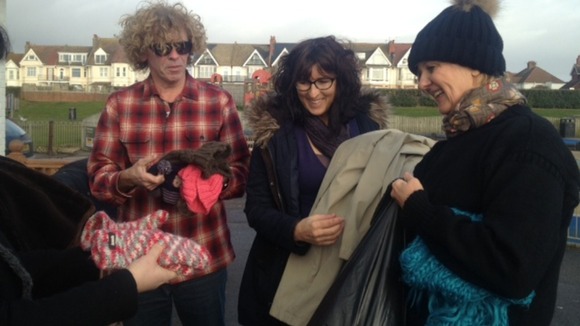 Neighbours Jenny Barrett and Gaynor Williams have launched a pop-up campaign to help the homeless this Christmas. The two women from Hove have been asking Sussex residents to dig out their unused winter coats and jackets to help keep people living on the streets a little bit warmer this winter.
The super-quick campaign called Share the Warmth (Brighton and Hove Coat Collection) aims to capture Christmas goodwill for the cause and already has the support of the Big Beach Cafe and other local business people.
Gaynor, a freelance marketing consultant, said: 'We decided we'd need to get cracking as soon as possible and we've contacted as many people as we can. We've had lots of support already. Now we need people to look in their wardrobes and donate as many coats as they can.'
Coats, jackets and warm clothing can be dropped off at collections points in Brighton and Hove: Portslade Learning Centre, Big Beach Cafe, Drury Cafe, Tree of Life Centre, Walk in Wardrobe, Gelato Gusto, Honeycomb Cakes, Eaton Place Surgery and Langtons Hair and Beauty.
There will also be a collection at Brighton Railway Station on 19 December and at the Amex Stadium on 21 December.