Marcel and Richard are among many sailors who will be away over Christmas on a Royal Navy deployment.
The Royal Navy Type 45 destroyer HMS Daring is on a nine-month global deployment.
The sailors from Southampton and Fareham will be missing their families this year.
Marcel usually spends Christmas Day with his family in Southampton and this year will be flying his wife and newborn son to meet the ship in Singapore.
Marcel's Christmas message to his family is: "I miss you all very much andmy thoughts are with you always. HMS Daring's ship's company are like anotherfamily to me and they are looking after me very well. _
"Don't forget to play silly games – the clue is 'It's a Christmas message, three words, first second and third words are all one syllable'. I love you!"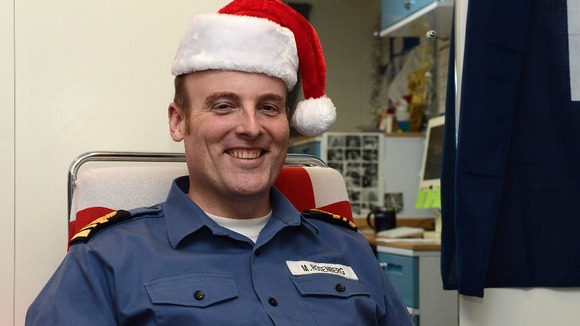 Usually Christmas is a big family occasion for the Carter family. "I always spend Christmas with my wife, kids, family and friends from church. Then we'll go to church, get home and finish the cooking before socialising with friends and family."
Richard's Christmas message to his family is:_"To my girls – Daddy will be home soon so continue to be good for Mummy and I'll be bringing all your presents with me when I get back. To my wife Nicole – thank-you for selflessly holding down the fort every time I had to be away. _
" love you so very much and will be home as soon as I can."