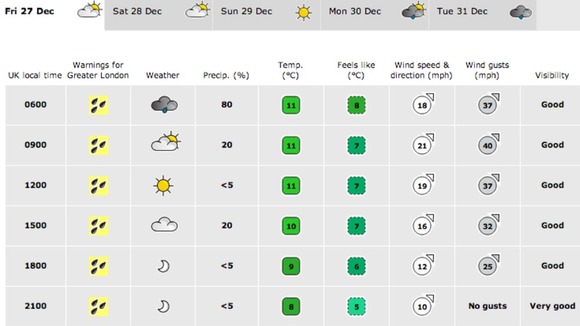 Today:Rain will clear during the morning to leave a windy afternoon of sunshine and the odd showers. Many places will stay dry and any showers that come along will move through quickly. Feeling chilly in the wind. Maximum temperature 12 deg C (54 deg F).
Tonight:Most places will have a dry night with clear periods. Winds will ease during the night and it will become quite cold with a frost forming on the ground. Minimum temperature 2 deg C (36 deg F).
Saturday:After a chilly start many places will be fine with some sunshine. A few showers may affect southern coasts. With lighter winds it should feel pleasant in the sunshine. Maximum temperature 8 deg C (46 deg F).
Outlook for Sunday to Tuesday:A dry day Sunday with some sunshine. Overnight wind and rain will clear after midday Monday to leave a dry afternoon. More wind and rain arrives during Tuesday.