A Rottweiler dog has been rescued from mud at Langstone Harbour by the Hayling Island and Portsmouth Coastguard Rescue Teams. The eight-year-old dog, Buddy, had become stuck up to his chest in mud whilst enjoying an afternoon stroll with his owner.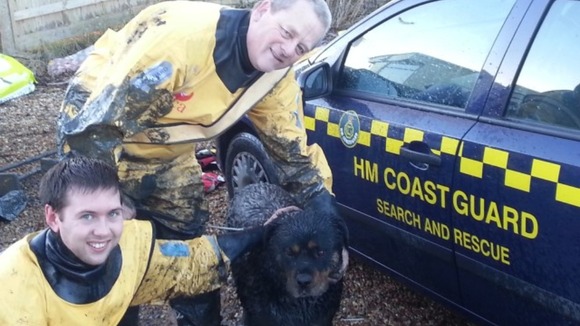 Steve Duff, Portsmouth Coastguard Sector Manager says:
"If you're out walking with your dog near cliffs or areas that you suspect might be dangerous, it's advisable to keep your dog on a lead.
"However, if your pet takes an unexpected deviation and gets into difficulty at the coast, please do not attempt to rescue it yourself but call 999 immediately and ask for the Coastguard. We have specialised equipment to ensure that your dog can be rescued safely without endangering you."