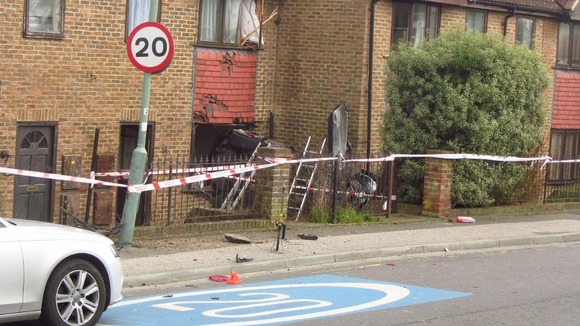 An investigation is under way after a car crashed into a house in Sussex.
The crash happened at about 1.15pm when the Audi TT left the road in Valley Road, Portlsade, and hit the wall of a house.
Three men got of out the car and ran away, and Sussex police officers have been searching for them.
A fourth man was trapped in the car and after being released was arrested on suspicion of vehicle theft and was taken to the Royal Sussex County Hospital at Brighton for precautionary medical examination.
Sussex Police says it is not yet clear if there was anyone in the house at the time but there are no reports of any injuries.
The car, which is suspected to have been stolen, had been seen by patrolling police officers a short while earlier, and officers were searching the area for it when it crashed.
The precise circumstances of that search are being looked into and the matter has been referred to the Independent Police Complaints Commission.