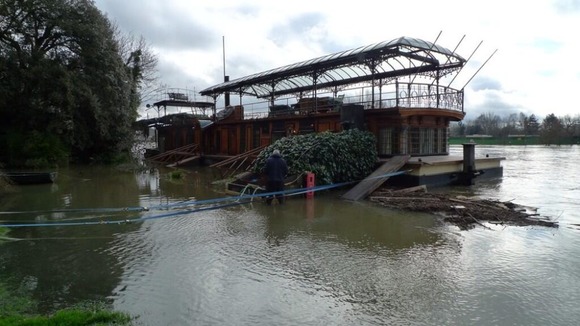 A historic houseboat which has been turned into a studio used by Pink Floyd to record songs had to be lashed to a tree to prevent it from floating away.
The century-old Astoria has been owned by the group's guitarist David Gilmour for 28 years and has also been used for his solo material as well as mixing a number of releases.
The Floyd frontman's wife Polly Samson posted a picture of the houseboat online with webbing straps stretched across a flooded riverbank to hold it in position on the deluged River Thames.
She wrote on Twitter: "They've tied Astoria to a tree to stop her from floating away."
The boat is moored at Hampton, Surrey and owned by the East Sussex based guitarist.
It has been used to record sections of Pink Floyd albums A Momentary Lapse Of Reason and The Division Bell.