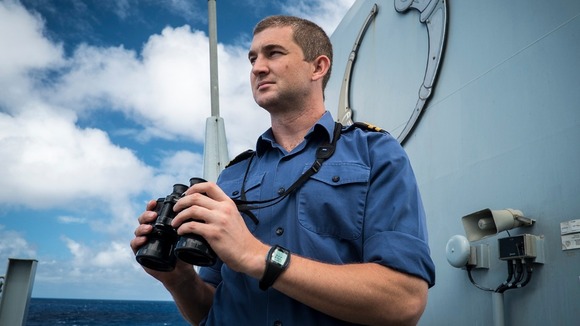 Lieutenant Andy Thomas from Fareham is on board HMS Echo, helping to find the missing Malaysian plane in the Indian Ocean.
The plane went missing over a month ago but black box 'pings' have been detected, which could be from the airliner.
HMS Echo was diverted from her patrols to go and help with the search.
Andy, who is an engineering officer, has made sure him and his team got the ship to the Indian Ocean in quick time and made sure all equipment was ready.
He said, "My engineers worked incredibly hard to ensure the main engines and electrical propulsion drives have been running at full power, in order to reach the search area in the shortest possible time.
"At the same time, we checked and maintained the survey equipment held on board to allow us the best possible chance to find the aircraft flight data recorder.
"Despite the sombre nature of our task I feel privileged to be granted the opportunity to assist in hopefully bringing some closure to the families and loved ones of those involved."