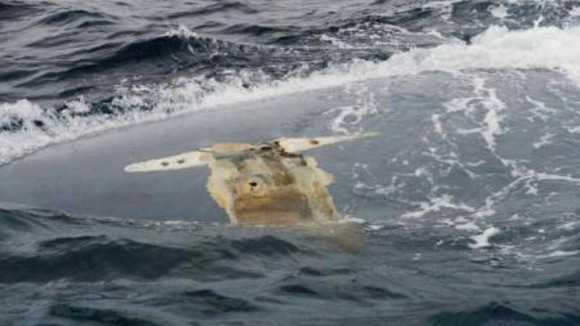 The surface rescue swimmer also knocked on the hull and reached below the waterline, but with no results. Navy crews saw that the Cheeki Rafiki's keel was broken off, causing a breach in the hull.
Official British efforts to find the missing men have now also been cancelled.
A spokesman for the Foreign Office said: "The UK C130 was due to search for one more day for the life raft of the Cheeki Rafiki.
"In light of the US Coast Guard's decision to suspend their search for the crew following photographic confirmation that the life raft is in the hull of the boat, the C130 will now return to the UK."
Foreign Office Minister Hugh Robertson said: "I am sad to confirm that the search for the Cheeki Rafiki has now been suspended. My sincere condolences go out to the families of James Male, Andrew Bridge, Steve Warren and Paul Goslin at this very difficult and distressing time.
"The UK Government is grateful to the US Coast Guard and the Canadian search and rescue services for their efforts to locate the men. Their dedication has been unwavering, and they have done everything they could during the course of the search."
A Foreign Office statement on behalf of Mr Warren's family said: "We are very sad that the US has now suspended the search for Stephen and his friends.
Captain Anthony Popiel, 1st US Coast Guard District chief of response, said: "It is with sincere compassion for the families of these four men that our thoughts and prayers are with them all during this difficult time.
"The US Coast Guard is always hopeful, and makes the utmost efforts to find and rescue those in peril. We have the greatest appreciation for the US Navy and US Air Force for working with us alongside the militaries of Canada and the United Kingdom during this massive search effort.
"It is only after our deepest consideration that we suspend our active search efforts."