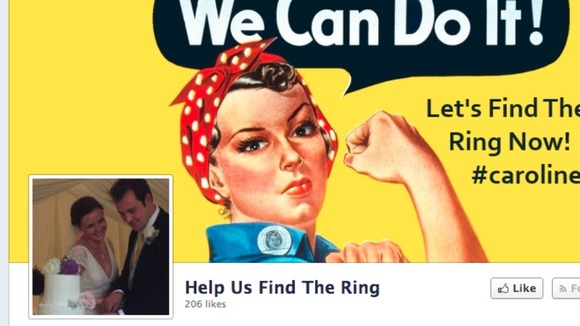 A bride has been left "heartbroken" after her hand-made engagement ring was stolen - on her wedding day. A cold-hearted thief is believed to have swiped a black handbag containing the sapphire and diamond-encrusted platinum band.
It was stolen from a secluded village church in Sussex as Caroline Marshall, 32, and James Granshaw, 29, said their vows. They are desperately trying to track down the £6,000 ring, which they say has "priceless" sentimental value as it was hand-designed by her husband an ethical London jewellers.
After getting engaged on the snowy ski slopes in Switzerland in 2012, the couple and their family and friends gathered at the parish church of St Peter ad Vincula in Wisborough Green, West Sussex last Saturday for the nuptials.
But moments before the ceremony, Caroline, who works in compliance for an investment firm in the City of London, realised she still had her engagement ring on. She slipped it off her finger and gave it to her best friend and bridesmaid, who put it in her black LK Bennett handbag for safekeeping.
After the service they realised the ring was missing and called the police. The couple fear the thief intends to sell their prize possession to one of the dozens of famous jewellery shops in the Lanes in Brighton, and they are urging anyone who has any information about the ring to get in touch.
A Facebook page called 'Help us find the ring' has been set up to help the search and has received almost 200 likes, and friends and family are using the twitter hashtag carolinesring.