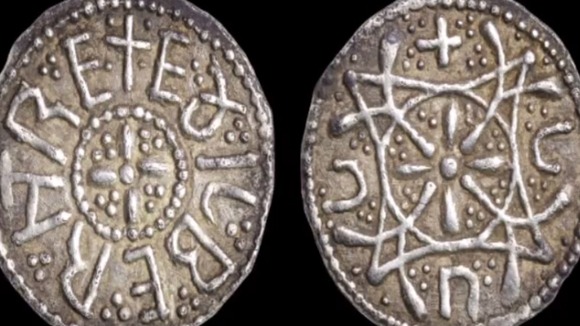 An Anglo Saxon coin found by a man from Sussex - the only one of its kind to be discovered, is expected to fetch between £15,000 and £20,000 at auction later. The 1,200-year-old silver penny, was found by pest controller Darrin Simpson, from Eastbourne.
He was sheltering from a hailstorm in a Sussex field in March when he picked up a signal on his metal detector and dug down six to eight inches, finding the coin, a spokesman for the auctioneer said.
Mr Simpson said he was expecting it to be a Second World War era .303 bullet case but was happy to discover the coin. It was not until he contacted the Early Medieval Corpus of Coin Finds at the Fitzwilliam Museum in Cambridge that he realised the full importance of his discovery.
The coin is only the fourth ever found from the reign of Aethelberht II, a shadowy figure who ruled East Anglia in the late eighth-century.