With severe weather conditions affecting the region, emergency measures were taken by Kent Police. Phase Two of Operation Stack was put in place on the M20 southbound. It meant parts of the motorway were used to queue lorries to avoid causing gridlock across the county's road network. Operation Stack has now been lifted.
Passengers in the South East are being encouraged to check before they travel tomorrow morning following high winds and heavy rain forecast overnight.
With wind speeds in coastal areas expected to rise above 60mph in the early hours of the morning, Network Rail will be running empty trains through the night to check that routes are clear. Chainsaw teams will be on-call to deal with any obstructions, and some early morning trains in coastal areas of Kent and Sussex may be required to run at a reduced speed for part of their journeys.
Some late night trains in parts of the South West Trains network will run at reduced speed tonight, taking longer to complete their journeys.
"We are expecting winds to be at their highest in coastal areas of Kent, Sussex and Hampshire and in the far west of the South West Trains network - between Weymouth and Southampton, and Exeter to Salisbury. Our teams will be working through the night to keep lines clear but we would advise people to check before they travel tomorrow morning with their operator or with National Rail Enquiries."
– A Network Rail spokesman
Advertisement
Portsmouth's Spinnaker Tower was struck by a bolt of lightning during last night's storm.
Viewers managed to capture the dramatic moment where Mother Nature showed her power.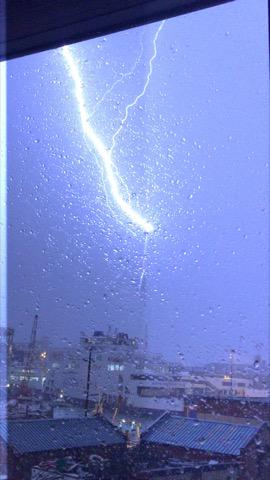 West Sussex is bracing itself for high winds and heavy rain tonight.
The Met Office is predicting winds of up to 65mph inland and up to 75mph on the coast, with rainfall of up to 40mm expected.
Localised flooding could occur and structural damage and damage to trees may be caused by the winds.
The worst of the weather is expected between 2am and 5am on Thursday morning so motorists travelling before sunrise are being warned to be extra vigilant.
Homeowners are encouraged to secure any garden furniture tonight before the winds arrive.
Any impact on West Sussex schools will be publicised on West Sussex County Council's website at www.westsussex.gov.uk from first thing Thursday morning.
Commuters using the trains are asked to keep an eye on their service's website and twitter feeds for the latest information.
Any impacts on flights to and from Gatwick Airport will be reported on its websitewww.gatwickairport.com
Detectives investigating a robbery in Bournemouth are appealing for witnesses and anyone with information to come forward – with a reward being offered.
The incident took place between 10am and 10.15am on Monday 15 December 2014 in Summers Avenue in the Kinson area of the town.
The victim, an 84-year-old local man, had just been to Lloyds on Wimborne Road and withdrawn a substantial amount of money.
He was walking along Summers Avenue with his walking aid when he heard someone shout at him before being pushed on the left shoulder and arm, causing him to lose his balance.
The offender then took the money, which had been placed in the walking aid, and ran back down Summers Avenue into a field which runs adjacent to Wimborne Road and Summers Avenue. He was last seen to go into an alleyway which adjoins Wakely Road.
The offender is described as a white man, aged in his late twenties or early thirties, of medium build and around five feet eight inches tall. He has short dark hair and was wearing a red hooded jumper or coat and grey jogging bottoms.
"This was a heartless attack on a vulnerable victim who was robbed of his life savings. In order to ensure that this offender is brought to justice, the charity Crimestoppers has issued a £1,000 reward for any information leading to the charge and conviction of the offender. I would like to hear from anyone who saw somebody matching the description of the suspect in that area. I urge anyone with any information about who may have been responsible for this cowardly attack to call Crimestoppers anonymously on 0800 555111."
– Detective Constable Caroline Craft, of Bournemouth CID
A reward is only payable for information passed to Crimestoppers' 0800 555111 number or via the Anonymous Online Form where users opt in for two-way communication and request a reward code. Information passed to police will not qualify.
High winds have brought down a large eucalyptus tree within the lemur enclosure at Drusillas Park, East Sussex.
Zoo Manager, Sue Woodgate spotted the fallen foliage during her early morning checks. The tree had created the perfect pathway out and fearing that the lemurs may be at large the zoo's escape procedures were swiftly set in motion.
Luckily there was no need to worry; a quick check confirmed all the lemurs were accounted for; they were more interested in climbing over the branches and exploring the tree then investigating the wider world.
The Estate team carried out emergency maintenance to remove the debris.
Advertisement
Road users in the South and South East are being advised to check the weather forecast and road conditions before travelling today and tomorrow with many areas expecting very windy weather.
The Met Office has issued an amber weather warning, with strong South Westerly winds expected to develop during Wednesday afternoon bringing strong winds by late afternoon before spreading along the South coast reaching Kent later in the evening.
Gusts are expected to reach 55-65 mph inland in Dorset, Hampshire, Sussex, Kent and South Eastern parts of the M25.
Coastal routes, bridges and exposed routes over high ground could see gusts up to 75 mph and there will be a strong crosswind for East-West routes along the South coast, particularly affecting the A35, M27 and A27.
Bridges on the network, such as the Dartford Crossing on the M25 between Kent and Essex, may see restrictions while gusting winds pose a safety hazard.
Heavy rain overnight on Wednesday will further deteriorate driving conditions, with spray reducing visibility.
The wind will begin to ease with Kent seeing the strong winds ease latest.
Drivers of high-sided vehicles, towing caravans and those on motorbikes are advised to take extra care.
"High winds can affect any section of road, especially exposed roads and high bridges. Be alert for sudden gusts of wind, and give high-sided vehicles, caravans, and motorbikes plenty of space. We would urge road users to play their part by checking weather forecasts and traffic conditions before they set out and drive with extra care."
– Highways Agency, Emergency Planner, Rob Llewellyn
Load more updates