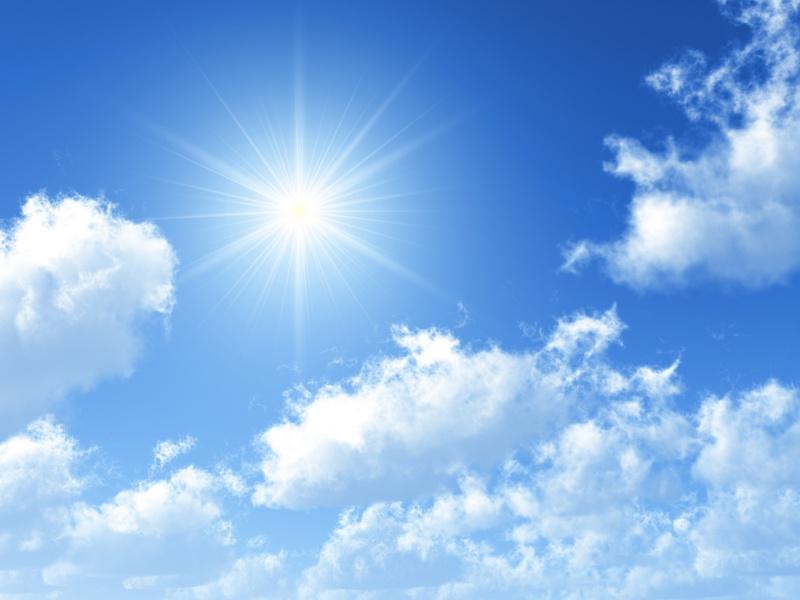 Advertisement
Animals at an Oxfordshire wildlife park have been given a treat to cool off in the heat.
Chris Kibbe, Primate Section Head at Cotswold Wildlife Park, said:
"With a heat wave forecast for this week, it seemed the perfect time to give our Meerkat clan some of their favourite summer treats – water melon and ice lollies.
"Alpha male Marley particularly enjoyed the water melon, and the whole group took the opportunity to cool off with some pear and melon flavoured iced treats."
Lorry drivers in Kent, thirsty in their cabs during Operation stack, risked their lives by running across a carriageway in search of water.
With the heatwave continuing tomorrow - and temperatures set to rise further - health experts say there is a serious side to the sun.
The Met Office has issued a Level Two Heatwave warning.
That means temperatures over the next 48 hours can pose a health risk for some people - especially the elderly and the very young.
But the sunshine is good news for the South's tourist trade.
And there's no doubt it's been a glorious day. As Richard Slee reports.
Advertisement
Energy companies have reported a surge in electricity usage - as homes and businesses crank up the fans and air conditioning to keep cool.
You'd expect the South's solar farms to be having a bumper few days.
But, despite there being 40 thousand panels at this solar farm near Chichester, the 30 degree weather is actually worse for energy efficiency.
Ben Thompson from Hunter's Race Solar Farm explains why.
It was the hottest day of the year so far - with temperatures in the Thames Valley reaching 29 point 8 degrees today at Heathrow - 86 in farenheight. Hotter than Hawaii, Corfu, Barbados and Rio de Janeiro.
The Met Office has issued a Level Two Heatwave warning.
That means temperatures over the next 48 hours can pose a health risk for some people - especially the elderly and the very young.
The hot weather is also affecting the railways.
There will be no fast trains from London Paddington to Henley on Thames - or Bourne End in Buckinghamshire - today or tomorrow from midday to 8pm.
Passengers will be forced to switch to the branch lines, which can cope with the heat better. It could cause disruption to the thousands travelling to the Henley Royal Regatta, which starts tomorrow.
Kate Bunkall's been finding out how the heat's affecting Henley - and the rest of the region
The British Red Cross has warned that many tips to stay cool in the sun have no scientific basis.
Rubbing ice cubes on the wrists, eating a spicy curry and drinking a hot cup of tea don't help beat the heat and can even make you feel more ill.
Instead, the charity recommends wearing wet t-shirt and avoiding alcohol and caffeine to cool down. Windows should only be opened during cooler parts of the day.
British Red Cross also warns that many people confuse heat exhaustion and heat stroke as the same thing. Heatstroke is a far more serious condition, that occurs when the body's temperature becomes dangerously high due to excessive heat exposure. The body can no longer cool itself down and sufferers will have stopped sweating, meaning the body becomes dangerously over-heated.
Heatstroke can develop with little warning and lead to unconsciousness within minutes so it is vital to cool the person down as quickly as possible by wrapping them in a wet sheet or any wet clothing and dialling 999.
Signs of heatstroke:
Dry skin
Vertigo
Confusion
Headache
Thirst
Muscle Cramps
Nausea
Rapid shallow breathing
Pets can't tell us when they're too hot or uncomfortable in their fur coats, so it's important for us to ensure they remain happy and healthy in the heat
– Vicki Larkham, PDSA Vet
Vet charity PDSA has given the following advice to make sure pets are kept safe during this week's heatwave, as well as warning signs that they may be in danger.
Watch out for overheating. The signs of heat stroke start with excessive panting and can progress to fatal collapse. Keep your nearest vet's phone number handy. If your pet does get too hot, wrap them in a cool damp towel, changing it regularly with a fresh damp one.
Never leave pets in cars, conservatories or caravans. Not even for just a few minutes. Heatstroke can be fatal.
Provide plenty of fresh, clean water. Pets need constant access to water. Check bowls or bottles at least once a day and provide plenty of refills.
Exercise in the morning or evening. Keep pets in the shade during the hottest part of the day too. Keep strenuous exercise to a minimum
Don't let your pet lie in direct sunlight for too long. Provide plenty of shade. Cages should be kept well away from windows.
Protect them with pet sunscreen. These are available from all good pet stores and can be used on pets with only a thin covering of hair or white fur.
Check your rabbit for flystrike. This is a serious maggot infestation that can be fatal. During the summer rabbits should be checked underneath at least twice a day for fly eggs and dirt. Make sure to keep their underneath clean by wiping with a clean damp cloth.
Trim your pet's fur. This helps prevent overheating.
Take extra care when travelling. Keep car windows open – but not wide enough for pets to get through. Make regular water stops.
Load more updates