Torrential downpours and thunderstorms have caused widespread disruption throughout Kent and Sussex.
Rail services have been halted, homes struck by lightning and there have been countless reports of flash floods.
The Met Office says that a month's rain has fallen in a few hours.
In Eastbourne a shopping centre was temporarily evacuated and all flights at the annual airshow were grounded. Watch Tom Savvides' report.
Advertisement
A photo has emerged, showing the striking moment a bolt of lightning appeared over Folkestone Harbour Arm.
The picture, taken by Freddie Lee Thompson, comes as many parts of Kent and the wider Meridian region have been hit by stormy weather.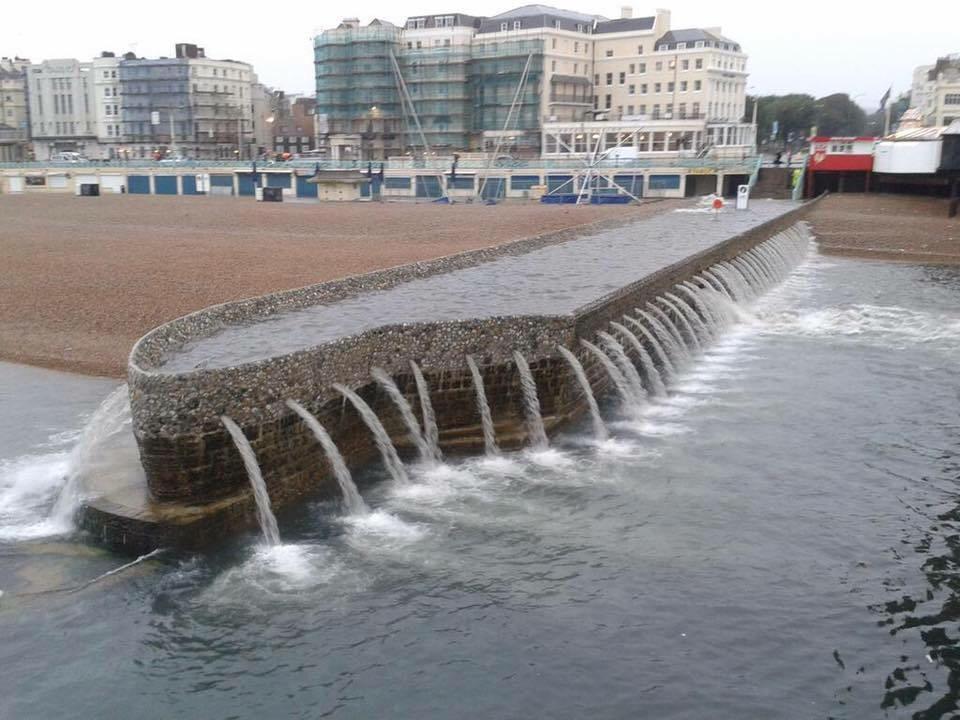 There have been several reports of flooding in Sussex, and fire crews in Kent have been called out to deal with multiple incidents due to the weather.
More heavy rain is expected to fall in the South overnight.
Getting around when all around you is underwater can be somewhat of a challenge.
As one lifeguard at the World Cetacean Alliance in Brighton watched the flood water reach a just centimetre from coming into his office, he decided it was time for drastic action.
Cue rubber dingy.
Sorry, this content isn't available on your device.
Kent Fire and Rescue Service says it has been sent to several addresses in the county, in response to reports of flooding.
One fire engine has been sent to New Romney High Street to deal with up to seven properties affected by floods.
Firefighters have also been called to addresses in Canterbury and Tunbridge Wells, and another in Ashford following lightning strikes.
The Co-operative supermarket in Brighton has been closed after the torrential rain caused the ceiling to collapse.
The supermarket, in London Road, was forced to close this afternoon.
Sorry, this content isn't available on your device.
Advertisement
Sorry, this content isn't available on your device.
A live map website shows lighting striking the South East.
Storms have been hitting the UK today, with a month's worth of rain expected in just a few hours in certain areas.
The yellow and orange dots show where there has been a lightning strike.
You can view it here.
STORMS: We're currently dealing with two storm-related incidents & keeping an eye on its progress using http://t.co/jGQl60aPcA
Load more updates