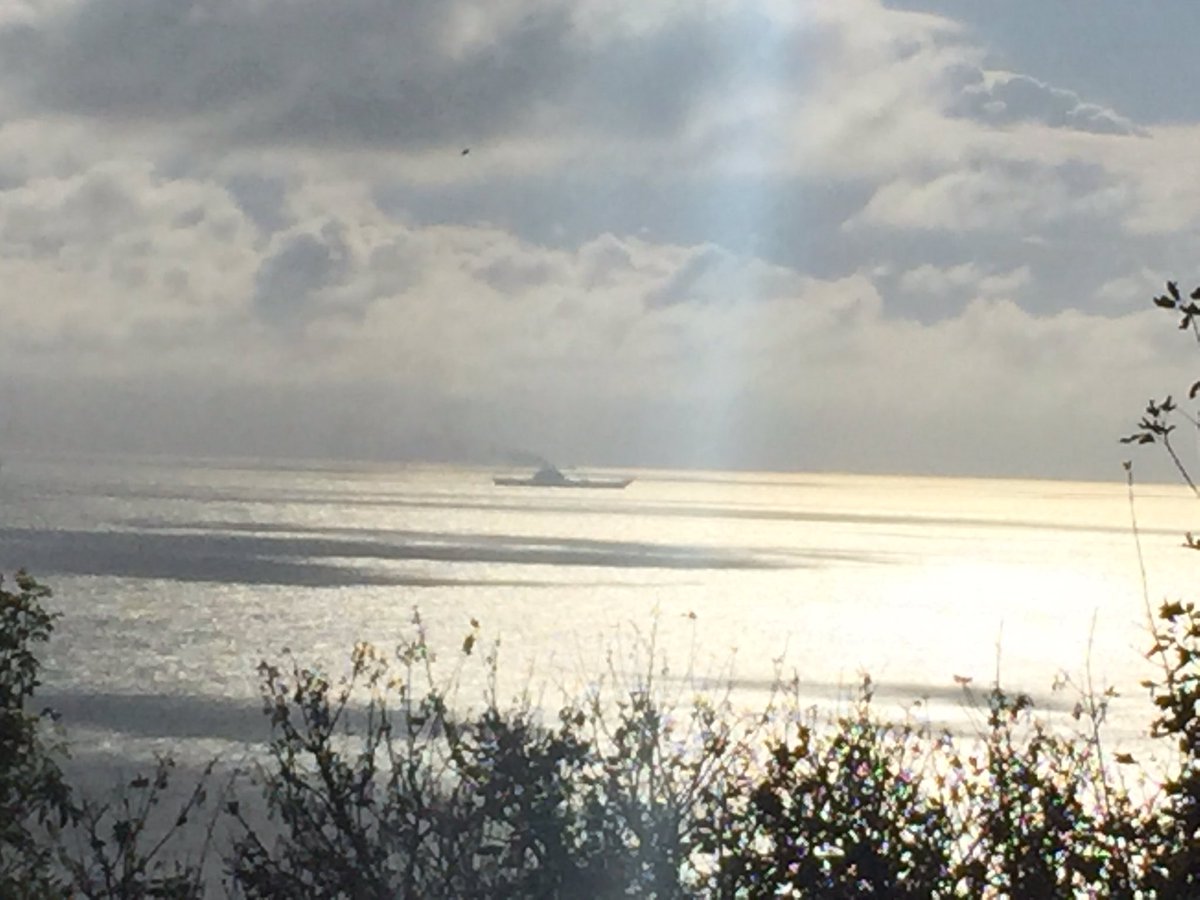 People have been gathering on the cliffs of Dover as Russian warships pass through through to reinforce the attack on the besieged city of Aleppo.
The Admiral Kuznetsov and seven other vessels are passing the UK as they head to Syria, where Russia backs the regime of President Bashar al-Assad.
The Royal Navy said it and Nato would monitor the mission, as is usual when other nations' fleets enter UK waters.
A Navy spokeswoman said: "UK and Nato assets routinely monitor warships from other nations when they enter our area of interest and this will be no different."
Two British naval ships are shadowing the Russian vessels.
Advertisement
Today marks the 950th anniversary of possibly the most famous battle on English soil.
On this day in 1066 at least 20,000 men decided the fate of our nation - when William the Conqueror defeated King Harold on the fields of Sussex.
The Battle of Hastings will be recreated once again in Battle itself this weekend, while a bonfire procession will be among the celebrations in Hastings. But why is 1066 so important?
Andy Dickenson speaks to Sam Stones of English Heritage, Nick Lynas of Hastings Bonfire Society and 1066 walker Nigel Amos.
A lorry driver has admitted killing a family of four from Bedfordshire, after crashing into them while changing the music on his phone.
Read the full story ›
It's been a long haul, but there's just a month left before voters in the USA go to the polls to elect a new president.
With 20,000 Americans living in our region, what's their take on Donald Trump versus Hillary Clinton?
Malcolm Shaw has been finding out.
We know that vinyl is making a bit of a comeback for bands to release their music.
But the real heyday for LPs was back in the 1970s, with progressive rock and concept albums.
It was a time when the artwork on the sleeve was almost as important as the record itself.
Now, there's an exhibition in Sussex celebrating the most famous cover artist of them all, Roger Dean, who's worked with groups like Yes and Pink Floyd.
Malcolm Shaw spoke to Roger, and to Tracy Thomson of Trading Boundaries.
Advertisement
A year ago they were two teenage boys from Damascus - often too scared of the bombings and gunfire to go to school or even take their exams.
But now Sulaiman Wihba and Elias Badin have begun a new life at a public school in Sussex, trying to put the horror of their childhoods behind them.
They are thought to be the first Syrian refugees to be offered such a scholarship, but their teachers say we have a duty to do more - comparing their plight to that of children caught up in the conflicts of World War Two.
Andy Dickenson has been to meet them and also speaks to Steve Marshall-Taylor of Brighton College.
There's growing evidence that contact with animals can be a valuable form of therapy for children with disabilities.
Now, a school in Sussex has launched a fundraising campaign to build its own farm.
Chailey Heritage near Lewes cares for youngsters with complex physical conditions.
Staff say animals have a unique ability to help, as Malcolm Shaw reports.
A Rochester father of three is close to completing a 274km walk from Budapest to Vienna for charity.
Paul Barrett was inspired to take on the challenge after witnessing the plight of refugees while on holiday last year. He's so far raised over £2,000.
Paul said: "This is my tiny show of solidarity for those fleeing war, and perhaps a way of raising awareness in some small way for such an immense, huge problem."
Paul's raising money for Kent Refugee Action Network.
It's been left with almost no trains for the last eleven weeks, but today the town of Seaford in Sussex began to get back on track.
Southern Rail introduced its emergency timetable over the summer, cutting more than 300 services across the region.
Some, at least, have been restored, but there's more trouble looming for commuters, as Malcolm Shaw reports.
Load more updates