Sailing fans from Hampshire were in Toulon in France over the weekend to show their support for the Portsmouth-based Ben Ainslie Racing team.
The Land Rover BAR crew won the second race on Sunday, and came third overall in the weekend's events at Toulon. Sir Ben Ainslie's team still lead the America's Cup World Series event as a whole. The next leg will be in Japan in November. Sally Simmonds sent this report.
The Americas Cup World Series is taking place in Toulon this weekend. After their fantastic victory in Portsmouth in July can Sir Ben Ainslie and the crew of Land Rover BAR extend their lead? Sally Simmonds reports from the south coast of France.
The interviewees are Chris Draper, Tactician for Team Softbank Japan; and Sir Ben Ainslie, Skipper, Land Rover BAR.
Advertisement
Nazanin Zaghari-Ratcliffe, who has been held in Iran for months, called her husband to report what he called a "punishment without a crime".
Read the full story ›
Thousands of train passengers across our region faced more delays and cancellations this week when conductors staged a two day strike.
So how have commuters coped with the disruption?
Nathan Chapman, who lives in Havant and travels to work in Brighton, agreed to keep a video diary for us, as Malcolm Shaw reports.
Another day, another strike by Southern Rail staff.
Today's action is the latest in a series of walkouts since April in an ongoing row over the role of guards on trains.
Only 60 percent of the company's services are running during the two days of industrial action.
Services west of Brighton have been badly affected - other trains are operating on that route but they have been very busy.
The line from Eastbourne has a significantly reduced service. And between Redhill and Tonbridge there are no trains running at all.
The RMT union says the strike is being 'fully supported' and warns the dispute could continue until Christmas. Malcolm Shaw reports.
Protesters have been gathering in Calais this morning ahead of a planned demonstration against the "Jungle" migrant camp.
British cross-Channel travellers have been warned they face major disruption as French shopkeepers, police, unionists and farmers join hauliers in calling for the northern section of the camp to be demolished.
A trade association has warned drivers will stand their ground until they see action to dismantle the camp.
A few hundred about to march on the motorway to link up with convoys of truckers and tractors enforcing a 'go slow' https://t.co/mMdRZ6LKBa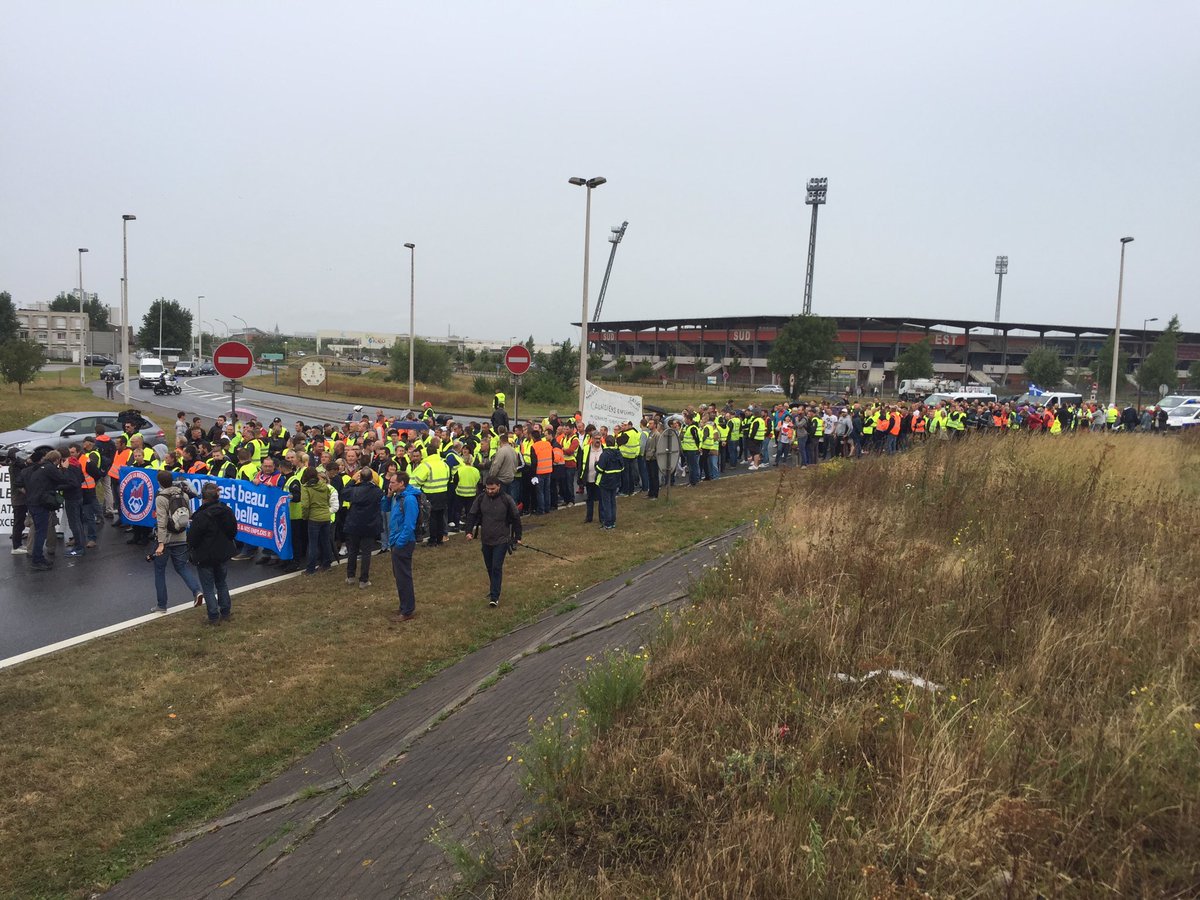 Advertisement
A blockade of lorries and tractors held up traffic on the roads around Calais with a "go slow" protest against the "Jungle" migrant camp.
A convoy of trucks and tractors set off from Dunkirk to the north, while another made its way from Boulogne to the south at 7.30am local time on the A16, which runs along the edge of the town.
They are set to converge near the entrance to the Channel Tunnel and ferry terminals.
No traffic was being allowed to pass the blockade and police were stationed at the junctions, apparently to stop vehicles joining the motorway.
Hundreds of protesters also marched on foot along the road leading directly to the port.
Motorcyclists from across the country have ridden to Brighton today to take part in a huge rally on the seafront.
It's the 23rd Ace Cafe reunion, celebrating the bikers' legendary meeting place.
Brighton once saw violent clashes between Mods and Rockers, but not anymore.
Malcolm Shaw spoke to bikers Marian Salisbury and Ralph Edwards, and Mark Wilsmore of the Ace Cafe London.
Stargazers are flocking to Sussex for a special astronomy festival this weekend.
The event is being staged at the Observatory Science Centre in Herstmonceux.
As well as tours of the historic telescopes, visitors will be able to hear from space experts including a scientist from NASA.
Malcolm Shaw has been to see what's on offer.
It's the world's biggest floating hospital and nurse Janna Hughes, 29, spent nine weeks working on it.
Mercy Ships is an international charity that aims to reach people who live with little or no healthcare in some of the poorest parts of the world.
Janna has just returned from the island of Madagasca. This is her story.
WARNING: This video contains footage some people may find distressing
Load more updates