As the EU referendum vote approaches, campaigners are using the last 24 hours to rally as much support as possible.
Read the full story ›
Academics say age and education are two of the biggest hints of how we'll vote in the EU referendum.
Experts believe that older people are most likely to vote 'Out' on Thursday, younger university educated people 'In'.
And with those battle lines drawn the results along the Sussex coast could be very different - as Andy Dickenson reports.
Advertisement
Abdul Rahman Haroun, from Sudan, has pleaded guilty at Canterbury Crown Court to an obstruction charge after he walked through the Channel Tunnel to Britain in August 2015.
The Sussex astronaut Major Tim Peake says he would return to space in a heartbeat, but is looking forward to spending time with his family. He was speaking at a press conference from the European Space Agency's base in Germany.
The conference was an opportunity for him to share some of his experiences and explain what it is like, now that he is back on earth.
When asked by a newspaper journalist from Oxfordshire about his thoughts on the science park at Harwell in the county, he said the complex provided a valuable service.
A charity which helps refugees in Oxford says its been inundated with people seeking help. There has been an increase in the number of people from the Sudanese and Syrian communities asking for help for food and shelter or advice in the area.
The charity Asylum Welcome has said that the number of people who have turned to its services has risen rapidly.
In 2013, 737 refugees sought help from their staff. That figure rose to 874 in 2014, but in the last year 1,000 people have asked for assistance. Mel Bloor reports.
After one hundred and eighty six days in space, Major Tim Peake has returned to earth. The astronaut from Westbourne, near Chichester in Sussex, left the International Space Station to land in Kazakhstan this morning. His journey and willingness to share his experiences with the world have inspired children and adults alike. Mary Stanley reports
Advertisement
The French authorities in Calais have defended their decision to prevent an aid convoy of about 200 vehicles leaving Dover on its way to enter France.
The Pas-de-Calais authorities said they had issued the ban for various reasons including the potential for the convoy to "generate violent episodes"; and a lack of available police officers because of the current European football championships.
They also said the numbers of vehicles involved could "facilitate the intrusion of migrants".
"In these circumstances, the Prefect of Pas-de-Calais considered only the prohibition of any event is likely to effectively prevent public disorders that may occur.
"Moreover, any convoy on roads and highways, from Great Britain to Calais to slow or block the flow and constituting a public event, is prohibited."
The Kent Police force has responded to complaints about an aid convoy being prevented from leaving the Port of Dover on its way to Calais in France.
The convoy of more than 200 vehicles included teams from groups such as the Stop the War Coalition and the People's Assembly. They were carrying provisions and supplies for people living at the so-called 'jungle' refugee camp near Calais.
Kent Police assisted the Port of Dover Police and French authorities after a convoy containing approximately 200 vehicles were denied entry to France on Saturday 18 June.

The decision to refuse entry was made by the French authorities and no agency within the United Kingdom has any grounds to challenge this decision. The refusal of entry to France is a matter for the French authorities.

Upon being refused entry to France, a demonstration took place at the Port. This started at approximately 1.50pm, which resulted in a brief closure of the border controls.

Kent Police worked with partner agencies to ensure disruption was kept to a minimum and within approximately one hour the port resumed business as usual.
– Kent Police spokesperson
A convoy of aid and supplies for migrants in the so-called Calais 'jungle' has been stopped at Dover.
Read the full story ›
An aid convoy of around 250 vehicles has been held at the Port of Dover after French authorities refused them entry to France.
The Convoy to Calais is a coalition of various charities and groups who had planned to travel via ferry to deliver aid to the so-called 'jungle' refugee camp at Calais in France.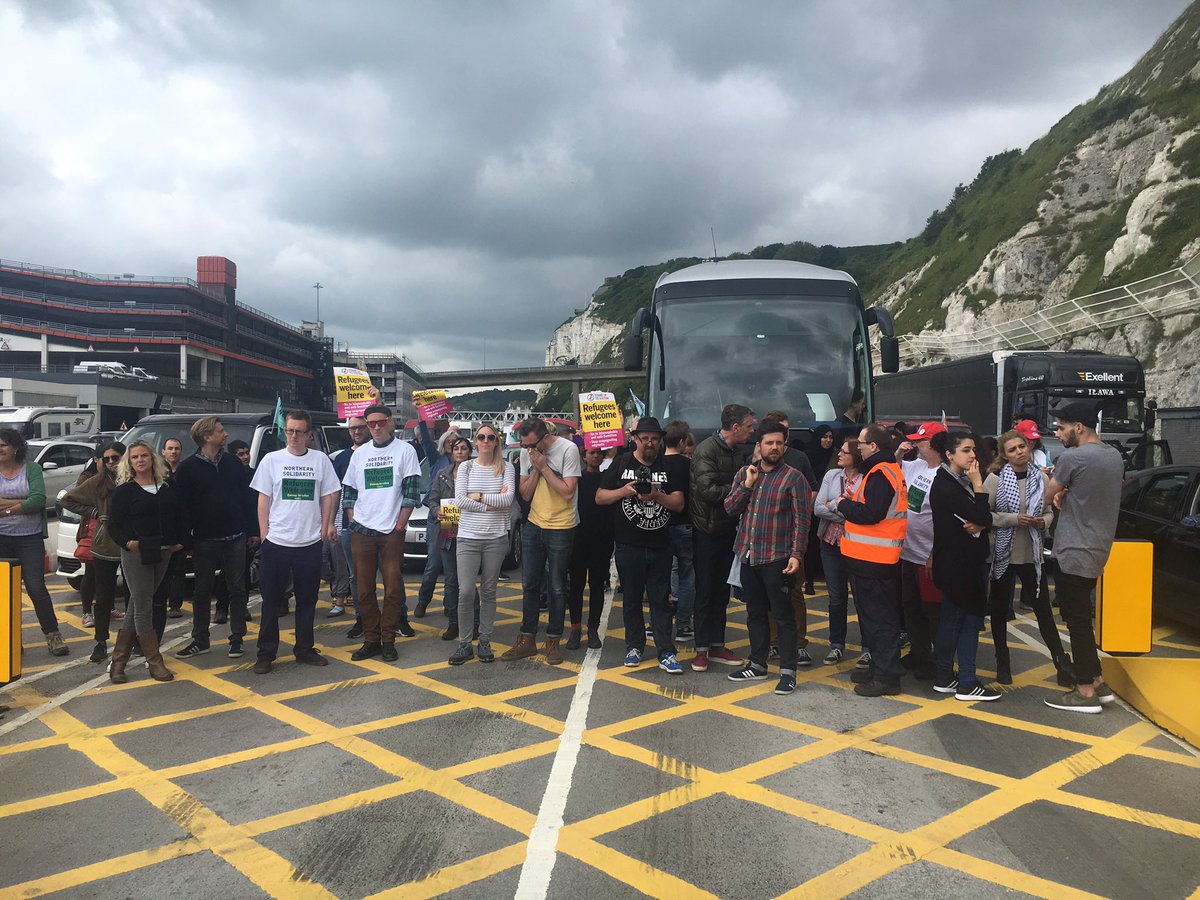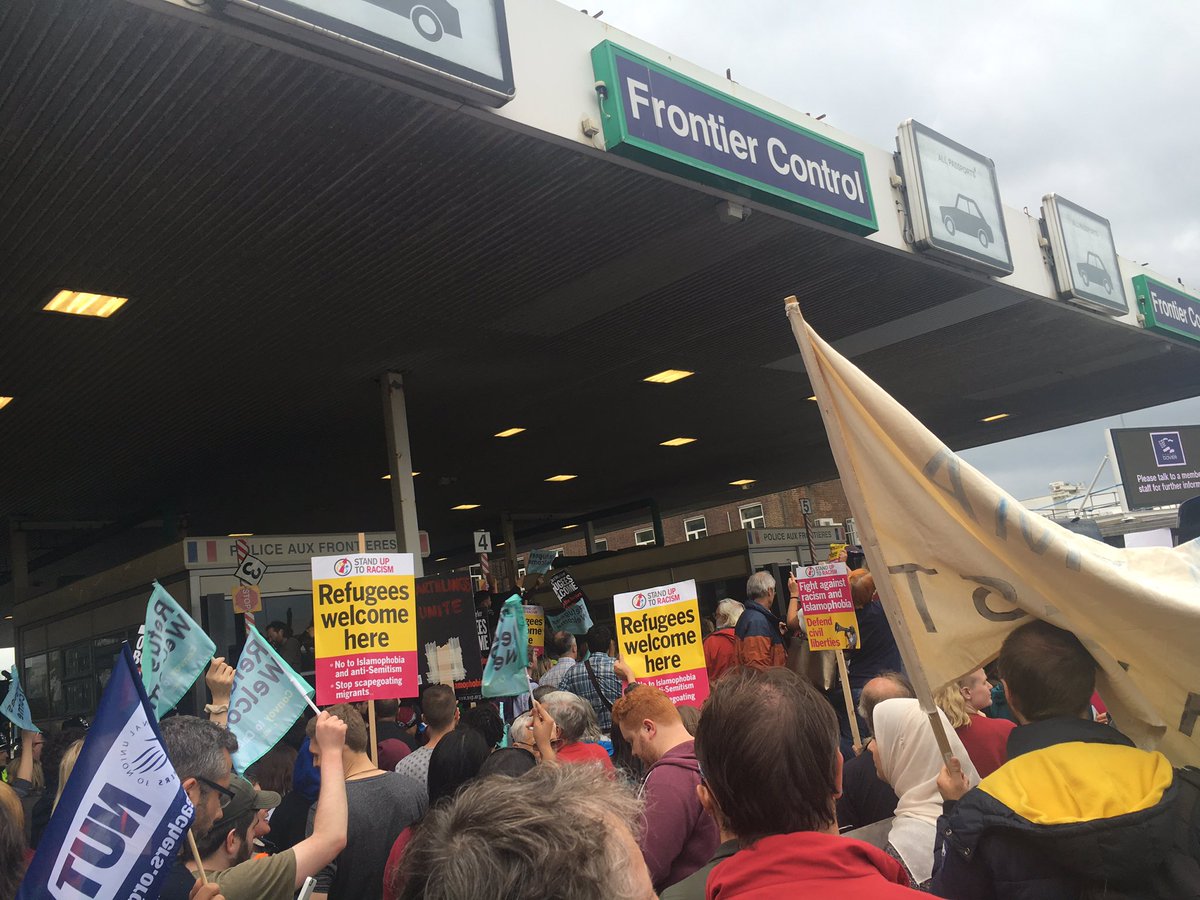 Load more updates