Flags will fly at half-mast on Whitehall government buildings and the UK will observe a minute's silence at 11 o'clock this morning.
The silence will be held across Europe in remembrance of those who lost their lives in the series of terrorist attacks in Paris.
The terrorist incidents, which took place on Friday night claimed at least 129 lives and hundreds of casualties.
Members of the public who have been directly affected by the incidents in Paris, or who are concerned about family members and friends who may be directly affected can call the Foreign and Commonwealth Office on 020 7008 0000.
A Frenchman accused of going into Gatwick Airport with an air rifle and a knife is due in court later.
41 year-old Jerome Chauris, 41, from Vendome, France, is charged with possession of a dangerous article in an aerodrome and possession of a blade in a public place.
The incident, which took place at around 9.30am on Saturday, sparked a major security alert and passengers were forced to evacuate the North Terminal for six hours.
Sussex Police said: "Jerome Chauris, 41, unemployed and of no fixed address, but from Vendome, France, has been charged with possessing a dangerous article (an air rifle weapon) in any part of an aerodrome (Aviation Security Act 1982) and possessing a knife blade/sharp pointed article (a lock knife) in a public place (Criminal Justice Act 1988)."
Advertisement
People across the region have been showing their sympathy and solidarity with the victims and their families. Today - in Oxford hundreds gathered for a march of remembrance. Kate Bunkall was there.
A group of sixth formers have returned home from Paris after they were caught up in the Paris terrorist attacks.
The students arrived at the Thomas Hardye School in Dorchester on Sunday.
They were in a restaurant in central Paris when the attacks began. When the all-clear came they walked three miles back to their hotel because the Metro was closed.
Parents praised the teachers for keeping them informed.
We spoke to student Zoe Horne and her mother Jane Horne
Services of solidarity have taken place in churches across the south, as the world comes to terms with the tragic events in Paris.
Prayers have been said at Canterbury Cathedral for the victims of the terrorist atrocities.
The Very Reverend Dr Robert Willis, Dean of Canterbury Cathedral, spoke to ITV Meridian of his shock and sadness.
Hundreds of people have gathered in Oxford to remember the victims of the Paris terror attacks.
They marched through the streets of the city from the Radcliffe Camera to the Maison Francaise, where a vigil was held.
Around 300 people took part in the event, to show solidarity with the people of France. Many of those present were French themselves.
We will have a full report in our evening news tonight at 7.55
Advertisement
Students at Southampton University have held a minute's silence for those caught up in the terrorist attacks in Paris.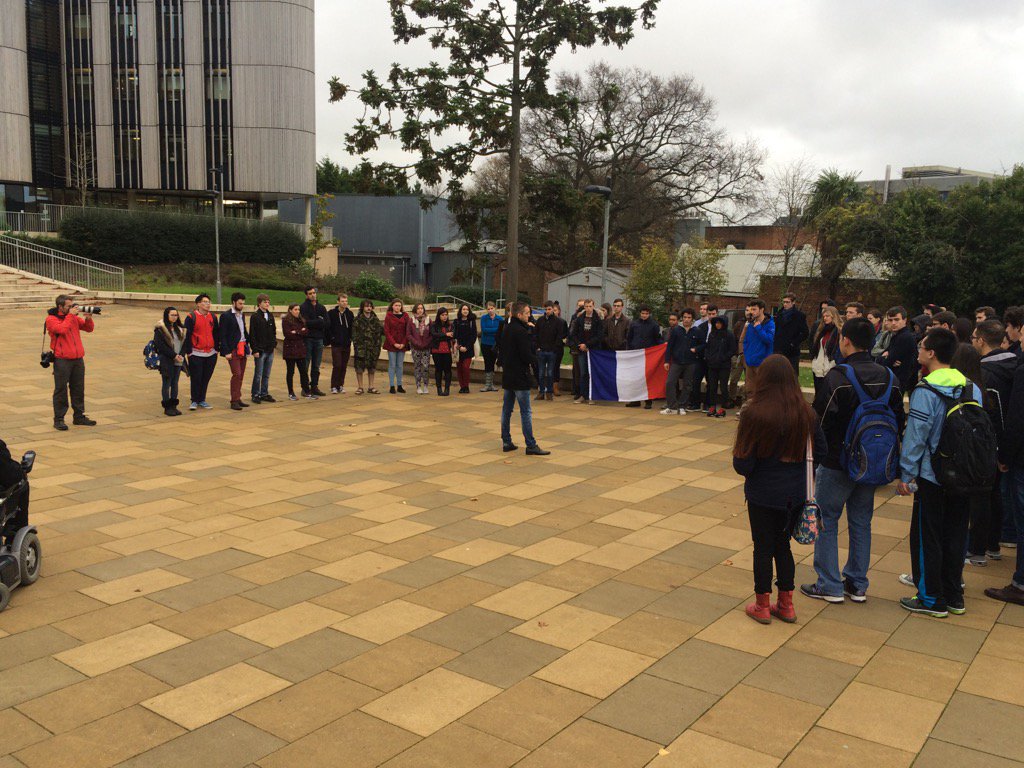 A group of sixth form students from a school in Dorset are due to return home from Paris shortly, after getting caught up in the terrorist atrocities.
The art and photography students from Thomas Hardye School in Dorchester were on a weekend trip to the French capital.
It's thought they were in a restaurant at the time of the attacks, and were aware of the enormity of the situation.
But the youngsters and their teachers were unharmed.
However, it's reported they had to walk three miles back to their hotel after the attacks because the transport system had closed down.
Hundreds of people are expected to take part in a rally in Oxford this afternoon in response to the terrorist atrocities in Paris.
A demonstration will be held outside the Radcliffe Camera from 2pm, before a march to the Maison Francaise on Norham Road.
300 people have already said they would attend in response to a Facebook appeal.
Organisers hope to show solidarity with Paris, its inhabitants, survivors and victims of terrorism all over the world.
Landmarks around the south have lit up in the colours of the French flag to show solidarity with victims of the Paris terror attacks.
The Brighton Wheel, Portsmouth's Spinnaker Tower, and a number of public buildings and theatres are among the buildings being lit up in the colours of the French Tricolour.
Thank you to our viewers for sending us these images. If you have any more that you'd like to share, please email them to itvnewsmeridian@itv.com or go to the Meridian Tonight Facebook page.
Load more updates