Fearne Cotton is quitting Radio 1 after telling her fans she is pregnant with her second child.
The DJ, who is married to Ronnie Wood's son Jesse, said leaving the station was the start of a "new chapter".
Writing on her website, she said she had had "the most incredible decade" working on the station.
I feel extremely blessed and happy that Rex will be a big brother, and we get to welcome another Wood into the world.

I would like to thank Radio 1 for being such a great home and most of all to the listeners who have been on this journey with me.

It's such a kick to know you heard a band on my show first, or that the songs I've played have helped you through the day, so thank you."
– Fearne Cotton
Cotton's role presenting the station's Live Lounge will be taken over by Clara Amfo.
US President Barack Obama has issued a statement after the death of veteran actor Leonard Nimoy.
Long before being nerdy was cool, there was Leonard Nimoy. Leonard was a lifelong lover of the arts and humanities, a supporter of the sciences, generous with his talent and his time. And of course, Leonard was Spock. Cool, logical, big-eared and level-headed, the centre of Star Trek's optimistic, inclusive vision of humanity's future.

I loved Spock.

In 2007, I had the chance to meet Leonard in person. It was only logical to greet him with the Vulcan salute, the universal sign for "Live long and prosper." And after 83 years on this planet – and on his visits to many others – it's clear Leonard Nimoy did just that. Michelle and I join his family, friends, and countless fans who miss him so dearly today.
– US President Barack Obama
"Long before being nerdy was cool, there was Leonard Nimoy." —President Obama #LLAP
Advertisement
Zachary Quinto, who played Mr Spock in the 2009 reboot 'Star Trek' and its 2013 sequel 'Star Trek Into Darkness', has said his "heart is broken" after the news that the original Mr Spock, Leonard Nimoy, died this morning.
Sorry, this content isn't available on your device.
George Takei, known for his role as Hikaru Sulu in the television series Star Trek, said he will miss Leonard Nimoy and the world had "lost a great man"
He also told MSNBC: "You know, the word 'extraordinary' is often overused, but I think it's really appropriate for Leonard.
"He was an extraordinarily talented man, but also a very decent human being. His talent embraced directing as well as acting, and photography.
"He was a very sensitive man and we feel his passing very much. He'd been ill for a long, long time and we miss him very much."
William Shatner, who played Star Trek's Captain Kirk, said he loved Leonard Nimoy "like a brother".
He added: "We will all miss his humour, his talent, and his capacity to love."
"I loved him like a brother. We will all miss his humor, his talent, and his capacity to love." -William Shatner http://t.co/U8ZN98tVYp
Advertisement
Leonard Nimoy's granddaughter Dani has posted a moving tribute to the 83-year-old actor through his official Twitter account.
She said her grandfather was "an extraordinary man, husband, grandfather, brother, actor, author-the list goes on- and friend. Thank you for the warm condolences. May you all LLAP (Live Long And Prosper)".
Nasa has paid tribute on Twitter to Star Trek star Leonard Nimoy who has died at the age of 83.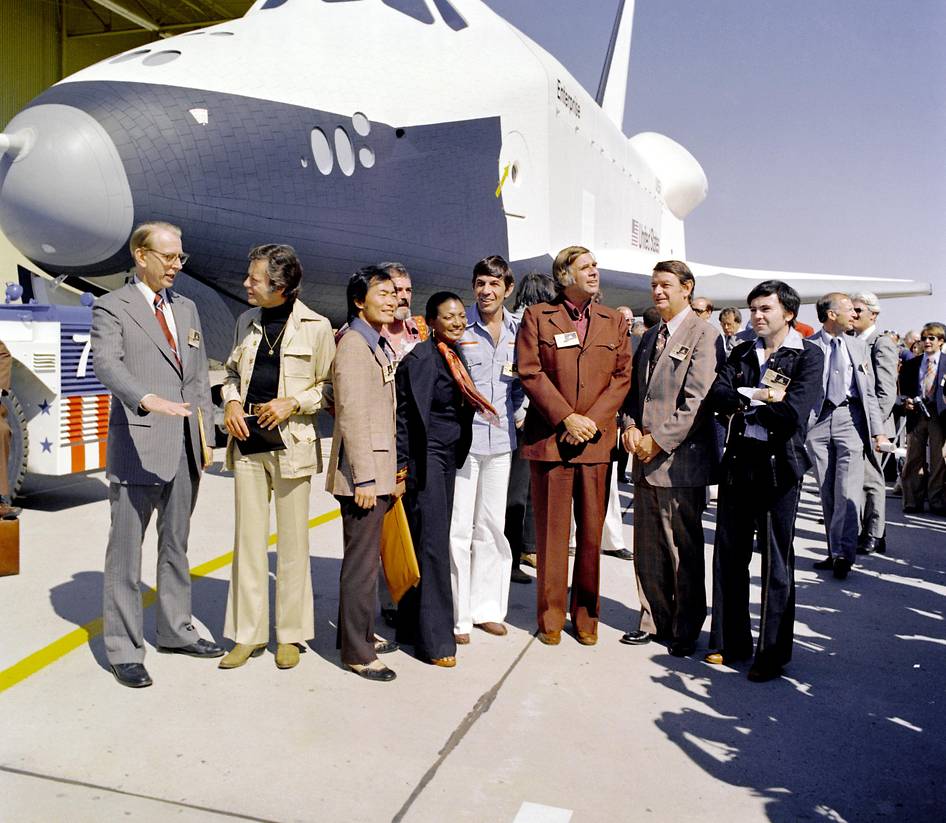 Leonard Nimoy's son, Adam, confirmed the actor died Friday morning in Los Angeles of end-stage chronic obstructive pulmonary disease.
Although an accomplished acting teacher, director, poet and photographer Nimoy, who was in 'Star Trek from 1965 to 1969, will always be known in the public's mind as Mr Spock.
His half-human, half-Vulcan character was the calm counterpoint to William Shatner's Captain Kirk on one of television and film's most revered cult series.
The actor was catapulted to fame by the series, and became a household name for Star Trek fans across the world.
But his ambivalence towards the role was clear - his two autobiographies were titled I Am Not Spock (1975) and I Am Spock (1995).
In 1954 Nimoy married Sandra Zober, a fellow student at the Pasadena Playhouse, and they had two children, Julie and Adam.
But the couple divorced, and in 1988 he married Susan Bay, a film production executive.
Actor Leonard Nimoy, best known for his role as Mr Spock on the long-running science fiction series Star Trek, has died at the age of 83.
His wife, Susan Bay Nimoy, confirmed his death, saying the cause was end-stage chronic obstructive pulmonary disease.
On February 23 Mr Nimoy's official Twitter account posted a poignant message about life and memories which ended with his motto LLAP - or Live Long And Prosper.
A life is like a garden. Perfect moments can be had, but not preserved, except in memory. LLAP
Load more updates