Rock band Queen are releasing a new album featuring three previously unreleased songs including a duet between gone-but-not-forgotten icons lead singer Freddie Mercury and the King of Pop Michael Jackson.
The collaboration between Mercury and Jackson called 'There Must Be More To Life Than This' began as a song written by Mercury during sessions for Queen's 1981 album 'Hot Space'.
The song was left unfinished twice, until it appeared on Mercury's debut solo album in 1985.
Queen's guitarist Brian May and drummer Roger Taylor say the new production of the ballad fuses the band's original backing track and Mercury and Jackson's distinctive vocals.
The other two unreleased songs 'Let Me In Your Heart Again' and Love Kills' will also feature on the 'Queen Forever' album which will be released in November.
X Factor contestant Raign seems to impress the Wembley audience with her own song even though Cheryl finds her "really annoying".
Read the full story ›
Advertisement
Emmy-winning US actress and singer Polly Bergen, who played the terrorised wife in the original Cape Fear film and the first woman president in Kisses for My President, has died at the age of 84.
Publicist Judy Katz said Ms Bergen died today at her home in Southbury, Connecticut, surrounded by family and close friends.
She had battled emphysema and other ailments in the late 1990s, a result of 50 years of smoking.
A negative from Marilyn Monroe's first professional photoshoot has sold at auction for £4,250.
The estimate had been between £5,000 and £8,000 but auctioneer Andrew Aldridge said he was "happy with the result".
The image dates back to when the blond bombshell was a 20-year-old factory worker who dreamed of being a model and was still known as Norma Jean Baker.
"It was an exceptionally unusual item and to be able to include the copyright added another dimension as we only usually sell the physical item....There is an enduring interest if you like the cult of celebrity and are interested in that era."
– Auctioneer Andrew Aldridge
YouTube superstar Alfie Deyes got a sense of how far he has come when thousands of fans descended on his latest book signing in London.
Read the full story ›
Advertisement
Simon Cowell admitted he was "so embarrassed" after his shirt burst open during an X Factor audition.
Read the full story ›
Comedian Joan Rivers seemed to promote the new iPhone 6 from the grave today after posts appeared on her official Facebook and Instagram accounts, TMZ reported.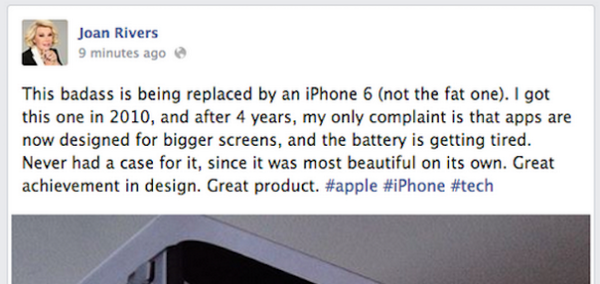 The post appeared on Rivers' Facebook and Instagram pages for a brief period this morning before they were removed.
TMZ suggests the posts were the result of a "pre-negotiated deal" with Apple and before her death she had scheduled them to publish on the iPhone's launch day.
Hollywood director J.J. Abrams has been declared the victor in a good-natured Twitter war with his friend and fellow director Zack Snyder.
Read the full story ›
Gamers have been given a taste of what Final Fantasy XV will look like after developer Square Enix released a new trailer.
Read the full story ›
Load more updates