One of the two US nurses who have survived the Ebola virus after contracting the disease from a dying patient has shared a hug with Barack Obama after meeting the president at the White House.
Nina Pham had been transferred to a specialist treatment centre in Maryland, near Washington DC, after initially being treated in Texas.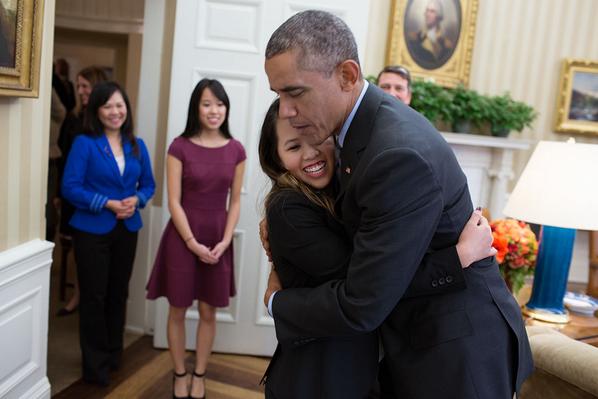 Ms Pham's meeting with Mr Obama came hours after she was released from hospital after being publicly declared virus free.
Her colleague Amber Vinson was also declared free of Ebola earlier today after receiving treatment in Atlanta.
A batch of so-called smart drugs worth £200,000 - including substances never tested on humans - has been found in the largest seizure of apparent intelligence-enhancing drugs in the UK.
Around 20,000 units of 13 different "cognitive enhancers" were taken in the raid on a lock-up in the Midlands after a tip off via Norwegian customs.
The drugs have been targeted at students because they aid concentration and ward off sleep.
A spokesperson for the medicines regulator that carried out the raid confirmed a man had been cautioned. He added:
This is a recent and very worrying trend. The idea that people are willing to put their overall health at risk in order to attempt to get an intellectual edge over others is deeply troubling.
– Alastair Jeffrey, the Medicines and Healthcare Products Regulatory Agency's head of enforcement
While it would be legal to possess the seized drugs, it is illegal to sell or supply prescription-only or unlicensed medicines.
Advertisement
All this week while reporting, I have been taking photos. They offer powerful portraits of the lives affected by the desperate outbreak.
Read the full story ›
A two-year-girl who was Mali's first Ebola case has died, Reuters has reported, citing a health official.
The girl had been receiving treatment at a hospital in the country after testing positive for the virus upon arriving from outbreak-hit Guinea.
US nurse Amber Vinson has followed her colleague Nina Pham in being declared free of the Ebola virus, after the pair contracted the disease while treating a dying patient at their Dallas hospital.
Ms Vinson's status was confirmed by the Atlanta medical centre where she had been receiving treatment after a transfer from a Texas hospital.
Vinson's fellow nurse Pham was earlier declared virus free after receiving treatment in Maryland.
Drugmakers have pledged to work together to speed up Ebola safety trials in human volunteers in a bid to produce an estimated 200,000 doses of experimental vaccines by the middle of 2015.
Two leading vaccine candidates, from GlaxoSmithKline and NewLink Genetics, are in human clinical trials while another five experimental vaccines are set to begin clinical trials next year.
High risk groups, including frontline health workers in West Africa, are front of the queue to receive the vaccines by early next year.
"Vaccines are not a magic bullet, but when ready they may be a good part of the effort to turn the tide against the epidemic," the WHO's Marie-Paule Kieny said after a meeting of industry executives, global health experts, drug regulators and funders in Geneva.
Advertisement
Nina Pham, one of two Texas nurses who contracted Ebola while caring for a patient, is now virus free, Reuters has reported, citing US health officials.
Doctors in Australia have performed two successful heart transplants using a donated organ that has already stopped beating.
Read the full story ›
While money and resources continue to pour into the areas worst affected by the Ebola outbreak, the costs of fighting the disease remain huge.
Hussein Ibrahim from the International Medical Corps said it cost around £800,000 to run one clinic in the capital of Sierra Leone, Freetown.
Mr Ibrahim also said running a 100-bed facility needed 250 staff so the IMC needs volunteers as well as money.
ITV News Correspondent Dan Rivers reports from Sierra Leone.
Millions of doses of an Ebola vaccine will be ready by the end of 2015, World Health Organisation (WHO) has said.
The organisation said "money will not be an issue" when developing and distributing vaccines against the deadly virus.
Potential manufacturers have committed to ensuring vaccines are sold at affordable prices, a WHO official added.
Load more updates