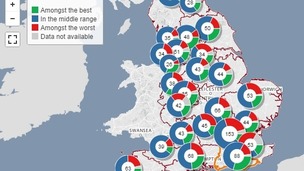 The NHS has published an interactive map from a report on the quality of food in the nation's hospitals.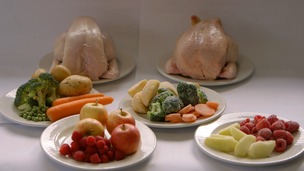 The Tonight programme investigates the fresh and frozen food supply chains to find out if quality really is being maintained.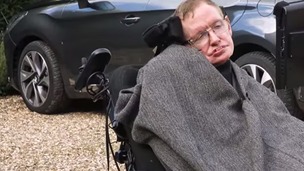 The theoretical physicist has become the latest big name to lend his support to the sub-zero charity challenge.
Live updates
Experimental Ebola drug 100 per cent successful in monkeys
Health workers battling the Ebola outbreak at a major state run treatment centre in Sierra Leone have gone on strike over pay and working conditions.
Ishmael Mehemoh, chief supervisor at the clinic in the city of Kenema, in the country's east said: "The workers decided to stop working because we have not been paid our allowances and we lack some tools."
He added that clothing to protect health workers being infected is inadequate and there is only one broken stretcher which is used to carry both patients and corpses.
More than 20 health workers have already died from Ebola at the Kenema health clinic after catching the highly contagious virus from the patients they are fighting to save.
Experimental Ebola drug 100 per cent successful in monkeys
Ghana will serve as a base for supplies to help countries struck by the Ebola outbreak, which has already killed 1,500 people.
The disease began in south-eastern Guinea and spread to Liberia, Sierra Leone and Nigeria, with the first case reported in Senegal this week.
A statement from the Ghanaian presidency said President John Dramani Mahama had agreed for his country to be used as a base during a telephone conversation with UN Secretary General Ban Ki-Moon.
"Using [Ghana's capital] Accra as the logistics and coordination centre would...open a vital corridor to get urgently needed supplies and health personnel into the affected countries and areas," the statement said.
Advertisement
Experimental Ebola drug 100 per cent successful in monkeys
Liberia will end its quarantine of Ebola-hit neighbourhoods in capital city Monrovia tomorrow morning, the government has announced.
The coastal West Point neighbourhood will be opened up again at 7am (6am GMT) after residents cooperated with health checks and education seminars about the disease.
The neighbourhood was sealed off last week, sparking angry scenes from residents. Soldiers opened fire and used tear gas on the crowds, who threw rocks as they tried to escape.
Experimental Ebola drug 100 per cent successful in monkeys
Sierra Leone's Health Minister has been dismissed over her handling of the Ebola epidemic.
President Ernest Bai Koroma fired the minister, Miatta Kargbo, saying she was removed "to create a conducive environment for efficient and effective handling of the Ebola outbreak".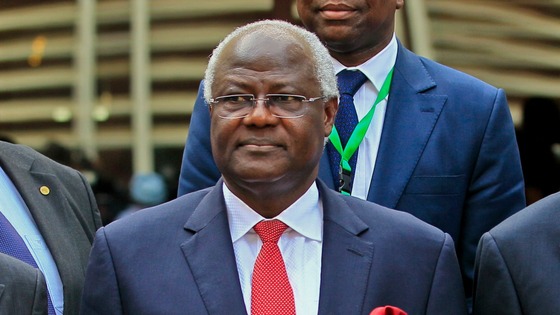 She will be replaced by her deputy, Dr Abubakarr Fofanah.
The Ebola virus has killed more than 400 people in Sierra Leone since the outbreak took hold.
Experimental Ebola drug 100 per cent successful in monkeys
The response to the Ebola outbreak across West Africa has been badly hampered by a local mistrust of health care workers, officials have said.
Many have developed suspicions against the workers, who are often clad in plastic protective gear and protective face masks, and have shunned their help - preferring instead to die in their own homes.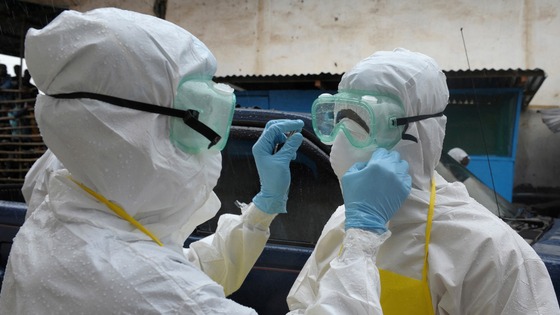 In Guinea, riots broke out in the southern city of Nzerekore after rumours began circulating that officials had sprayed the market with Ebola to deliberately infect people.
And some health workers have contributed to the spread of the disease after unknowingly contracting the virus, and carrying it to the very communities they are trying to help.
More than 120 care workers have died in the epidemic to date, and Liberia reported five new cases of infection among them in just one day this week.
Experimental Ebola drug 100 per cent successful in monkeys
The number of Ebola cases has risen more this week than any other week since the epidemic began, health officials have warned.
The World Health Organisation labelled the latest figures as a clear sign the outbreak is spiralling out of control, saying it was an "international health emergency".
A new mobile laboratory has opened this week in Sierra Leone's capital city Freetown to test local cases, with the aim of speeding up the response time.
It has also unveiled a £296 million ($490m) plan to try to contain the epidemic.
Advertisement
Experimental Ebola drug 100 per cent successful in monkeys
Health workers battling the outbreak of Ebola in Africa has warned the current response from Western countries is inadequate, and risks aggravating the crisis.
Mego Terziam, head of the French arm of Medecins Sans Frontieres (MSF), accused the Western world of not caring because they were not directly affected.
He said the epidemic was getting worse each day and neither they, the World Health Organisation nor the governments of affected countries had the means to contain it.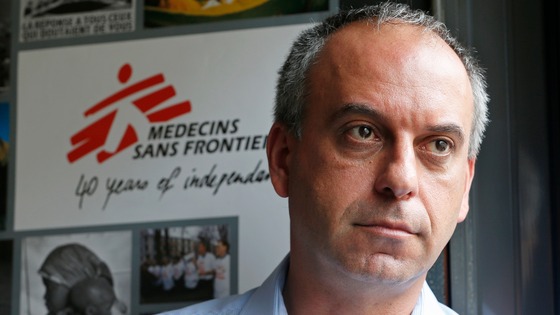 He said Western governments' approach of encouraging local authorities to isolate the problem, close borders and stop air traffic, they were causing more harm than good.
I am extremely pessimistic if there is not a substantial international mobilisation.

Organisations like the WHO and MSF will be not capable to mobilise additional human resources, additional logistics in order to control the epidemic.

As long as Western countries are not infected, I have the impression there will not be a serious mobilisation.

There have been a lot of speeches and promises of financial support, but that's it.
– Mego Terziam, Medecins sans Frontieres
Experimental Ebola drug 100 per cent successful in monkeys
Riots have broken out in Guinea as people react to rumours that officials have deliberately been infecting locals with the Ebola virus.
Several people were injured as a crowd of young men armed with clubs and knives set up barricades across the southern city of Nzerekore, threatening to attack the hospital. Gunshots were fired as security forces moved in to restore order.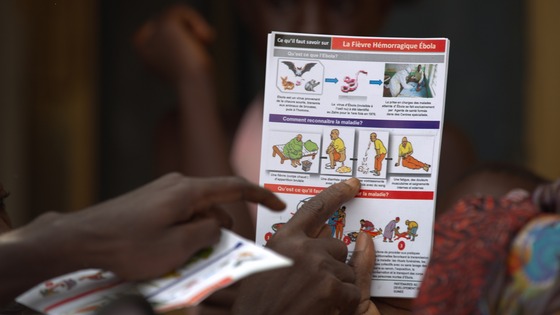 President of the Guinean Red Cross, Youssouf Traore, said local Red Cross workers had fled to a nearly military camp with their medical equipment.
A rumour, which was totally false, spread that we had sprayed the market in order to transmit the virus to locals.

People revolted and resorted to violence, prompting soldiers to intervene.
– Youssouf Traore, Guinean Red Cross

More than 400 people have died to date in Guinea, of more than 1,550 deaths across West Africa as a result of the latest Ebola outbreak.
Government vows crackdown on unacceptable hospital food
Hospital food standards are being shaken up so that from now on, those in England will be forced to provide better food. They need to provide more water, more fish, and more fruit and vegetables, and use less salt.
Hospitals will then be ranked on the quality of food - but campaigners say the new standards should be legally binding.
ITV News reporter Lucrezia Millarini has the details:
Read: Government vows crackdown on unacceptable hospital food
Experimental Ebola drug 100 per cent successful in monkeys
The first case of Ebola has been confirmed in Senegal, a major business hub in West Africa.
Health minister Awa Marie Coll Seck said the patient was a Guinean national who had arrived from the neighbouring country, where the deadly virus was first detected in March.
Load more updates