The international community is "behind the curve" on dealing with the Ebola virus, according to Foreign Secretary Philip Hammond.
Speaking outside a one-day conference on dealing with the outbreak, he said the international community needed to step up its response to deal with the deadly disease.
The Foreign Office has tweeted this picture of International Development Secretary Justine Greening alongside actor Idris Elba and the High Commissioner of Sierra Leone.
They are taking part in a one-day conference on 'Deafeating Ebola in Sierra Leone'.
The country has been particularly badly hit by the disease, which has already killed over 3,300 people worldwide.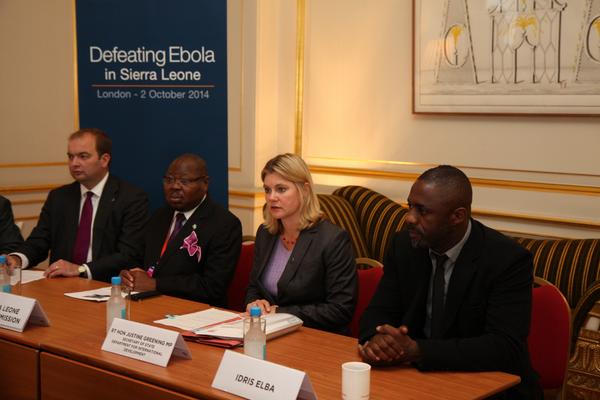 Advertisement
Actor Idris Elba has arrived at the international conference on the Ebola virus.
The star of hit film Mandela: Long Walk to Freedom and US series The Wire will join world leaders and medical experts for the day-long summit in London.
When Alison Powell's four-year-old Labrador Missy would not stop sniffing and pawing her, she knew it was more than simple canine affection.
Read the full story ›
What is terrifying about Ebola is not the virus itself, it's the west's inaction in the face of an unprecedented epidemic.
Read the full story ›
President of Sierra Leone, Ernest Bai Koroma, will not be attending an international conference on the Ebola crisis taking place in London according to the Foreign Office.
Unfortunately the President of Sierra Leone is now unable to attend the defeating Ebola conference. The chartered plane he was scheduled to fly on experienced significant technical difficulties prior to take off. We are currently exploring alternative ways for him to participate.
– Foreign Office spokesman
Advertisement
MPs say cuts in international support to Sierra Leone and Liberia, along with a failure to supervise aid spending, "may well be connected" to the spread of the Ebola virus.
Chairman Sir Malcolm Bruce said: "In the midst of this devastating epidemic...it is wrong for the UK to cut its support to these two countries by nearly a fifth."
The committee also pointed out that Liberia's finance ministry had failed to pass on large sums of EU aid money intended to improve the country's health system.
A charity has warned that Ebola is spreading at a rate of five cases per hour in Sierra Leone, overwhelming the country's medical resources.
Save the Children said there were 765 new cases of the deadly virus in the west African state last week, with just 327 beds for the infected.
There have now been over 7,000 cases of the disease worldwide, with 3,338 deaths.
The majority of the casualties have been in Sierra Leone, Liberia and Guinea.
General Practice is under so much strain it forces doctors to "work flat out all the time", a long-serving GP told Good Morning Britain.
Dr Neil Thomas said so many patients had come to rely on NHS GPs, it had wiped out the seasonal element of the work and services were already over-crowded for this time of year.
Fathers-to-be will be entitled to take time off work to accompany their pregnant partners to ante-natal appointments, after new equality laws came into effect.
Dads can take unpaid time off for up to two ante-natal appointments for no more than six-and-a-half hours for each visit.
Changes in the law applies to spouses, same-sex, civil and long-term partners and applies whether the child is conceived naturally or through donor insemination.
It also extends to those who will become parents through a surrogacy arrangement if they expect to satisfy the conditions for, and intend to apply for, a Parental Order for the child born through that arrangement.
Load more updates