Around 1.5 million children are living in workless households, figures released by the Office for National Statistics show.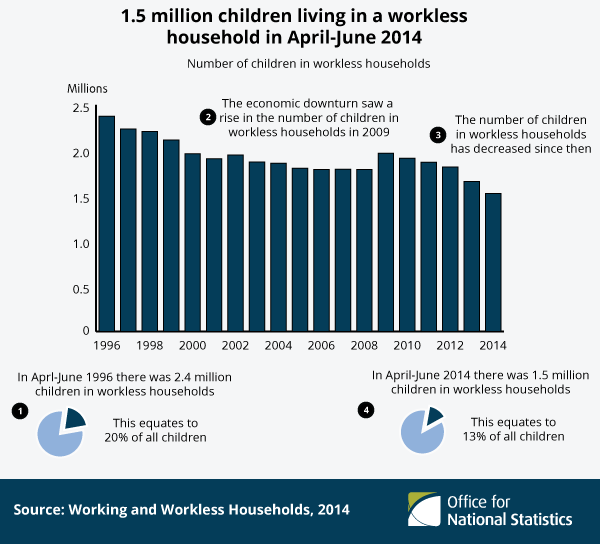 Workless households are defined as households where no-one aged 16 or over is in employment.
The number of people going bankrupt in England and Wales has fallen to its lowest level since 1999, with 4,886 cases recorded in the third quarter of this year, Insolvency Service figures show.
Advertisement
The government is concerned banks will not honour a pledge to preserve the 'last bank in town' after Lloyds announced plans to close 150 branches and cut 9,000 jobs.
ITV News Political Correspondent Emily Morgan reports:
When Lloyds TSB takeover of HBOS was announced back in 2008 the unions spoke of fears that up to 40,000 staff could lose their jobs.
Read the full story ›
The Unite union has said that job losses announced by the Lloyds Banking group represent "deeply unsettling times" for staff.
These are deeply unsettling times for Lloyds staff, who, after days of speculation and leaks, face yet another round of job cuts and a future of uncertainty.

Job cuts of approximately 10% could have unknown consequences on customer service and will put even more pressure on staff who have helped get the bank back on the right track.
– Rob MacGregor, national officer of the Unite union
Advertisement
Lloyds balance sheet had to take into account one off charges including a £900 million increase in provision for payment protection insurance (PPI) scandal. It takes the running total of the sum set aside for PPI by Lloyds to £11.32 billion.
Over the last three years the successful delivery of our strategy has ensured that we have become a safe, highly efficient, UK-focused retail and commercial bank.

The next phase of our strategy will use these strong foundations as a basis for meeting the rapidly-changing needs of our customers, and sets out how we will grow the business in a way that will deliver increasing and sustainable returns for our shareholders.
– Chief executive Antonio Horta-Osorio
The job cuts announced by Lloyds represent around 10% of its current workforce of 88,000. It has already slashed more than 30,000 since the start of the financial crisis.
The group, which is 25% owned by the taxpayer, said it plans to "digitise" the bank, adding that it wants to simplify the business and be more efficient.
Meanwhile, third-quarter results showed underlying profits for the business, which includes Halifax and Bank of Scotland, up 41% to £2.2 billion.
Bottom line pre-tax profits were £693 million after taking into account one-off charges including a £900 million increase in provision for payment protection insurance (PPI) scandal.
The Taxpayer-backed Lloyds Banking Group is to cut 9,000 jobs over three years and shut 150 branches, it announced.
Britain has more low paid workers than ever with more than five million currently living on the breadline, a report has revealed.
Low Pay Britain found 5.2 million workers earned less than £7.70 an hour. The current minimum wage is £6.50.
Almost a quarter of minimum wage workers said they had been on that wage for the past five years, and women are still more likely to be paid less than men.
In comparison with other countries, Britons were twice as likely to be paid less than their counterparts in Switzerland and four times less than in Belgium. The UK also fell behind Germany and Australia in the rankings.
Matthew Whittaker, chief economist at the Resolution Foundation, told The Independent: "It's troubling that the number of low-paid workers across Britain reached a record high last year.
"Being low paid, and getting stuck there for years on end, creates not only immediate financial pressures but can permanently affect people's career prospects."
Load more updates