A female nurse who was quarantined at a New Jersey airport today after returning from West Africa has a fever, health officials said.
The New Jersey Health Department said the woman is now in isolation and being evaluated at University Hospital in Newark but gave no further details on whether it was Ebola.
A two-year-old Mali girl, who became the first to die of Ebola in the country, could have exposed hundreds of people to the deadly disease.
The tot, who has not been identified, had travelled hundreds of kilometres by bus with her grandmother to seek treatment.
Health workers are now scrambling to trace hundreds of people she may have come into contact with.
In a statement Mali's government confirmed the detah and said: "In this moment of sadness, the government would like to express its condolences to her family and reminds the population that maintain very strict hygiene rules remains the best way to contain this disease."
Ebola has killed 4,900 people mainly in nearby Liberia, Sierra Leone and Guinea.
Advertisement
New York and New Jersey will automatically quarantine medical workers returning from Ebola-hit countries, officials say.
The measures announced by the two states, which go beyond the current restrictions imposed in the US, come as medical detectives try to retrace the steps of New York doctor Craig Spence, who tested positive for the deadly virus on Thursday.
The new policy applies to medical workers returning to New York's JFK airport and Newark Liberty International Airport in New Jersey.
One female healthcare worker has already been ordered into quarantine.
David Cameron travelled straight from Brussels to one of the places where that huge bill could do him most harm the by-election constituency of Rochester and Strood.
One of the two US nurses who have survived the Ebola virus after contracting the disease from a dying patient has shared a hug with Barack Obama after meeting the president at the White House.
Nina Pham had been transferred to a specialist treatment centre in Maryland, near Washington DC, after initially being treated in Texas.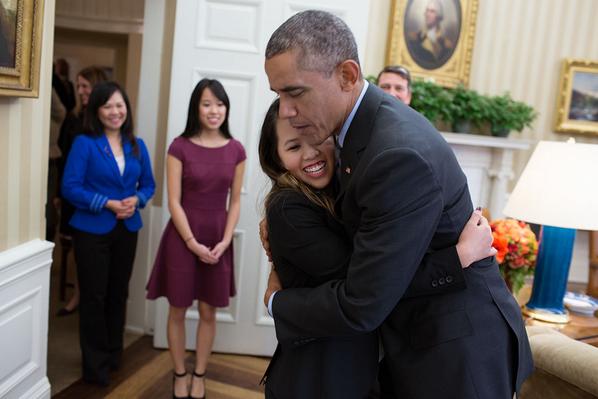 Ms Pham's meeting with Mr Obama came hours after she was released from hospital after being publicly declared virus free.
Her colleague Amber Vinson was also declared free of Ebola earlier today after receiving treatment in Atlanta.
Leader of the Scottish Labour Party Johann Lamont has resigned.
A Labour source said: "She realised it was time for a change in Scotland. She has put the party first. Ed regards her as an honourable woman who has served party well and we hope will serve the party again in the future."
Advertisement
At a campaign event in Chatham ahead of the Rochester and Strood by-election, David Cameron said the European Council will not "get my money."
The Prime Minister has stoutly refused to pay the surprise £1.7 bn surcharge handed to Britain by the EU.
These European Councils. There are too many of them and they go on far too long and they always try to get hold of your money. But they didn't get my money and I got here in the end.
– David Cameron
On a visit to Rochester, ahead of a crucial by-election, David Cameron said that what voters wanted was a Prime Minister who stood up for Britain in Europe.
Polls have tipped Ukip for a win in the Rochester and Strood by-election and Mr Cameron has tried to appear tough on Europe in the hopes of a strong Conservative performance in the vote.
He was speaking after he told a press conference that he simply would not pay the surprise £1.7bn surcharge handed to Britain by the EU.
US nurse Amber Vinson has followed her colleague Nina Pham in being declared free of the Ebola virus, after the pair contracted the disease while treating a dying patient at their Dallas hospital.
Ms Vinson's status was confirmed by the Atlanta medical centre where she had been receiving treatment after a transfer from a Texas hospital.
Vinson's fellow nurse Pham was earlier declared virus free after receiving treatment in Maryland.
Jose Manuel Barroso has said that the £1.7 bn surcharge levied against the UK, "should not come as a surprise," as it was calculated from figures provided by the UK.
The European Commission President was answering a question from ITV News Europe Editor James Mates, on David Cameron's claims the payment was "not acceptable".
When pressed on what would happen if the UK does not make the payment on 1st December, when it is due, Mr Barroso said: "I cannot now speculate on non-payment."
Load more updates