Voters are more concerned by "the number of migrants coming" to the UK than they are by EU nationals moving to Britain to claim benefits, a leading Conservative backbench MP has told Good Morning Britain.
Peter Bone praised David Cameron's plans to block benefits to EU migrant workers for the first four years they were in the UK, but criticised the PM's plans for failing to tackle the root of the problem.
David Cameron has "completely failed" to deliver on his immigration targets, shadow home secretary Yvette Cooper said.
Ahead of David Cameron's much-anticipated speech outlining his plans to tighten immigration laws, Ms Cooper said: "Immigration is important to Britain - that's why it needs to be controlled and managed so that the system is fair.
"But David Cameron's 'no ifs, no buts' immigration target has completely failed.
"Four and a half years into his Government, his promises on an immigration target are in tatters.
"Rather than ramping up the rhetoric, David Cameron must now set out sensible, practical plans."
Advertisement
David Cameron says he understands that British people want the Government to have "control" over immigration.
"People have understandably become frustrated. It boils down to one word: control," Mr Cameron will say in a speech outlining his reforms today.
"People want Government to have control over the numbers of people coming here and the circumstances in which they come, both from around the world and from within the European Union.
"And yet in recent years, it has become clear that successive Governments have lacked control. People want grip. I get that."
The Sun newspaper has hailed its victory over Conservative MP Andrew Mitchell in the 'Plebgate' libel case.
It claimed the ex-Government chief whip's defeat would cost him £3 million in costs.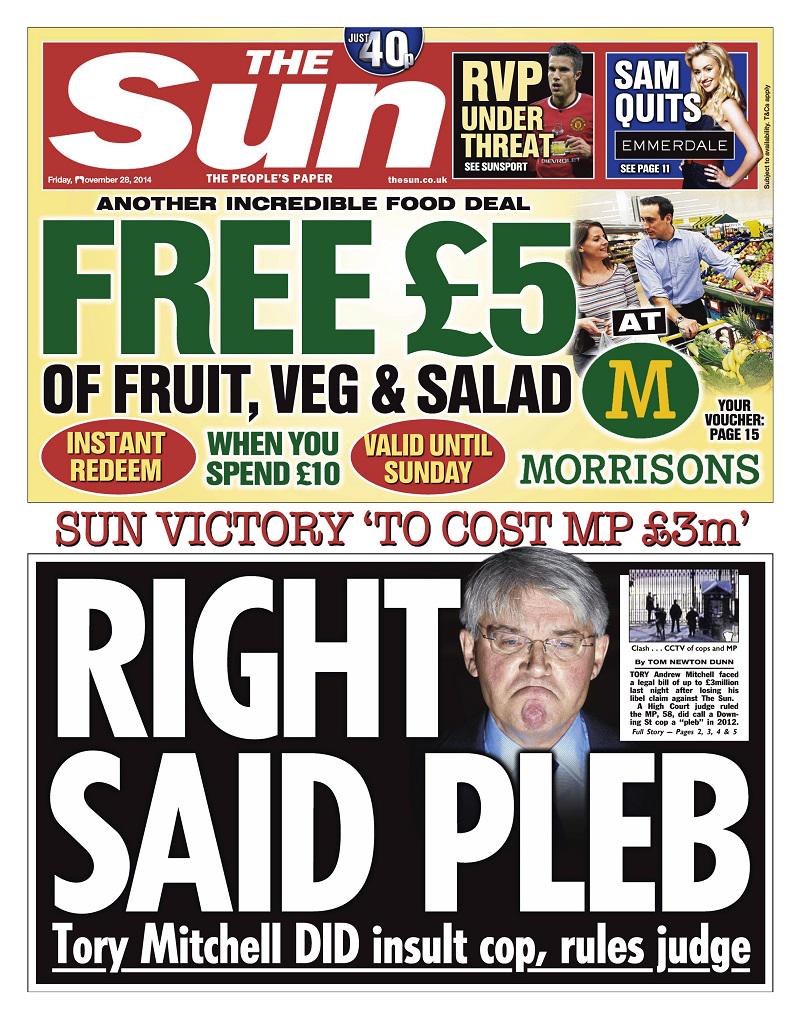 David Cameron says he has ruled "nothing out" if British concerns over migration "fall on deaf ears" at the European Union.
In a much-anticipated speech on immigration reform today, the Prime Minister will insist that welfare reforms will be an "absolute requirement" in the renegotiation process ahead of his planned referendum on EU membership.
This issue of free movement will be a key part of that negotiation. If I succeed, I will, as I have said, campaign to keep this country in a reformed EU.

If our concerns fall on deaf ears and we cannot put our relationship with the EU on a better footing, then of course I rule nothing out.

But I am confident that, with goodwill and understanding, we can and will succeed.
– David Cameron
David Cameron has pledged to remove "the financial incentives that attract migrants to Britain" in a bid to cut net migration and "deliver the control that British people want.
The proposals include:
EU migrants will not receive in-work benefits such as tax credits and social housing unless
Unemployed migrants will be kicked out of the UK unless they have found a job within six months
They will not be supported by British taxpayers
No child benefits or tax credits for children living outside of the UK will be paid out no matter how long the migrant has paid taxes for
Advertisement
European migrants will be banned from claiming benefits for the first four years after they arrive in the UK, under radical immigration reforms set out by David Cameron.
Unemployed Europeans will have six months to find a job or face being removed from the country, Mr Cameron will say in a speech on immigration reform today.
And those with jobs will only receive in-work benefits, such as tax credits, and social housing once they have been in the UK for four years.
Mr Cameron was dealt a blow yesterday after figures showed that net migration to the UK had increased by 78,000 to 260,000 in the year to June, despite his pledge to reduce net migration to below 100,000.
David Cameron's highly anticipated speech on immigration and Europe tomorrow could impact the in/out referendum the Prime Minister has promised on the EU.
ITV News Europe Editor James Mates considers how Britain could be affected if the country votes to leave Europe by looking at how Switzerland - which has never joined the EU - deals with immigration, trade and Europe.
The disagreement over a brief angry exchange between Andrew Mitchell and Downing Street police has ended two years later in a devastating High Court judgement for the former government chief whip.
While Mr Mitchell has been ordered to pay initial costs of £300,000 after his libel action defeat, as ITV News Political Correspondent Carl Dinnen reports, it is estimated the 'Plebgate' case could end up costing him £3 million.
The defeat of Andrew Mitchell's libel action against News Group Newspapers over the 'Plebgate' incident is a "vindication" for The Sun and its journalists, the newspaper's managing editor has said.
We have always stood by our story and continue to do so. We are delighted that the judge has ruled that what we reported about events on Downing Street in the evening in question was the truth and accurate.

There has been a lot of speculation and comment about Mr Mitchell's outburst, and criticism of our newspaper. The judgment today lays all that to rest.

Our article broke this important public interest story, and it has been independently and conclusively confirmed. The Sun can be proud of its journalism today.
– Stig Abell, managing editor of The Sun
Load more updates