David Cameron has issued an appeal in Brighton newspaper The Argus urging voters to "stop Labour wrecking our country again".
The Conservatives are defending marginal seats in Brighton Kemptown and Hove, and engaged in a three-way fight with the Green Party and Labour in Brighton Pavilion, which gave the Greens its first House of Commons seat in 2010.
Cameron wrote, "A vote for anyone other than Conservatives could make Miliband Prime Minister. And the result would be clear: more taxes, more spending, more borrowing and more debt - all the things that got Britain into a mess in the first place."
The Prime Minister warned there was a "very real possibility" that Miliband could enter Downing Street "on the coat tails" of the SNP, adding, "It would be an alliance between the people who want to bankrupt Britain and the people who want to break up Britain".
Iain Duncan Smith has said he finds the prospect of a Labour-SNP coalition "frightening", especially after watching last night's "challengers" debate.
The senior Conservative told Good Morning Britain Ed Miliband "would become a prisoner of a left-wing coalition" and be forced to spend more and borrow more if he becomes Prime Minister.
"It would turn the economy into a disaster zone," he added.
During last night's debate, SNP leader Nicola Sturgeon urged Miliband not to turn his back on her coalition offer, which Duncan Smith called "worrying".
"A bust economy and a broken union, that is what I saw last night," he said.
Advertisement
Ed Miliband will unveil the party's manifesto for young people and pledge to ban firms from making graduates work unpaid for several weeks.
Read the full story ›
Chief Secretary to the Treasury Danny Alexander has said the Liberal Democrats were prevented from taking part in last night's challengers' debate on the BBC because of the Conservatives.
Speaking on ITV's The Agenda, after the debate programme, Mr Alexander insisted that his party wanted to be there "to defend our good record in government."
Mr Alexander added that Thursday night's TV debate showed that the Lib Dems were needed at Westminster to represent "the centre ground".
Other guests on The Agenda were poet Benjamin Zephaniah, journalist and broadcaster Julia Hartley-Brewer and BBC Radio4 presenter Aasmah Mir.
Liberal Democrats leader Nick Clegg has said on Twitter that he would take part in a one-on-one debate with Labour's Ed Miliband 'any time, any place, any where'.
His comments came as five party leaders took part in a challengers' TV debate on the BBC without the Prime Minister or Mr Clegg.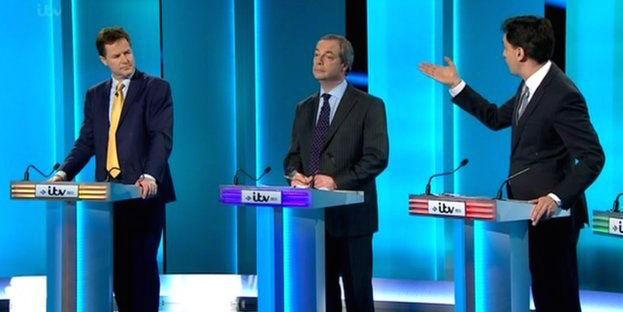 As I said earlier, I was not invited to #BBCDebate. I would have happily taken part and proudly defended our strong record in government.
Jeremy Hunt has said that the challengers' debate revealed the 'secret negotiations' which he said would have to happen if Ed Miliband needed to form a coalition after the election.
He went on say the lack of consensus shown would lead to a 'coalition of chaos.'
What we saw tonight was the negotiations that will happen in secret if Ed Miliband were to win the election and were to have to form a coalition with other parties of the left. And we saw they couldn't agree on Trident, they couldn't agree on the NHS.
– Jeremy Hunt
Advertisement
Danny Alexander has said there not enough answers on who would form a coalition during tonight's debate.
The truth is that neither Ed Miliband or David Cameron are going to win an outright majority. So the key issue is who's going to be working with them?

On the evidence of tonight people will need to have the Liberal Democrats there otherwise this country's going to be in for a hell of a ride after the election.
– Danny Alexander
We watched undecided voters as they watched the debate hoping it might help them make up their minds.
Read the full story ›
Ed Miliband was judged the "winner" of the BBC Challenger's Debate in an instant poll by Survation tonight.
Survation for @dailymirror #bbcdebate Who do you think 'won' the debate? Miliband 35% Sturgeon 31% Farage 27% Bennett 5% Wood - 2%
Ed Miliband appeared to turn down Nicola Sturgeon's latest offer as the leaders of five "challenger" parties took part in a heated debate.
Read the full story ›
Load more updates