Newcastle winger Jonas Gutierrez has revealed he is having treatment after being diagnosed with testicular cancer in his native Argentina.
The popular midfielder said he has undergone chemotherapy after having surgery following the discovery of a tumour which was first noticed last year.
The 33-year-old appeared on Argentinian TV show Indirecto looking strikingly different without his trademark long hair and beard.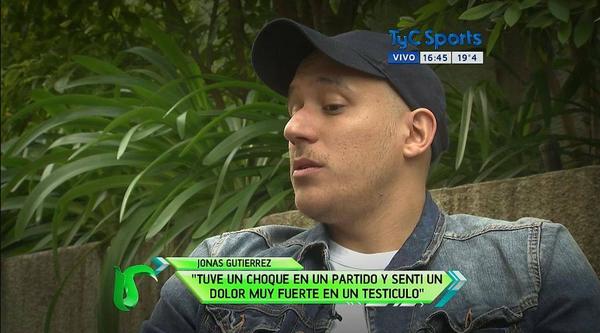 "When I was told I had cancer, I went home in tears," he told the show.
He added: "This is the most difficult match I've every played. You start thinking about important things when you have problems like this one."
After revealing his battle with cancer last night, the winger used Twitter to thank fans for their messages of support.
Gracias por todos los mensajes de apoyo. Mirando siempre para adelante. Thanks for all the messages. Always looking fordward.
A former Germany international goalkeeper claims he has been offered a contract to become a wrestler with World Wrestling Entertainment.
Read the full story ›
Advertisement
Former Real Madrid president Ramon Calderon says Cristiano Ronaldo is 'fed up' with life at the Bernabeu and could return to Man United
Read the full story ›
Rio Ferdinand has hit out at former England team-mate John Terry, labelling the Chelsea skipper as 'the biggest idiot'
Read the full story ›
Prince Harry's Invictus Games is hailed a success as it closes with star performances from the Kaiser Chiefs, Ellie Goulding and Diversity.
Read the full story ›
Prince Harry says he wants to take his Invictus Games out of London and give the rest of the country a taste of its warrior spirit.
The international sporting event for wounded servicemen and women comes to an end on Sunday after five days of competition and Prince Harry said next time it could be staged in the north of England or Scotland before being taken abroad.
"We've now got America showing interest in 2016 and Canada showing interest in 2017, so the question is what do we do next year? I personally would love to keep it in the UK, maybe head north whether it be Glasgow, whether it be Sheffield, whether it be Manchester."
– Prince Harry
Advertisement
Players supporting Stonewall initiative to tackle homophobia in football by wearing rainbow-coloured boot laces on the field this weekend
Read the full story ›
Rory McIlroy might be the World Number One, but surely even he didn't think he could pull off a shot this good.
Read the full story ›
Prince Harry led the royals in a game of wheelchair rugby, dubbed Murderball, on the second day of the Invictus Games.
Read the full story ›
Celtic made an £11.2 million pre-tax profit last season despite a significant drop in revenue.
The club's annual accounts showed group revenue decreased by 14.6 per cent to £64.7 million, with some of the fall being attributed to a £100 reward to season ticket holders.
Operating expenses also fell, by 4.5 per cent to just under £60 million, to leave Celtic with almost £4 million in the bank on June 30.
Load more updates