Manchester United manager Louis Van Gaal admits he is interested in bringing Cristiano Ronaldo back to Old Trafford, but doubts Real Madrid are willing to sell him.
Speculation that Ronaldo could return to United intensified this week following comments by former Real Madrid president Ramon Calderon that the Portuguese attacker was "fed up" with Madrid's transfer policy.
Ronaldo, who left United for a then World record fee of £80 million in 2009, has previously hinted he could return to his former club.
Asked whether he could attempt to re-sign the 29-year-old, Van Gaal said: "It is possible.
"That's what I have said with Falcao. Players like Ronaldo give a lot of extra to a team, but I don't think Real Madrid shall sell him."
The secretary of The Royal and Ancient Golf Club of St Andrews said he was "very pleased" that its members "voted overwhelmingly in favour of welcoming women members".
More than three quarters of the club's global membership took part in the ballot, with a decisive 85% voting for women to become members.

This vote has immediate effect and I can confirm that The Royal and Ancient Golf Club of St Andrews is now a mixed membership club.

The membership has also acted to fast-track a significant initial number of women to become members in the coming months.

This is a very important and positive day in the history of the Royal and Ancient Golf Club. The R&A has served the sport of golf well for 260 years and I am confident that the club will continue to do so in future with the support of all its members, both women and men.
– Peter Dawson, secretary of The Royal and Ancient Golf Club
Advertisement
Football Association chairman Greg Dyke has confirmed he was given a £16,000 watch by the Brazilian FA but had no idea of its value and is returning the gift.
The presents were given to a representative from all 32 countries at the World Cup and Fifa today ordered that the watches needed to be returned by October 24.
The Royal and Ancient Golf Club has voted overwhelmingly to welcome women as members, it has confirmed.
Significant initial number of women to be fast-tracked into membership over the coming months. Read more: http://t.co/7X26rkYQvx
The Tonight programme investigates the tough reality of life for people with learning disabilities in this country.
Read the full story ›
Top golfer Rory McIlroy has told ITV News that he hopes and expects the sport's governing body to "make the right decision" tonight.
The Royal And Ancient Golf club will announce the result of a vote on whether to allow female members at St Andrews, for the first time in its 260 year history.
It is expected the all male membership will approve the move this evening and immediately enrol 15 women.
I don't even think there should be a debate. Of course women should be allowed to join. I think it's been a long time coming, and it's definitely well overdue, and I'm sure they'll make the right decision in the end.
– Rory McIlroy.
If it is approved it will mean only three major golf clubs will still have men only membership. Muirfield and Royal Troon in Scotland, and Royal St Georges in Kent.
Advertisement
The Royal and Ancient Golf Club of St Andrews is set to announce whether it will allow female members for the first time in its 260-year-old history.
Women who made a "significant contribution" to golf will be first in line to join if the club votes in favour of the move.
Existing members of the club have voted via postal ballot with the result expected later today.
A spokesman for the club said: "Over 2,400 ballot papers have been sent out and the vote is independently scrutinised by Electoral Reform Services. A simple majority is required to effect the proposed change. Should the outcome be in favour of welcoming women members the decision will take immediate effect".
England's rugby union governing body has apologised "to those who may have taken offence" to the use of the Victoria Cross on the national side's new playing kit.
England's new Canterbury-manufactured shirts feature Victoria Cross designs that comprise numerous small rubber grips to help deaden the impact of the ball.
Victoria Cross Trust chairman Gary Stapleton criticised the Rugby Football Union (RFU) for having had no contact with the organisation over using the emblem on the kit, which was officially launched earlier this week.
Stapleton said the move "touched a raw nerve with a lot of people."
In a statement, the RFU said:
We would like to apologise to those who may have taken offence with our new kit. It was certainly never our intention to cause this.

We are huge supporters of our service personnel and respect and value their support for England.

We will be contacting the Victoria Cross Trust and the Victoria Cross and George Cross Association to see how we can support their worthwhile work going forwards.
– RFU statement
The Victoria Cross, the British and Commonwealth armed forces' most prestigious medal, has only been awarded 1,354 times during its 158-year existence, most recently in 2012.
The new white England shirt will be worn for the first time when the side begin their autumn Test schedule aganist world champions New Zealand at Twickenham on November 8.
Newcastle winger Jonas Gutierrez has revealed he is having treatment after being diagnosed with testicular cancer in his native Argentina.
The popular midfielder said he has undergone chemotherapy after having surgery following the discovery of a tumour which was first noticed last year.
The 33-year-old appeared on Argentinian TV show Indirecto looking strikingly different without his trademark long hair and beard.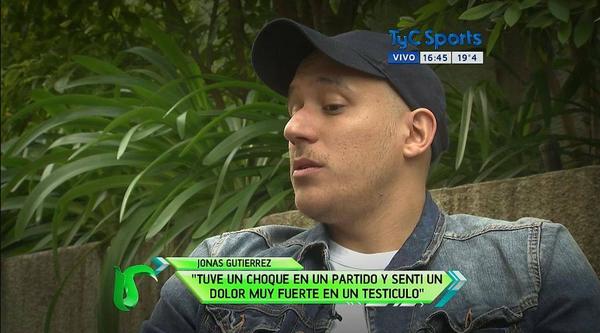 "When I was told I had cancer, I went home in tears," he told the show.
He added: "This is the most difficult match I've every played. You start thinking about important things when you have problems like this one."
After revealing his battle with cancer last night, the winger used Twitter to thank fans for their messages of support.
Gracias por todos los mensajes de apoyo. Mirando siempre para adelante. Thanks for all the messages. Always looking fordward.
A former Germany international goalkeeper claims he has been offered a contract to become a wrestler with World Wrestling Entertainment.
Read the full story ›
Load more updates