Scientist have confirmed an unmanned Falcon 9 rocket blasted off from Cape Canaveral Air Force Station in Florida deliver a cargo ship to the International Space Station for NASA.
The 208-foot tall booster, built and launched by privately owned Space Exploration Technologies, bolted off its seaside launch pad at 5.52am GMT, slicing the night-time sky with a bright plume of light as it headed into orbit.
Ten minutes later, the Dragon cargo capsule perched on top of the rocket was released to begin a two-day journey to the space station, a $100 billion research complex that flies about 260 miles above Earth.
Later tonight, a Nasa spacecraft is expected to reach Mars.
Advertisement
Comedian Joan Rivers seemed to promote the new iPhone 6 from the grave today after posts appeared on her official Facebook and Instagram accounts, TMZ reported.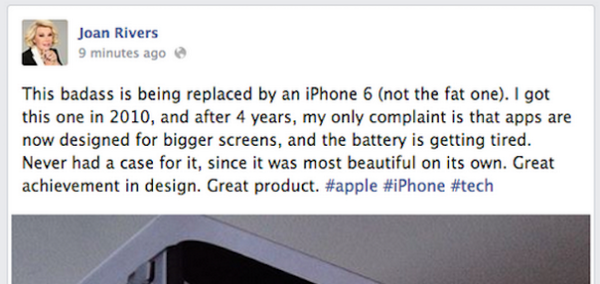 The post appeared on Rivers' Facebook and Instagram pages for a brief period this morning before they were removed.
TMZ suggests the posts were the result of a "pre-negotiated deal" with Apple and before her death she had scheduled them to publish on the iPhone's launch day.
A US headteacher has pledged to pay for a student's textbooks for a year if they beat him at a popular video game.
Wearing a baseball hat and eye black, Scott Dalrymple, president of Columbia College in Columbia, Missouri, hands down the challenge in a video posted on YouTube.
Students at the college will go up against each other in an online Madden 25 challenge before the winner goes head to head against Dalrymple.
Sorry, this content isn't available on your device.
The jobs of 900 Phones 4u employees will be saved after Vodafone said it would buy 140 stores run by the retailer, which fell into administration earlier this week.
The network operator said it was approached by the Phones 4u administrator and decided to make an offer for the 140 stores, which was accepted. "Subject to court approval, we will start engaging with these employees and begin the rebranding of the stores to Vodafone as soon as possible," the company said.
However, 628 head office and telesales staff have been made redundant today by the administrators.
Dixons Carphone said on Wednesday it would take on 800 Phones 4u staff who worked in concessions in Currys/PC World stores. That still meant that almost 4,000 of the chain's 5,600 staff were set to lose their jobs.
The retailer collapsed after all three main network operators stopped dealing with the reseller.
Actors Tom Hardy and his fiancee, actress Charlotte Riley, along with Mamma Mia! star Dominic Cooper and Doctor Who's Jenna Coleman were among the thousands who picked up the new iPhone 6 today at Apple's Regent Street store in London.
Reports suggested that some 5,000 people queued outside the Apple store on Fifth Avenue in Manhattan, while outlets in the 10 countries were the device went on sale today were all busy with early adopters. Last week Apple reported a record four million pre-orders for the iPhone 6.
Most technology writers have praised the new smartphone. Stuart Miles, founder of gadget website Pocket-lint, said: "Ultimately the two new iPhones will be very successful because while Apple doesn't deliver new tech it delivers it in such a way that consumers want without getting bogged down with tech specs.
"Apple's attention to detail has a huge knock-on effect in making other manufacturers continually up their game."
Advertisement
A picture of Apple fans queuing outside the technology giant's Covent Garden store today waiting to buy the new iPhone 6 has sparked an unexpected online row.
The Independent's report is headlined "There is literally not a single woman in this iPhone 6 queue", but Rhiannon Williams, the Telegraph's technology reporter, says that claim is "untrue".
She tweeted:
.@christophhooton I was there this morning and there were quite a few women.
The story does acknowledge that there were some women in the queue, but it is certainly difficult - if not impossible - to see any in the picture above.
Meanwhile, a survey of 750 women and 1,250 men has claimed that women are more avid smartphone users than men, with 18% of women checking their devices at least once an hour, compared with 13% of men.
Gamers have been given a taste of what Final Fantasy XV will look like after developer Square Enix released a new trailer.
Read the full story ›
The first person to buy a new iPhone 6 in London said his first priority with the new phone would be taking a selfie.
Jameel Ahmed, 26, and his friend Sam Sheikh, 27, were the first two technology fans through the doors of the Apple store in Covent Garden to buy the new iPhone 6 and iPhone 6 Plus handsets.
Mr Ahmed said he was "really excited", adding: "I'd like to open it and take my selfie. It's a challenge with my friends that I'll have the iPhone first."
The iPhone 6, with a 4.7 inch screen, and the 6 Plus with 5.5 inch display, went on sale in nine countries and the UK today.
EE said that customers who pre-ordered handsets through Phones 4u, which went bust on Sunday, would still be able to get them in its stores if they had their receipts.
One iPhone 6 customer has learned the hard way that speed is not always of the essence when attempting to liberate his new Apple gadget.
Read the full story ›
Load more updates