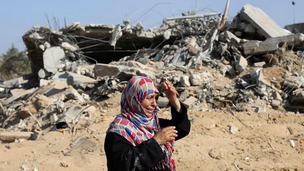 Fear and desperation grows across Gaza as the much called for ceasefire collapsed within hours.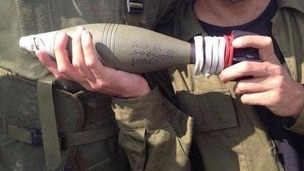 On a shell believed to be heading for Gaza, a message reads: "That's for cancelling the Backstreet Boys."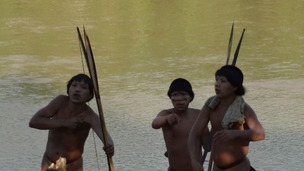 The moment an indigenous tribe made contact with the outside wold has been captured on camera.
Live updates
Outbreak of deadly Ebola virus in West Africa 'out of control'
Two American aid workers seriously ill with Ebola are due to arrive back in the US for treatment this week.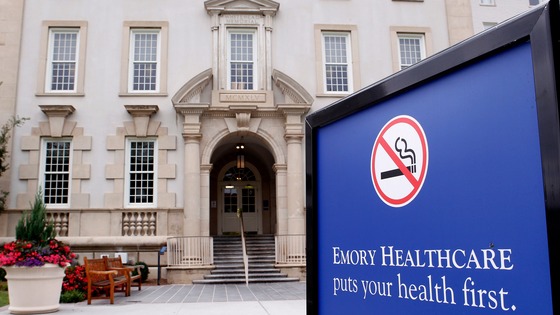 One will arrive today in a small private jet outfitted with a special, portable tent designed for transporting patients with highly infectious diseases.
The second is to arrive a few days later, doctors at Atlanta's Emory University Hospital, where they will be treated in a high security isolation unit, said.
It is the first time anyone infected with the disease has been brought into the country but US officials are confident they can be treated without putting the public at risk.
The two Americans have been named as Dr Kent Brantly and Nancy Writebol. Both worked for US missionary groups in Liberia that treated Ebola patients.
It has not been revealed which of them will be flown home first.
PM: Nato must rethink its relationship with Russia
David Cameron has said Nato and its members "will not be intimidated" by Russia in the wake of its actions in Ukraine.
Speaking ahead of the Nato summit in south Wales next month the prime minister said the gathering marked a "pivotal" moment in Nato's history.
He said: "In 2014, the world is more unpredictable than ever. To the East, Russia has ripped up the rulebook with its illegal annexation of Crimea and aggressive destabilisation of Ukraine.
"To the South, an arc of instability spreads from North Africa and the Sahel, to Syria, Iraq and the wider Middle East.
"So we must use the Summit to agree how Nato should adapt to respond to and deter such threats; and to ensure the continued collective defence of all its members."
The summit near Newport is the first in the UK since Margaret Thatcher hosted the alliance in 1990, as the Cold War was ending and Nato started to chart a course for a new relationship with Russia.
Advertisement
Dozens killed in Libya as western diplomats flee
Escalating violence in Libya has prompted the UK's Foreign and Commonwealth Office (FCO) to shut down its embassy in the country.
Many staff were evacuated earlier this week following intense fighting in Tripoli but now the FCO says it will suspend its consulate once it has assisted the departure of British nationals.
An FCO spokesman said: "The protection of our staff is paramount, and we assess that the current environment in Tripoli does not allow us to operate safely. We have therefore decided temporarily to relocate UK-based staff from the country."
'Captured' Israeli soldier Hadar Goldin feared dead
Questions were tonight being asked about whether military equipment manufactured in the UK has been used in Israel's offensive on the Palestinian enclave.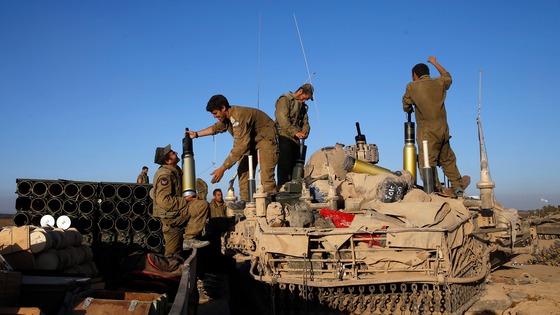 Documents obtained by The Independent showed arms export licences worth £42 million were granted to 130 British defence manufacturers since 2010.
This allowed them to sell military equipment to Israel, ranging from weapons control and targeting systems to ammunition, drones and armoured vehicles.
The Government said it was now reviewing all licences to Israel.
At least 1,600 Palestinians - most of them civilians - have been killed and 8,000 injured during the assault, while Israel has lost 63 soldiers and three civilians.
'Captured' Israeli soldier Hadar Goldin feared dead
Missing Israeli soldier Hadar Goldin may have been killed during an ambush, Hamas has claimed.
The militant group insisted it had "no clear indication of the whereabouts" of the 23-year-old Israel accused them of abducting.
A statement by the group said: "We have lost contact with the group of fighters that took part in the ambush and we believe they were all killed in the (Israeli) bombardment.
"Assuming that they managed to seize the soldier during combat, we assess that he was also killed in the incident."
PM: Nato must rethink its relationship with Russia
Prime Minister David Cameron has said Nato must rethink its long-term relationship with Russia in the wake of its "illegal" actions in Ukraine.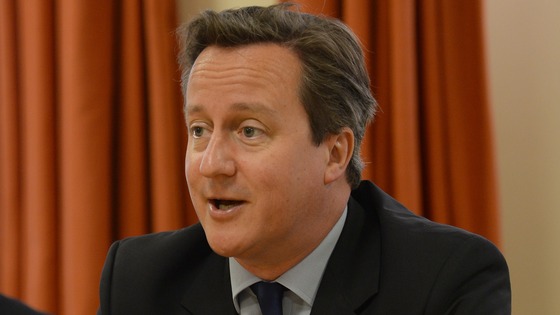 He also called for Nato's members to take measures to ensure it can respond quickly to any threat from Moscow.
In a letter to his Nato counterparts, Mr Cameron said the measures should include sustaining a "robust" defensive presence in eastern Europe, keeping equipment and supplies in key locations and beefing up Nato's Response Force of swiftly deployable land, air, maritime and special operations troops.
The letter comes just days after a government report warned the trans-Atlantic military alliance was not adequately prepared for a potential threat from Russia.
Advertisement
'Captured' Israeli soldier Hadar Goldin feared dead
The fate of an Israeli soldier is a new and potentially dangerous focus of the conflict in Gaza.
More than sixty people were killed in violence today, the majority of whom where Palestinian civilians, after a 72 hour truce was shattered after just three three hours.
Read: Collapse of hope as ceasefire unravels
Amid the renewed violence were persistent reports that Hamas had captured an Israeli soldier during fighting around a Hamas tunnel. Neither they nor Israel have confirmed it but, in the last few hours, President Obama talked of the need for Hamas to 'release' him.
Middle East Correspondent Geraint Vincent reports from Tel Avivi
Outbreak of deadly Ebola virus in West Africa 'out of control'
The World Health Organisation moved to combat an "unprecedented outbreak" of the Ebola Virus in West Africa.
The Director-general of WHO Margaret Chan, said the disease was moving faster than efforts to control it after launching a $100 million response plan, adding "tough measures" will be needed to stop it.
ITV News correspondent Martha Fairlie reports
US President Barack Obama has admitted that his country tortured people in the wake of the Sept. 11 terrorist attacks but said they were contrary to American values.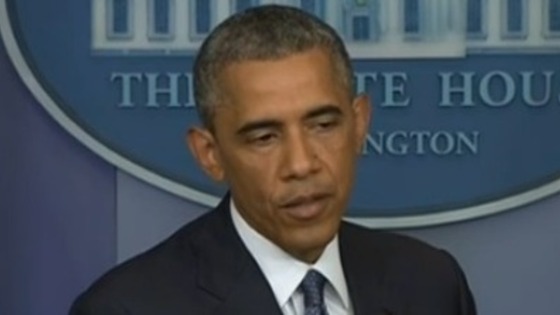 Speaking at a news conference Obama said the White House turned over a declassified report to the Senate on Friday about the techniques that shows the agency went too far in interrogations after the Sept. 11, 2001, attacks.
He said: "We did a whole lot of things that were right, but we tortured some folks. We did some things that were contrary to our values."
The US leader added the techniques were used because the United States was afraid more attacks were imminent.
He said: "It's important for us not to feel too sanctimonious in retrospect about the tough job that those folks had. A lot of those folks were working hard under enormous pressure and are real patriots."
'Captured' Israeli soldier Hadar Goldin feared dead
US President Obama condemned the reported capture of an Israeli soldier by Hamas militants "moments" after the agreed 72 hour ceasefire.
Speaking from Washington, he said if Hamas were serious about peace, the soldier needed to be released immediately, and without conditions.
Obama: Heartbreaking to see what is happening in Gaza
He said the loss of civilian life that has occurred over the past three weeks was "heartbreaking" and a ceasefire would have protected those innocent Palestinians being killed.
Read: Obama calls for unconditional release of Israeli soldier
Load more updates