Prince William has arrived in China for a high-profile trip that will see him highlight the illegal wildlife trade, visit some of the nation's most famous sites and meet a rescued elephant.
William's flight landed in Beijing after he had spent the day in Japan hearing the harrowing stories of survivors of the 2011 tsunami.
The Duke's four-day trip to China is the highest profile visit by a member of the Royal Family since the Queen's 1986 state visit and will be viewed as an attempt to improve diplomatic relations with the country.
On Monday the Duke will tour Beijing's Forbidden City before flying to Shanghai where he will launch the three-day Great Festival of Creativity at the city's Long Museum.
William - who has campaigned strongly to end the illegal trade in ivory and other endangered animal products - will travel to Yunnan province on Wednesday where 250 wild Asian elephants still roam free.
He will give a speech at a regional wildlife and conservation conference after seeing rescued elephants and learning how local communities live alongside the large animals.
Thousands gathered for a march in Moscow to honour opposition politician Boris Nemtsov, who was shot dead on Friday.
Nemtsov, who was 55, was one of the leading lights of an opposition struggling to revive its fortunes, three years after mass rallies against Putin that failed to prevent him returning to the presidency after four years as prime minister.
The opposition has little support outside big cities and Putin has now been Russia`s dominant leader since 2000, when ailing President Boris Yeltsin chose the former KGB spy as his successor, a role Nemtsov had once been destined to play.
Nemtsov, a fighter against corruption, had hoped to start the oppositions revival with a march in Marino on the outskirts of Moscow today to protest against Putins economic policies and what they see as Russia`s involvement in the separatist war in east Ukraine. The Kremlin denies any role in the fighting.
Advertisement
A police line which is keeping Boris Nemtsov marchers away from the Kremlin has been formed under the bridge where veteran liberal politician was shot on Friday.
ITV News Europe Editor James Mates is in Moscow: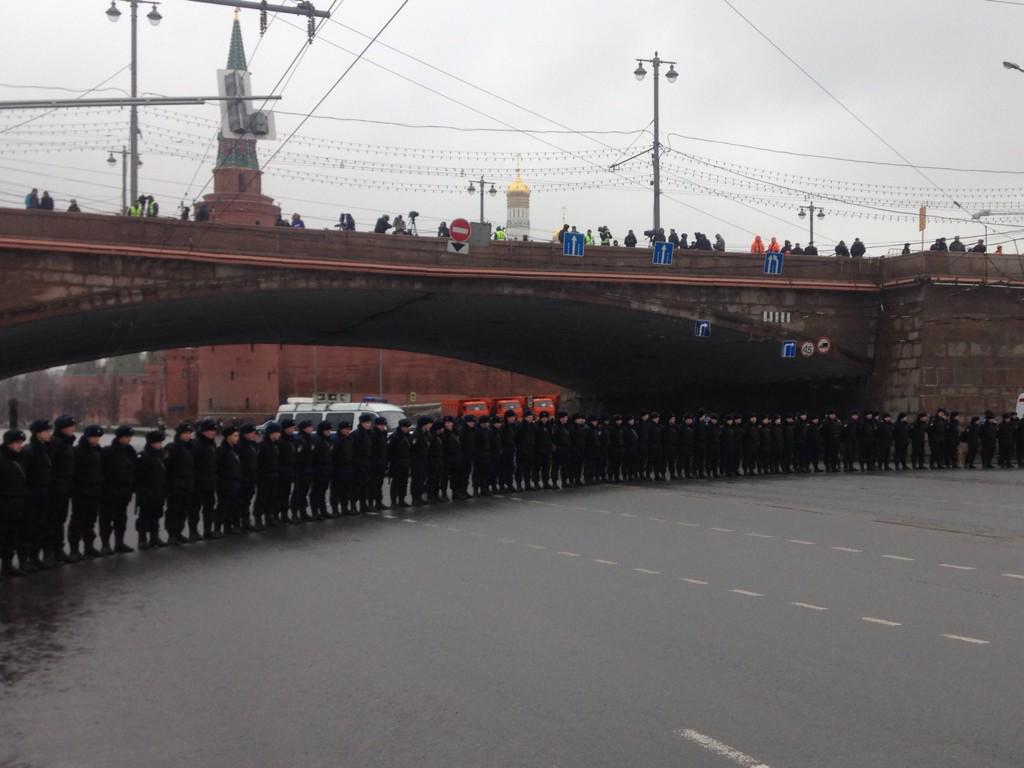 Shadow home secretary Yvette Cooper claimed the security services' hands were tied for nearly five years by Mrs May's "wrong" decision to scrap powers to move terror suspects away from their extremist networks.
Relocation powers have been reintroduced by the coalition this year but Ms Cooper called for the security services to immediately brief the Intelligence and Security Committee on how the loss of the measures might have affected their work.
This would allow MPs to review whether the loss of relocation powers had led to more British jihadists travelling to Syria and Iraq and more radicalisation in the UK.
Ms May told BBC1's Andrew Marr Show:
I think [the security services'] hands have been tied I think by the Government. I think we should have had the control orders in place across this Parliament which we haven't had because they removed some of the powers, and I think that has caused them more problems.

It's taken them five years, five years of us arguing, five years of security experts arguing that this was the wrong approach.

And so I think that the fact that Theresa May could take the decision to remove those relocation powers against all that expert advice, against the arguments that were made in Parliament, I think was the wrong thing to do. We do need to know more about whether that has increased the risk as a result, about what difference it's made to some of these very serious cases.
Newly released emails to a Muslim campaign group reveal Mohammed Emwazi felt "controlled" under the watch of the security services.
Read the full story ›
Advertisement
The Duke of Cambridge has heard the harrowing stories of Japanese tsunami survivors during a visit to communities devastated by the disaster.
William toured a coastal area that saw thousands killed and tens of thousands made homeless when the huge wage struck in 2011 after being triggered by an earthquake.
In the city of Ishinomaki he met Hiroyuki Takeuchi, the now-retired former chief reporter at the Ishinomaki daily newspaper which produced handwritten editions when the disaster struck.
The Duke was shown a muddy mark 8ft up an outside wall of a museum which showed how high the tsunami had reached in this part of the city.
Next he went upstairs to meet Shinichi and Ryoko Endo, who lost their three children, Hana, Kana and Kanta, all of them under 12. Mr Endo, a carpenter, has been closely involved in the work of reconstruction. They gave William a wooden charm against fire made out of tsunami rubble, including oak, as the national tree of Britain.
The Duke of Cambridge is now on his way to China after a three day trip to Japan.
Earlier Prince William visited a Japanese coastal city to learn how communities coped with the devastating 2011 tsunami.
William toured Ishinomaki where more than 3,000 died and around 22,000 lost their homes when the city was deluged by a 28ft wave.
A British man identified in reports as the Islamic State executioner known as "Jihadi John" feared he was a "dead man walking" after run-ins with security services before fleeing to Syria, email exchanges with a journalist have claimed.
Computer programming graduate Mohammed Emwazi said he considered suicide after coming face to face with what he suspected to be a British spy as he attempted to sell a laptop computer in 2010.
In an email exchange with the Mail on Sunday at the time, Emwazi described how he became suspicious of the buyer after they met.
He told theMail on Sunday's security editor Robert Verkaik he felt harassed by security services, in a series of emails in 2010, three years before he left to join IS, saying, "Sometimes I feel like a dead man walking, not fearing they (MI5) may kill me.
UN Secretary-General Ban Ki-moon has condemned the murder of Russian opposition leader Boris Nemtsov, who was shot dead by unknown attackers in Moscow.
"The Secretary-General was shocked by and condemns the brutal killing of Boris Nemtsov in Moscow on 27th February," the United Nations press office said in a statement.
It added that Mr Ban "notes that an investigation into this murder has been announced, and he expects the perpetrators to be brought to justice swiftly."
It said he expressed his condolences to Nemtsov's family, friends and supporters.
Load more updates