Labour leader Ed Miliband says his party will lay out proposals for further devolution across the UK in the "coming days".
He said the party already had plans for devolution in England but added "we want to go further".
He appeared to dismiss calls for an English parliament, saying: "I don't think that has actually been proposed but we will look at any proposals the Prime Minister comes forward with."
The first minsters of Northern Ireland and Wales will discuss the implications of the Scottish vote on devolution after Prime Minister David Cameron confirmed powers would be reviewed across the rest of the UK.
A spokesperson for the Democratic Unionist Party leader Peter Robinson confirmed he will phone his Welsh counterpart Carywn Jones later today.
Advertisement
Ukip leader Nigel Farage has begun posting letters to the 59 Scottish MPs in the House of Commons to ask them to give up their right to debate or vote on devolved English issues at Westminster.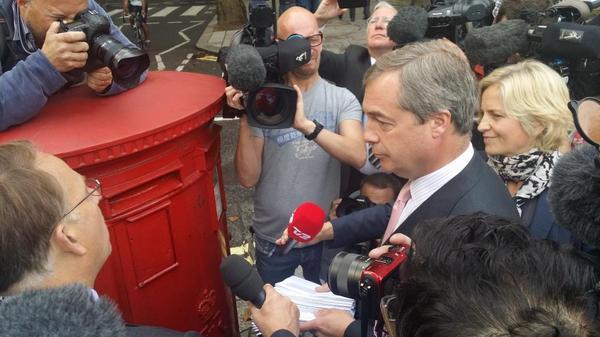 English-only votes in Parliament form part of a list of demands Ukip has issued for England should Scotland be given more powers.
It is "great news" that the Prime Minister has "recognised he needs to sort out the problem of England", Conservative MP John Redwood told Good Morning Britain as he called for more devolved powers.
The referendum story is rapidly heading south. Scottish voters were promised more power - now English and Welsh voters ask "what about us?"
Read the full story ›
David Cameron's decision to devolve voting powers on English issues to English MPs alone could cause a major issue for the Labour Party, reports ITV News Political Editor Tom Bradby.
In the event that Labour wins the next election with a slim majority, it may rely on MPs in Scotland that would then be ineligible to vote on English matters such as a budget.
That may mean major bills such as the Budget could be at risk of failure without cross-party support.
Banning Scottish MPs from voting on English matters is potentially a nightmare for Labour.
Would it be able to get a Budget through? It would need a big majority to really be in control of England.
Advertisement
David Cameron's plans to have English devolution presided over by William Hague and a committee are "dangerous", Nigel Farage has told Good Morning Britain.
The Ukip leader said the Prime Minister was "panicking" by saying, "I'm going to put William Hague in charge of a committee and after a few weeks we're going to find a solution to run in a parallel timetable with more Scottish devolution."
The head of the Local Government Association, which represents councils in England and Wales, has said "the devolution genie is out of the bottle" following the Scottish referendum.
David Sparks said any new powers that Scotland receives "must be given to local areas in England and Wales", adding: "The appetite for devolution does not stop at the border and the rest of the UK will not be content to settle for the status quo."
The LGA called for an urgent meeting of a Constitutional Convention and called on the Government to set out a timetable for devolution across England, with a pledge for immediate new powers to areas which are ready for them.
The Scottish referendum campaign has shown that public trust in the old ways of central control has been shattered beyond repair. That is why establishing an English Parliament, with MPs still calling the shots, would not represent true devolution.

It is locally elected councils - driving their local economies through devolved taxation and greater control over council tax and business rates - which can satisfy the desire of people in England to have greater say in the places they live and work.
– Local Government Association chairman David Sparks
It is "inconceivable" not to address the West Lothian question, after further devolution has been promised to Scotland, the leader of the house of commons has told Good Morning Britain.
William Hague, who will chair the committee overseeing devolution, said Parliament had to "grip" the question of Scottish MPs voting on issues which affected only England.
Load more updates