Heidi Alexander, the shadow health secretary, has resigned from the shadow cabinet over Jeremy Corbyn's leadership.
She said she had left with a "heavy heart" but believed the party needed to leadership to develop a "credible and inspiring alternative" to the Conservatives.
In a letter to Mr Corbyn she wrote:
As much as I believe you are a man of principle, I do not believe you have the capacity to shape the answers our country is demanding and I believe if we are to form the next government a change of leadership is essential.
– Heidi Alexander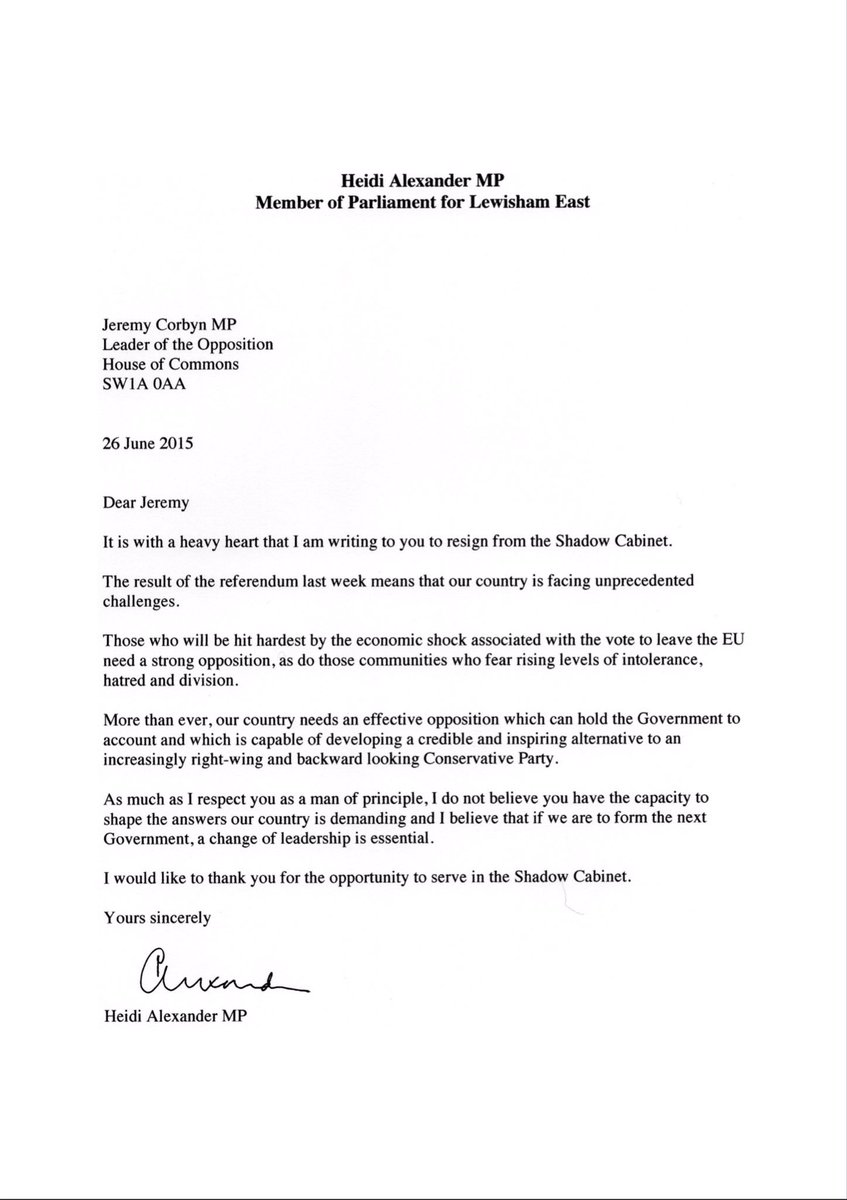 Former shadow cabinet member Tristram Hunt has become one of the latest Labour MPs calling for Jeremy Corbyn's removal as leader of the party in the wake of the Brexit vote.
Writing in The Observer, Mr Hunt wrote: "As we face the prospect of a Tory-driven Brexit and another general election, our experiment with Corbynism has to end."
If Labour members care about Labour voters, we need to do something about the Labour leader... The shadow cabinet needs to act or MPs will.
– Tristram Hunt
"We need a leader who can hold Boris Johnson to account, stand up for Labour voters and be ready to walk through the door of Downing Street in as little as a year's time," the Stoke-on-Trent Central MP added.
Advertisement
Farage has hit out at attempt to engineer a re-run of the EU referendum, saying it's not "best of three".
The Ukip leader spoke out after more than 2.5 million people signed a petition calling for a second vote on Britain's place in the UK.
He told the Sunday Mirror there could be no going back on the decision to leave the EU.
It's the last thing I want to see. It's not a game of the best of three.
– Nigel Farage
Labour MP David Lammy has also made a public appeal for Parliament to block moves to leave the EU - but both David Cameron and Labour leader Jeremy Corbyn have said the vote result must be respected.
Alastair Stewart explains how significantly he rates the UK's decision to leave the EU as a political story.
Read the full story ›
The move comes amid a motion of no confidence that was tabled against Labour leader Jeremy Corbyn.
Read the full story ›
Since Friday's EU result, the Liberal Democrats have recorded thousands of voters signing up to become members.
Read the full story ›
Advertisement
Former Conservative cabinet minister Lord Mayhew has died aged 86, his family has said.
Read the full story ›
German Chancellor Angela Merkel has said there is no rush for Britain to leave the EU, but it should not take too long.
However, European foreign ministers are calling on the UK to go quickly.
ITV News correspondent John Ray reports:
Ann Coffey has added to the growing list of Labour MPs who have said that Jeremy Corbyn must go in the wake of the EU referendum, saying the public have "no confidence" in him.
She also criticised his campaigning over the referendum, saying that it was "lacklustre, it was unenthusiastic" and that he came across as not caring about the result.
Ann Coffey has seconded a vote of no confidence in Mr Corbyn that Labour MPMargaret Hodge proposed.
Frank Field MP has said that Labour "certainly" need a new leader who is a "likely Prime Minister".
He said that Jeremy Corbyn has been "brilliant" at representing people who have "lost out under globalisation", but that he hasn't connected with most of the electorate.
Mr Field added that he will be going to the meeting on Tuesday which could see Labour MPs taking part in a secret ballot over their leader.
Load more updates