NHS workers, including nurses, midwives, porters and radiographers, in England will stage a four-hour strike on November 24 in their row with the Government over pay, unions announced today.
A gay Ukip MEP has labelled same-sex marriage supporters as "equality Nazis".
Describing the new laws as "total b*******", David Coburn said the reforms only matter to "some queen who wants to dress up in a bridal frock and dance up the aisle to the Village People".
"What you're doing with the gay marriage issue is you're rubbing people's noses in the dirt," he said in the interview with the Huffington Post.
The Scotland MEP denied calling the nation's Conservative leader Ruth Davidson a "fat lesbian" but instead compared her to "porridge", saying she was "rather boring".
He also mocked the SNP's Nicola Sturgeon for her "mad scary eyes".
Advertisement
Prime Minister David Cameron has said one of the biggest lessons to learn from the child sexual exploitation report is that "very early intervention" is needed.
ITV News Producer Vincent McAviney reports:
On #coffeyreport PM says one of the biggest lessons is very early intervention, not acceptable for people under 16 to be abused in this way
Rochdale MP Simon Danczuk has told ITV News the child sexual exploitation report "doesn't go far enough".
Echoing the comments made by Rochdale whistleblower Sara Rowbotham, Mr Danczuk said, "If she says this report doesn't go far enough then that's good enough for me."
He said the report, led by Stockport MP Ann Coffey, was "really attempting to shift the blame away from the perpetrators and away from the police, and towards public opinion."
"There is certainly a need to learn [from abuse cases] across the country as a whole," the MP added.
The health worker who was key in bringing the 2012 Rochdale child sex abuse case to trial has called for a full national inquiry into child grooming.
Sara Rowbotham claimed today's report into child sexual exploitation in Greater Manchester does not go far enough, and stressed that both police and social services should be held to account.
ITV News Senior Correspondent Emma Murphy reports from Manchester:
A new poll suggests Labour and the Liberal Democrats are both facing potential general election disaster in Scotland.
The survey for STV suggests if there were an election tomorrow, the SNP would register a massive landslide, winning 54 of the 59 Scottish seats up for grabs.
Labour would shrink from 40 MPs to just four, while the Liberal Democrats would lose all but one of their 11 MPs.
The poll puts the nationalists' overall on 52%, well above the three main Westminster parties' combined total.
The Ipsos MORI poll conducted over the weekend gave the parties the following ratings:
SNP - 52% Labour - 23% Conservatives - 10% Liberal Democrats - 6%
Ipsos MORI surveyed 1026 participants were between October 22 and 29.
Advertisement
A US nurse who vowed to defy a quarantine order for health care workers who have treated Ebola patients has left her home for a second time.
Kaci Hickox is supposed to be staying at her boyfriend's house in the town of Fort Kent in Maine for 21 days but she was spotted going for a bike ride.
Local police monitored her but could not detain her without a court order.
Ms Hickox claims there is no need for quarantine because she is showing no symptoms and has threatened to sue over her treatment since she returned home from Africa.
She said she was not a risk as she had not come into contact with anyone and added: "I remain appalled by these home quarantine policies that have been forced upon me even though I am in perfectly good health."
Her lawyer Norman Siegel said she is not willing to co-operate further unless the state lifts "all or most of the restrictions", but state officials continue to assert that she should remain in isolation until November 10.
Jim Murphy has vowed to end the "period of self harm" that Scottish Labour has been through if he becomes party leader.
The Shadow International Development Secretary has announced his candidacy for the leadership, joining MSPs Neil Findlay and Sarah Boyack in the race to replace Johann Lamont, who resigned on Friday
Mr Murphy told BBC News he was confident the party could produce a strong performance in next year's general election.
"I'm not interested in left-wing Labour or right-wing Labour, or old Labour or new Labour. I'm interested in losing Labour," he said.
"I want to end that period of losing Labour here in Scotland, starting with the UK general election in 2015, where I'm confident we can hold all the seats we currently have but pick up one or two on top and also win that election in 2016 for the Scottish Parliament."
The health worker responsible for gathering the main evidence in the 2012 Rochdale child sex abuse case has told ITV News Ann Coffey's report "doesn't go anywhere" to ensuring it never happens again.
Sara Rowbotham said she had "tried hard to make it clear" to the authorities that children were being sexually exploited but that "nobody did anything meaningful" to stop it.
"Ann Coffey's report doesn't go anywhere to address any of that, it doesn't go anywhere to ensuring that that's never going to happen to anybody again," the whistleblower said.
"She doesn't offer concrete solutions, she doesn't absolutely say we have zero tolerance, it doesn't go anywhere to address the injustice and the absolute terror that happened to those children in Rochdale," she added.
Stockport MP Ann Coffey, who led a report into child sexual exploitation, has said the authorities' response to abuse "shouldn't be a postcode lottery".
ITV News Granada Political Reporter Daniel Hewitt reports:
Stockport MP Ann Coffey talks through her report on child sexual exploitation, @gmpcc says it's an important document http://t.co/RphbYVNSgz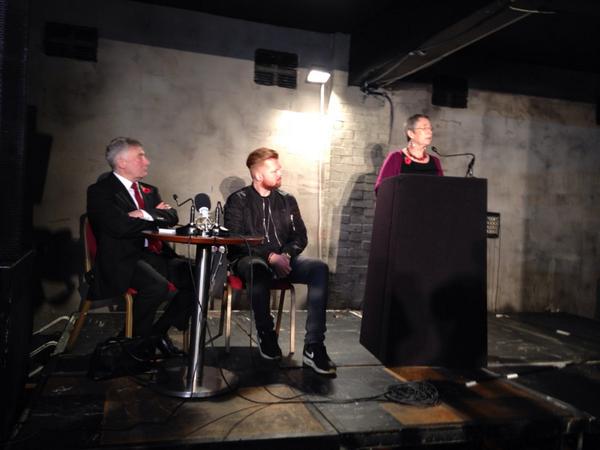 "Response to child sexual exploitation shouldn't be a postcode lottery." Children move around, she says. Police teams need to work closer.
Load more updates