Outlining his proposed changes to the UK's immigration policy, Prime Minister David Cameron said problem with the increase in net migration was also a reflection of the UK's problem with welfare. He said it was vital to train young people better so the UK economy will not be as reliant on foreign labour.
Prime Minister David Cameron has signaled his dismay at Ukip's proposed policies on immigration in his speech outlining his proposed reforms. Speaking from Staffordshire, he said the idea that immigrants would be repatriated is "appalling".
Advertisement
David Cameron is outlining his proposed changes to immigration policy in Staffordshire. He opened his speech by stressing the great contribution immigration have played to Britain's development.
Labour leader Ed Miliband will outline his pledge for English devolution in a speech today in Sunderland.
Miliband will promised to deliver £30 billion worth of devolution to English city and country regions. He is expected to say:
Labour recognises that devolution does not and must not stop at the Scottish border. It must represent a change, a new principle, determining how we are governed throughout the United Kingdom, bringing power closer to people across the whole country.

For far too long, England has been one of the most centralised nations in the world, choking off the energy and the initiative of the great towns and cities that once powered the industrial revolution: Leeds, Manchester, Newcastle, Sunderland and many others.

We are determined to change that by devolving real powers and real responsibilities to the cities and counties of England, so that just as happens in Scotland, local people and local businesses can come together to create new jobs, better transport links, more skills and opportunities for the next generation
– Ed Miliband, Labour leader
Paul Kohler, who was set on by four Polish men, said the attack was a thuggery issue, not an immigration problem.
Read the full story ›
Voters are more concerned by "the number of migrants coming" to the UK than they are by EU nationals moving to Britain to claim benefits, a leading Conservative backbench MP has told Good Morning Britain.
Peter Bone praised David Cameron's plans to block benefits to EU migrant workers for the first four years they were in the UK, but criticised the PM's plans for failing to tackle the root of the problem.
Advertisement
David Cameron has "completely failed" to deliver on his immigration targets, shadow home secretary Yvette Cooper said.
Ahead of David Cameron's much-anticipated speech outlining his plans to tighten immigration laws, Ms Cooper said: "Immigration is important to Britain - that's why it needs to be controlled and managed so that the system is fair.
"But David Cameron's 'no ifs, no buts' immigration target has completely failed.
"Four and a half years into his Government, his promises on an immigration target are in tatters.
"Rather than ramping up the rhetoric, David Cameron must now set out sensible, practical plans."
David Cameron says he understands that British people want the Government to have "control" over immigration.
"People have understandably become frustrated. It boils down to one word: control," Mr Cameron will say in a speech outlining his reforms today.
"People want Government to have control over the numbers of people coming here and the circumstances in which they come, both from around the world and from within the European Union.
"And yet in recent years, it has become clear that successive Governments have lacked control. People want grip. I get that."
The Sun newspaper has hailed its victory over Conservative MP Andrew Mitchell in the 'Plebgate' libel case.
It claimed the ex-Government chief whip's defeat would cost him £3 million in costs.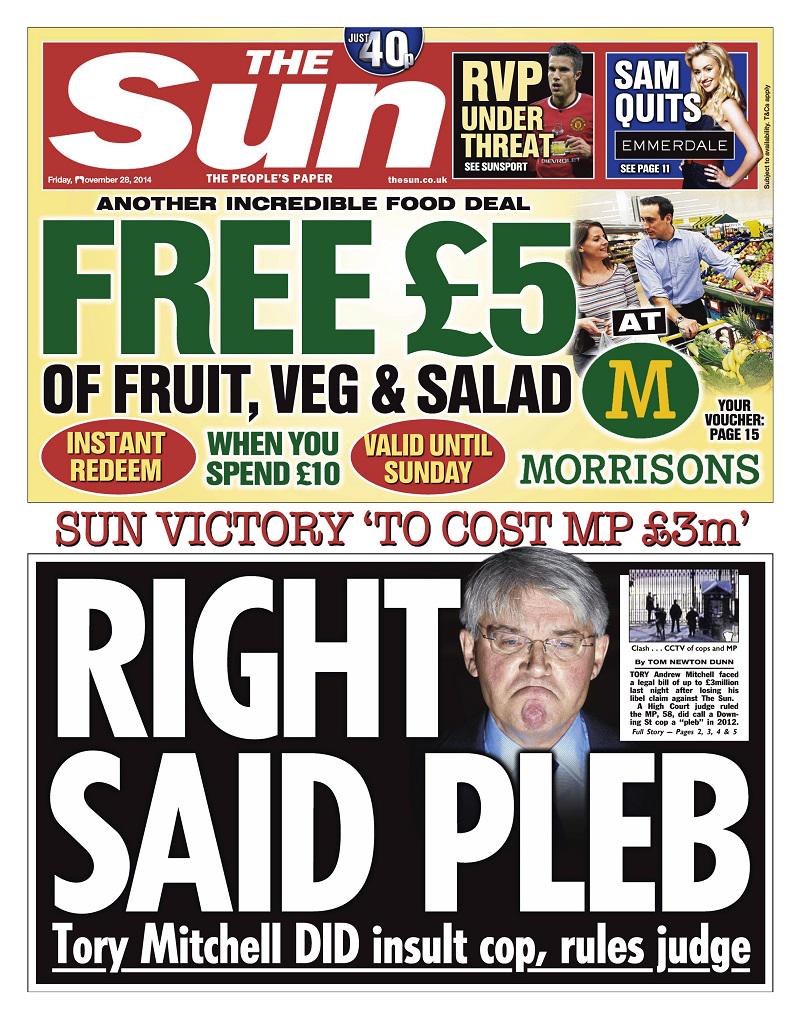 David Cameron says he has ruled "nothing out" if British concerns over migration "fall on deaf ears" at the European Union.
In a much-anticipated speech on immigration reform today, the Prime Minister will insist that welfare reforms will be an "absolute requirement" in the renegotiation process ahead of his planned referendum on EU membership.
This issue of free movement will be a key part of that negotiation. If I succeed, I will, as I have said, campaign to keep this country in a reformed EU.

If our concerns fall on deaf ears and we cannot put our relationship with the EU on a better footing, then of course I rule nothing out.

But I am confident that, with goodwill and understanding, we can and will succeed.
– David Cameron
Load more updates