George Osborne has said that the message from big business leaders 'couldn;t be clearer' after more than 100 business leaders declared their support for a Conservative-led government.
This is an unprecedented intervention in a British election...Their message couldn't be clearer. We have a Conservative economic plan that is working and creating jobs and if we change course those jobs will be threatened and the recovery will be put at risk.
– George Osborne
Advertisement
Rachel Reeves told Good Morning Britain: "Particularly if you have got child care responsibilities and a family, not knowing from week to week, day to day...whether you're going to afford to pay the rent and bills and put food on the table, that's just not good enough. The Prime Minister says he couldn't live on it, well if he couldn't live on it we shouldn't be asking fellow citizens to do so."
Chancellor George Osborne has hailed an "unprecedented" intervention from business leaders praising the Tories' economic plans.
"An intervention on this scale and with this clarity from Britain's business leaders is unprecedented in any recent general election," Mr Osborne said.
"Over 100 business leaders, heading up some of our largest companies and most famous brands, and employing over half a million people, have spoken out.
"And the warning from Britain's business leaders couldn't be clearer: a change of course will threaten jobs, deter investment, send a negative signal about our country and put the recovery at risk."
The Conservatives say business leaders have sent a "clear message" about the "risk" Labour poses to Britain's economic recovery with their open letter.
100 business leaders have sent a clear message about the risk of Labour to the recovery. RETWEET to let friends know. http://t.co/51PaXbccEK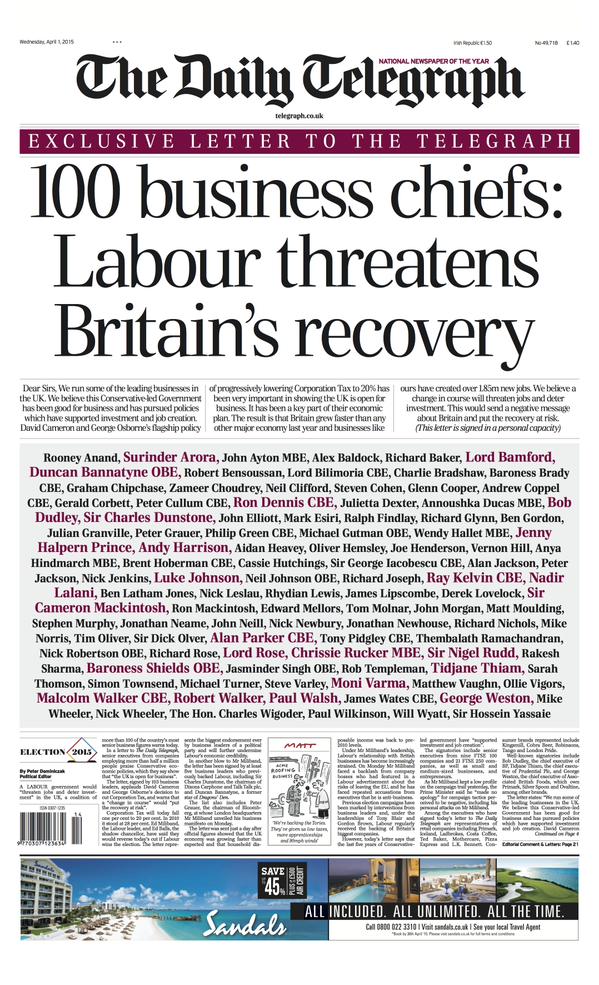 Chuka Umunna, Labour's shadow business secretary, has dismissed a letter from business leaders declaring support for a Tory-led government as "nothing new".
"No one will be surprised that some business people are calling for low taxes for big businesses," Mr Umunna said.
"That's nothing new and under Labour Britain will have the most competitive corporation tax rate in the G7.
"But whilst the recovery may have reached some firms it hasn't reached many others which is why we will prioritise tax cuts for the smallest firms with an immediate cut in business rates for 1.5 million small business premises.
"We don't believe, as David Cameron does, in more tax cuts for the richest in society - the priority is tax cuts for small firms, working people and saving our NHS."
Advertisement
The Conservatives will not raise income tax or national insurance if they gain power again in May, Chancellor George Osborne has said.
The pledge comes a week after David Cameron ruled out a rise in VAT at the final Prime Minister's Questions before the general election.
Mr Osborne told The Sun: "You have a very clear commitment from us that we are not going to increase VAT, national insurance or income tax. That is our commitment to working people, that we are there to help them."
In a joint interview by Mr Osborne and David Cameron, the Prime Minister also confirmed that he wanted to keep Osborne as Chancellor if the Tories return to Number 10.
Frances O'Grady, the general secretary of the Trades Union Congress (TUC) has welcomed Ed Miliband's proposals to effectively outlaw zero-hours contracts.
Zero-hours workers are often too afraid to speak up for their rights for fear of losing work.

We need a fairer system that guarantees zero-hours workers decent rights at work and stops them from being treated like second-class employees.
– Frances O'Grady
John Cridland, the director-general of the CBI, said Britain's flexible jobs market had helped deliver an employment rate "that is the envy of other nations", accusing Mr Miliband of "playing with jobs".
"Of course action should be taken to tackle abuses, but demonising flexible contracts is playing with the jobs that many firms and many workers value and need," he said.
"These proposals run the risk of a return to day-to-day hiring in parts of the economy, with lower stability for workers and fewer opportunities for people to break out of low pay."
Ed Miliband has pledged to give zero-hours workers the right to convert their contract into a regular job after three months.
Read the full story ›
Load more updates