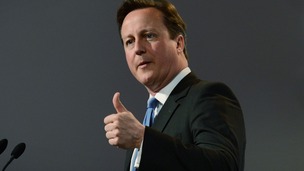 David Cameron sent an email to members of his Conservative Party urging unity.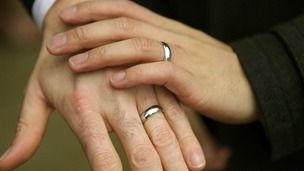 In an article for ITV News, Conservative councillor Mary Douglas talks gay marriage and urges David Cameron to return to 'core values'.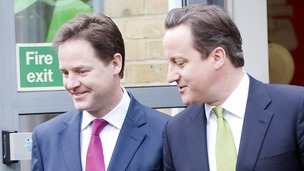 David Cameron has defended the equal marriage bill while Nick Clegg claims a civil partnership amendment is laced with an "ulterior motive".
Live updates
PM tries to calm party activists
Business leaders take aim at Eurosceptics in open letter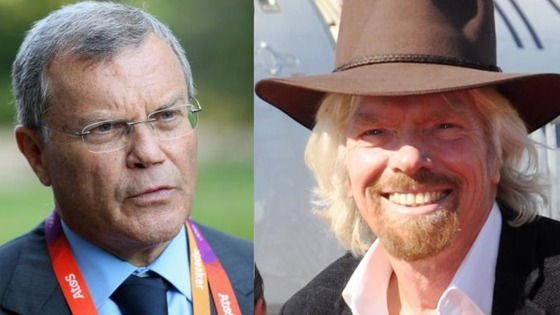 Some of the country's most prominent business leaders have accused Eurosceptic MPs of "putting politics before economics" by calling for Britain's withdrawal from the European Union.
The group, which includes the chairmen of BT, Deloitte and Lloyds along with Sir Martin Sorrell and Sir Richard Branson, said Britain's business interests and economy can only benefit from playing a central role in the EU.
In a letter to The Independent, they called for David Cameron to "strengthen and deepen" the European single market, adding: "The economic case to stay in the EU is overwhelming."
Deal over gay marriage plan
'Gay marriage a tipping point' claim grassroot Tories
Bob Woollard, chairman of the Conservative Grassroots group which organised the protest letter to the Prime Minister said: "Same sex marriage is really a tipping point, a bellwether issue if you like - people have just said 'I've had enough, I'm off, I will never vote Conservative again'.
"Scores and scores and scores of people that we have all spoken to, probably hundreds of thousands of people have said: 'I've had enough, that's it now, we can't cope with this so-called modernisation agenda'."
But a rival letter, signed by more than 100 Tory activists, called for Conservative MPs to "deal with the Bill then move on together as a party".
The Marriage (Same Sex Couples) Bill will be debated over two days, with its third reading - the final hurdle in the Commons - tomorrow.
Advertisement
Deal over gay marriage plan
Gay marriage legislation returns to the Commons
The coalition's controversial gay marriage legislation returns to the Commons today with Tory MPs and activists deeply split over the issue.
The move has been championed by David Cameron but he has faced Conservative opposition at all levels from the grassroots to the Cabinet .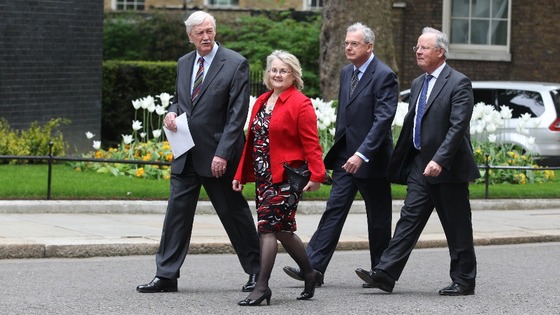 A group of more than 30 current and former local party chairmen warned that the plans would drive Tory voters to the UK Independence Party and make a Conservative election victory in 2015 impossible.
Cameron issues warning to leaders of tax havens
David Cameron has written to the leaders of Britain's offshore tax havens stressing the need to "get our own houses in order" as he pushes for international action to tackle avoidance schemes.
In a message to 10 crown dependencies and British overseas territories Mr Cameron said he backed their right to be low tax jurisdictions but insisted that rules needed to be set and enforced fairly.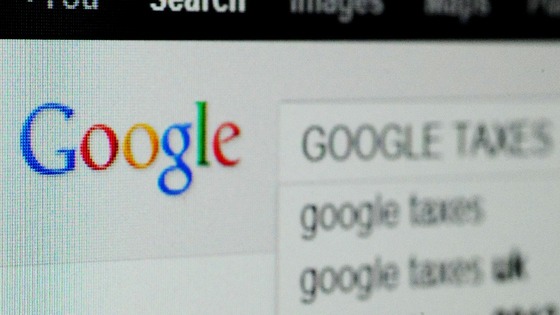 The move comes ahead of next month's G8 summit in Northern Ireland, where Mr Cameron will push for an agreement aimed at clamping down on tax evasion and avoidance.
He said he wanted the G8 to "knock down the walls of company secrecy" to reveal who really owns and controls firms.
Mr Cameron's initiative came as he prepared to raise the issue of corporate tax dodging with Google boss Eric Schmidt at a meeting in Downing Street.
The internet giant's executive chairman is a member of Mr Cameron's Business Advisory Group, which has its regular quarterly meeting today, just days after Google was given a mauling by a House of Commons committee over its tax affairs.
PM tries to calm party activists
Cameron prepared to 'face new circumstances'
David Cameron has said that he still sees the coalition as the best way forward, but if that was not the case, his party would "have to "face the new circumstances".
The Prime Minster also conceded that "sometimes... disagreements mean you can't take actions in the areas you want to".
I'm here to deliver good government for the country, and we've still got important work to do - paying down the deficit, turning round the economy, and all the rest of it.

What matters to me, though, is can we get things done? Can we improve the state of the country? Can we fulfil our manifesto? The best way to do that is to continue with the coalition, but if that wasn't the case then we'd have to face the new circumstances in whatever way we should.
– Prime Minister David Cameron

He added that he still believes the coalition has delivered "radical" changes for the country.

A Downing Street spokesman said "The coalition will continue until 2015."
PM tries to calm party activists
David Cameron hints at going it alone
David Cameron has hinted that he could attempt to govern without the Liberal Democrats if disputes within the coalition made it impossible to continue.
The Prime Minister said that if difficulties between his Conservatives and Nick Clegg's Lib Dems meant the Government could not get things done "we'd have to face the new circumstances in whatever way we should".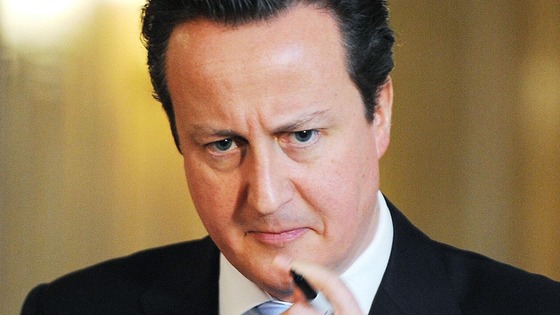 The comments came as the Tory leadership attempted to defuse rows over claims that a senior figure called grassroots activists "swivel-eyed loons", plans to allow gay marriages and the party's policy on Europe.
In an interview with Total Politics magazine, Mr Cameron said: "The coalition has its frustrations, there's no doubt about it, and we have disagreements."
Advertisement
Deal over gay marriage plan
Cameron faces more challenges from within party
Tory activists have attacked the Prime Minister's stance on gay marriage today, calling on David Cameron to drop the legislation.
The Marriage (Same Sex Couples) Bill returns to the Commons tomorrow for two days of debate, with many Tory MPs expected to oppose it on a free vote.
Mr Cameron is also facing more trouble over Europe, accused by a former Foreign Secretary of "running scared" of his backbenchers.
ITV News correspondent Romilly Weeks reports:
Deal over gay marriage plan
Hunt backs PM's gay marriage stance despite opposition
The Health Secretary has said he backed gay marriage today after Tory activists attacked David Cameron's stance on the issue.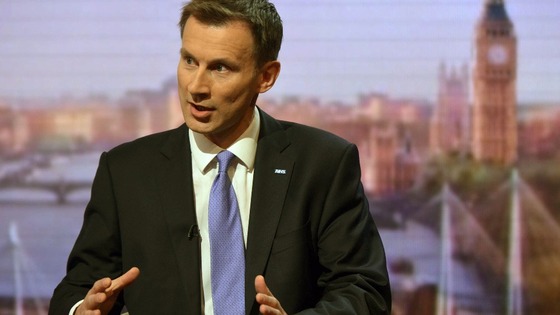 Jeremy Hunt told BBC1's Andrew Marr Show: "I personally support it, I support it because I believe in the institution of marriage and I think we should be encouraging people to make a lifelong commitment to each other. I think society is stronger if you do that.
"I think if gay people want to do that and if the church is willing to conduct that ceremony we shouldn't stand in their way."
He added: "It's one of those issues of conscience that is not really about party, I think there are people of all parties that find this a very difficult issue. But I think it is one we are right to surface and to have a proper debate about."
Deal over gay marriage plan
Activists warn PM gay marriage plans sending voters to UKIP
Tory activists have attacked David Cameron's support for gay marriage, claiming it had made winning the next general election "virtually possible".
In a letter to the Prime Minister, organised by Grassroots Conservative group, chairman Bob Woollard said:
The Prime Minister's bizarre drive to ram this legislation through Parliament, without any democratic mandate and without the support of party members has been a disaster and has driven thousands of voters to Ukip.

The marriage-based family is at the heart of Conservatism. This dilution and unraveling of marriage has demotivated many ordinary loyal Conservative Party members and has undermined their years of hard work for something they believed in. It makes winning the next election virtually impossible.

For the sake of our children they should also strengthen conventional marriage.
Read more: Tory activists warn PM over stance on gay marriage
MPs in line for £20k pay rise
Commons Speaker pushing for MPs' higher salaries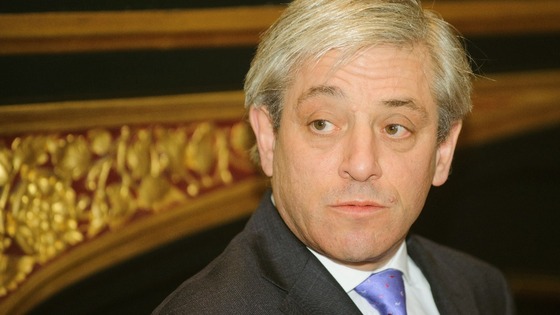 Speaker John Bercow is among MPs who have been pushing for better remuneration, warning that the Commons must attract people from all backgrounds.
Mr Bercow's comments follow an Independent Parliamentary Standards Authority (Ipsa) survey which found politicians on average believed they should be paid £86,000 rather than £66,000, with some demanding more than £100,000.
Load more updates