Nigel Farage has suggested a former Ukip candidate used the terms "chinky" and "poofters" because of his "council estate background".
Read the full story ›
A military historian has spoken out against the MoD's recommendation to lift the ban on female soldiers fighting on the front line.
Colonel Mike Dewar, who served in Cyprus, Borneo, and Northern Ireland, told the BBC that senior generals he has spoken to think the move is "complete and utter and total madness" and is "politically driven."
The senior military sources cited by Mr Dewar also insist that "99.9% of women do not have the upper body strength to pass the infantry physical examination or carry an injured soldier from the battlefield."
Defence Secretary Michael Fallon has announced his hopes to open up ground close combat roles to women in 2016. http://t.co/Qj2JD49fOK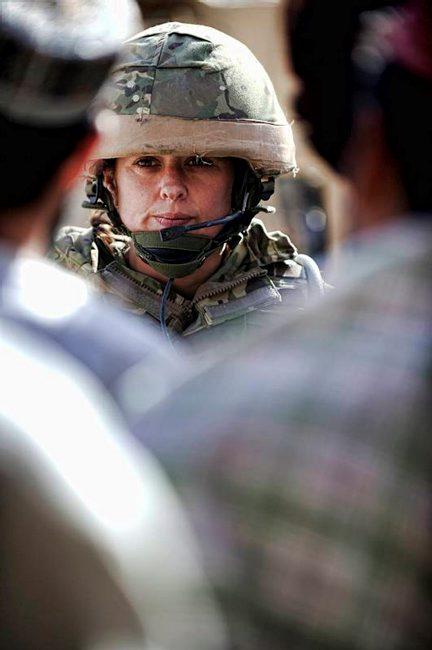 However, a war photographer who served with the RAF in Iraq and Afghanistan said that gender does not matter in a firefight.
Alison Baskerville, who is also a reservist photographer with the British Army, and is writing a book about women in the armed forces, described the decision as "a step forward" which could be "the start of a new era for British infantry".
Advertisement
Labour has welcomed the Government's recommendation to end a ban on allowing women to fight on the front line, pending further research.
The party's shadow armed forces minister Kevan Jones pointed out that many of the British Army's front line medics, engineers, intelligence officers, fighter pilots and submariners are women.
We should be proud of the role played by women in our armed forces.

Many of them already serve on the front line as medics, engineers, intelligence officers, fighter pilots and submariners.

Labour had called for the ban on women serving in combat roles to be examined with a view to it being ended, and any moves towards that are welcome.
– Labour MP Kevan Jones
A ban on female soldiers fighting on the front line could be lifted in 2016, the Ministry of Defence has announced.
Read the full story ›
A migration thinktank has warned that a 'black market' in labour and the crisis in the Middle East are among factors increasing pressure of Britain's borders.
It comes as official figures show a dramatic increase in the number of illegal immigrants, or 'clandestines' being caught trying to sneak into the UK.
Lord Green of Deddington, chairman of Migrationwatch, told the Daily Telegraph the UK was "very attractive" to those trying to escape.
The sharp rise in the number of clandestines might reflect more effective detection, but an increase on this scale is more likely to be due to increased pressure on our borders.

Part of that may be due to deteriorating conditions in the Middle East and Africa, but there is little doubt that the freedom of our society, the existence of a black market in labour and the presence of relatives and friends add up to making the UK a very attractive destination.

The Government is seeking to make it more difficult to live in Britain illegally but it will take some time for recent measures to take effect.
– Lord Green of Deddington, Migrationwatch
Illegal immigrants have been trying to break through Britain's borders around 100 times a day, it has emerged.
Official figures from the Home Office reveal that the UK's Border Force and French authorities recorded a total of 11,920 attempts to illegally enter the country just between April and July this year.
The means the number of times illegal immigrants were stopped as they tried to sneak into the country has quadrupled since the coalition took power in 2010, when a total of 10,916 illegal attempts were identified across the entire financial year.
Officials say the jump is a combination of better detection, as well as increased pressure on British borders.
Advertisement
Former Scottish First Minister Alex Salmond has hinted that the party would be willing to support a minority Labour government after the next general election, according to reports.
Speaking to The Independent, Mr Salmond - who drove the 'yes' campaign ahead of the Scottish independence referendum - said MPs would set aside the party's usual convention of not voting on laws which only affect England in order to support Ed Miliband at Westminster.
He said he anticipated a hung Parliament after the General Election, and predicted that a "barrel-load" of Scottish National Party MPs would win seats.
Council leaders warned a reduction in government funding would lead to cuts in services which are already struggling.
Surrey County Council leader David Hodge said: "The reality for Surrey is we are facing significant demands on school places and on adult social care and children's services.
"When we have taken 40% out of our budget, it is extremely difficult to continue to do that."
Buckinghamshire County Council leader Martin Tett said a "tipping point" had been reached "where we can't just eat away at our back office services any more, we are going to have to do things in terms of home-to-school transport, cutbacks in a whole range of areas that people are going to really start noticing now".
He added: "We are going to have to make cuts of another £46 million in the next three years, and those cuts are going to be felt by people."
The government has pledged £275 million to help local authorities freeze council tax.
Local government minister Kris Hopkins urged councils to take up the offer of money, telling MPs: "All councils should be freezing their Council Tax in 2015 to 2016 and helping people with their cost of living.
"We are providing additional funding equivalent to a 1% Council Tax increase, to help councils freeze."
The latest government cuts in council funding "will push some authorities to breaking point", according to experts.
Graeme McDonald, director of the Society of Local Authority Chief Executives and Senior Managers (SOLACE) said: "This settlement reminds us that the financial challenge facing local government is immense.
"Government is beginning to recognise that councils have led the way on deficit reduction, but with cuts and demand increasing, fragility is beginning to show.
"The financial future of local services is unsustainable without a more ambitious plan for public service reform."
Load more updates