Prince William in Tokyo at the start of a four-day visit of Japan.
Kensington Palace tweeted a photograph of the Prince's arrival by boat: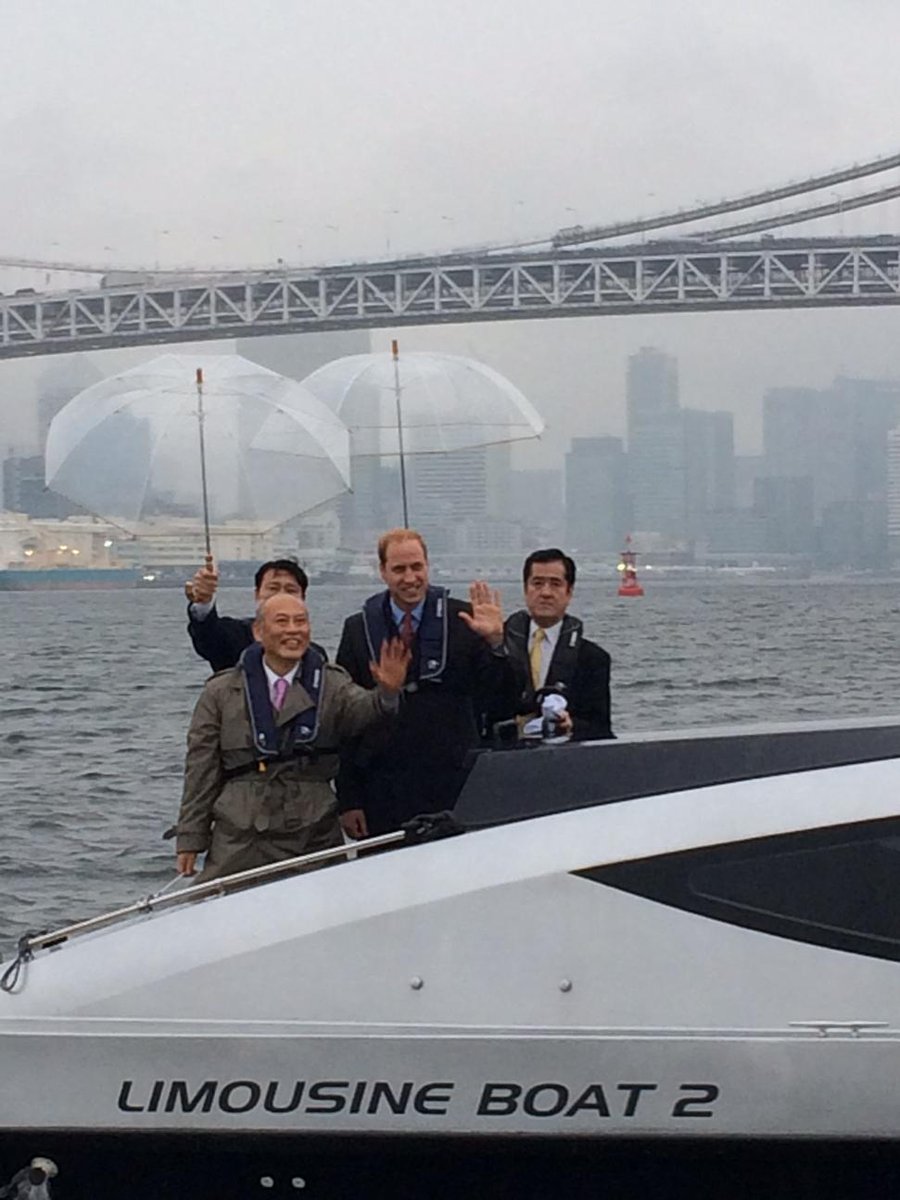 The Duke of Cambridge will start work as an air ambulance helicopter pilot after passing his exams.
Read the full story ›
Advertisement
Book that helped Henry VIII to annual marriage to Catherine of Aragon found in Lanhydrock, Cornwall.
Read the full story ›
The driver must be able to stay calm under pressure and be able to remain calm under pressure.
Read the full story ›
Kate, who is seven months pregnant, proved herself "a natural Stokie" on a visit to the Potteries in support of children's hospices.
Read the full story ›
Charles marvelled at the ornate splendour of Sir Joseph Bazalgette's Abbey Mills pumping station near Stratford in east London.
Read the full story ›
Advertisement
The Duchess of Cambridge has issued a new video message warning of the importance of tackling mental health issues in young children.
Read the full story ›
Kate added her touch to a mural at the site of a new sailing hub being built by Sir Ben Ainslie for his team's bid to win the America's Cup.
Read the full story ›
The Duke of York's image of the Queen, his brother Edward and his sister-in-law Sophie was taken before a function at Buckingham Palace.
Read the full story ›
Prince Charles has been praised by Amnesty International for raising the plight of a jailed Saudi blogger with the country's new king.
The Prince of Wales had faced calls from Amnesty International UK to use his influence with the Saudi royal family and intervene on behalf of Raif Badawi during his royal visit. And his decision to broach the subject yesterday during his first official meeting with King Salman was praised by the organisation.
This is of course very encouraging and very welcome news.

We always said we weren't expecting Prince Charles to give up the red carpets and state banquets and become a human rights campaigner, but we also hoped he'd use his unique position to pass on a few well-chosen words to his royal hosts about human rights in Saudi Arabia.
– Kate Allen, Amnesty director
Charles is coming to the end of a six-day tour of the Middle East that has already taken him to Jordan and Kuwait. Tomorrow he will visit Qatar and the United Arab Emirates.
Later today he will spend his final day in Saudi Arabia visiting the area in and around the ancient settlement of Al Ula, in the north west of the country, which is famed for its historic monuments.
Load more updates