Prince Harry's inaugural Invictus Games will officially open tonight with a military-themed ceremony at the home of the London 2012 Olympics.
The opening ceremony for the Games for injured servicemen and women will feature an performance of the official anthem penned by Coldplay's Chris Martin as well as a flypast from the Red Arrows.
The 5,000-strong audience will include Prince Harry, the Duke of Cambridge, Prince Charles and the Duchess of Cornwall.
It is not known whether the Duchess of Cambridge will attend after she announced earlier this week that she is suffering from acute morning sickness with the pregnancy of her second child.
The British Monarchy posted on its official Twitter feed: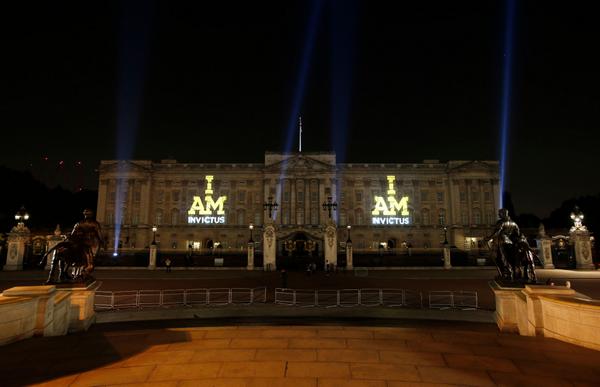 Advertisement
US President Barack Obama has praised those competing in the Invictus Games in a special video message.
The President said he knew it would be "fiercely competitive few days" as teams from around the world prepared for the Paralympics-style championships.
"The truth is that everyone of you in these Games, every service member and veteran, has already earned our highest admiration and our deepest gratitude," Obama said.
"When your countries asked you to serve, to risk everything to protect our safety and our freedom, you and your families answered the call and just as you inspire us with your courage on the battlefield, your grit and resilience when you take the playing field, your incomparable souls inspire us today."
The Prince of Wales has revealed he is hoping for a granddaughter.
Charles said it was "splendid" news that the Duke and the Duchess of Cambridge are expecting their second child.
When congratulated on becoming a grandfather during a visit to Bermondsey, south London, he said: "I am already. But it's wonderful to be a grandfather again. I'm looking forward to it - but I hope it will be a girl this time."
Prince Harry says the Invictus Games are about supporting the individuals taking part and not the war.
Some 400 wounded service personnel from 13 countries are taking part in the Games, an international sporting event for wounded, injured and sick Servicemen and women.
Harry has championed the Games with the Duke and Duchess of Cambridge also supporting them.
Prince Harry has said he feels 'young at heart' ahead of turning 30 on September 15.
Speaking after presenting medals at the Invictus Games, he said: 'I'm slowly starting to feel old. I think 30 is one of those first milestones when you drive through a village and see the 30mph sign. It's that constant reminder going 'I am actually quite old'.
'But I don't feel too old. I think i'm always young at heart', the Prince added.
Advertisement
The Prince of Wales said it was 'splendid' news that he was to become a grandfather for the second time.
During a visit to an upholstery studio in Bermondsey, south London, Charles said: 'What did i do?' when congratulated on the news about the Duchess of Cambridge's pregnancy.
He added: 'It hasn't arrived yet - (but) splendid, we're very excited'.
Read: Crowds congratulate William as Kate expecting second baby
The Queen "will be proud" to be the monarch of an independent Scotland, according to Alex Salmond.
Scotland's First Minister also said he had an audience at Balmoral "but the proper position is you don't discuss these matters in public".
I want the Queen as head of state, as Queen of Scots of an independent Scotland as her ancestors were.

I think Her Majesty the Queen, who has seen so many events in the course of her long reign, will be proud to be Queen of Scots, and indeed we would be proud to have her as monarch of this land...

And I think the statement from the Palace about the Queen's neutrality in this matter is a perfectly satisfactory and perfectly sensible one.
– first minister alex salmond
A new wax model of Prince Harry has gone on display at Madame Tussauds in London to celebrate his 30th birthday.
The new figure shows the Prince in combat uniform to reflect his job as a captain in the Army Air Corps.
The figure cost £150,000 and took a team of sculptors and artists four months to create.
A mother who also suffered from the same problems in pregnancy as Kate Middleton said the extreme morning sickness she suffered left her worrying how she would survive.
Amanda Shortman told Good Morning Britain she was bedridden by hyperemesis gravidarum by the sixth week of her pregnancy and eventually lost over 10% of her pre-pregnancy weight because of the condition.
Load more updates