There are 44 results for "Megrahi"
Lockerbie bomber relatives launch bid to clear his name
The family of Abdelbaset al-Megrahi, along with 24 relatives of Lockerbie bombing victims, have today launched a posthumous appeal against the Libyan's convictions.
It marks the latest step in a protracted legal battle since Megrahi's conviction at a special court in the Netherlands in 2001.
May 2000: Megrahi and another Libyan, Al Amin Khalifa Fahima, begin trial at a special Scottish court sitting in the Netherlands.
January 2001: Megrahi convicted of murdering 270 people, Fahima is acquitted.
January 2002: First appeal, heard in front of five judges, is unsuccessful - Megrahi begins a life sentence in a Glasgow prison.
June 2007: Scottish Criminal Case Review Commission (SCRCC) sends case to the High Court for appeal, saying Megrahi "may have suffered a miscarriage of justice".
August 2009: Megrahi released from prison on compassionate grounds after doctors say he will die from cancer within months.
May 2012: Megrahi dies at home in Tripoli.
June 2014: Megrahi's family and relatives of victim announce a new appeal is being sent to the SCCRC.
Read: Lockerbie bomber relatives launch bid to clear his name
Lockerbie probe 'still open'
The Foreign Office tonight insisted an investigation into the Lockerbie bomb is ongoing:
270 people were killed in the bombing of Pan Am flight 103 over Lockerbie, Scotland in 1988
Libyan intelligence officer, Abdelbaset al-Megrahi, is the only person to have been convicted in connection with the attack
Megrahi was released from jail by the Scottish government on compassionate grounds after being diagnosed with prostate cancer
He died last year still protesting his innocence
Since the fall of the Gaddafi regime in 2011, British investigators have been working to establish if there are other individuals in Libya who could be brought to trial for their involvement in the attack
The Libyan Government reportedly considers the matter "settled".
Advertisement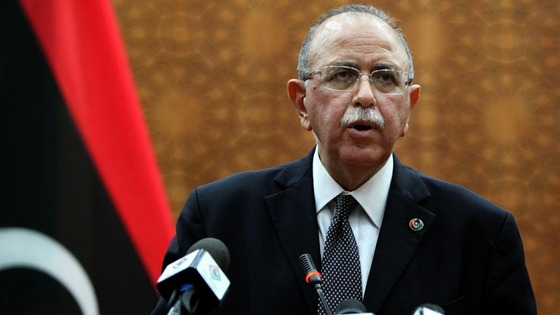 David Cameron is to host his Libyan counterpart for talks in 10 Downing Street tomorrow, it was announced today.
Abdurrahim El-Keib was appointed interim prime minister of Libya in October last year, days after the overthrow of dictator Muammar Gaddafi following a violent uprising backed by the UK.
It is thought likely that Mr Cameron and Mr El-Keib will discuss the reconstruction of the country following last year's revolution, as well as the question of whether Gaddafi's son Saif al-Islam should be tried in an international court or in Libya.
Just days after the death of the only person convicted of the Lockerbie bombing, Abdelbaset al-Megrahi, they may also discuss whether any further evidence relating to the atrocity has emerged in the wake of the downfall of the Gaddafi regime.
Funeral of Lockerbie bomber
The burial took place today of the convicted Lockerbie bomber Abdelbasset al-Megrahi - but the truth over whether anyone else was involved might not, after all, have been buried with him.
The Lord Advocate in Scotland said today he is confident more people will be charged.
Funeral of Lockerbie bomber
The death of Megrahi has reignited the debate as to whether he should have been allowed back to Libya to die three years ago.
Kenny MacAskill, the Scottish Secretary for Justice, has defended that decision:
Funeral of Lockerbie bomber
Around a hundred family members and mourners, including a few Gaddafi-era officials, attended the funeral of Lockerbie bomber Abdelbaset al-Megrahi. He died yesterday in his home surrounded by his family.
His funeral has not made any of the three main television channels in Libya so far: many within the country are focused on the upcoming elections after overthrowing Muammar Gaddafi last year.
Advertisement
Funeral of Lockerbie bomber
US Senator Charles Schumer said it was a "grave injustice" that Lockerbie bomber Abdelbaset Ali al-Megrahi was allowed to die at home, surrounded by his family and friends.
The New York state senator said the Lockerbie bomb attack that killed 270 people was one of the "greatest injustices that has happened in the last hundred years"
The plane crash in Lockerbie, Scotland, took a heavy toll on New York, with 35 students from Syracuse University and two from the State University of New York at Oswego among the 270 victims.
Funeral of Lockerbie bomber
The only man convicted of the 1988 Lockerbie bombing Abdelbaset al-Megrahi, has been buried with little fanfare near the Libyan capital, with just under 100 family members and passers-by in attendance.
Funeral of Lockerbie bomber
Dumfries and Galloway police say their Lockerbie investigation will continue in order to bring justice to the others involved. I think it's fair to say people in Lockerbie are not spending much time reflecting on the death of al-Megrahi, most just want to move on.
The Scottish Criminal Cases Review Commision (SCCRC) confirmed that al-Megrahi's family or 'an interested party' can apply to have his conviction reviewed again. However SCCRC will not accept a case where the only issues raised are the same as matters it rejected in the previous review.
If a new application for a review is made SCCRC would consider reasons for the abandonment of al-Megrahi's 2nd appeal before it would accept the case.
Funeral of Lockerbie bomber
Bert Ammerman, whose brother died in the Lockerbie bomb said the death of al-Megrahi was no reason to stop investigating who was behind the atrocity. He called on President Obama reopen the investigation into the attack that killed 270 people.
Load more results