Lionel Messi broke his goal duck against Chelsea to deny Antonio Conte's side a crucial lead over Barcelona in their Champions League tie
Read the full story ›
Team to face Barcelona: Courtois; Azpilicueta (c), Christensen, Rudiger; Moses, Kante, Fabregas, Alonso; Willian, H… https://t.co/1Z7LYbDUVV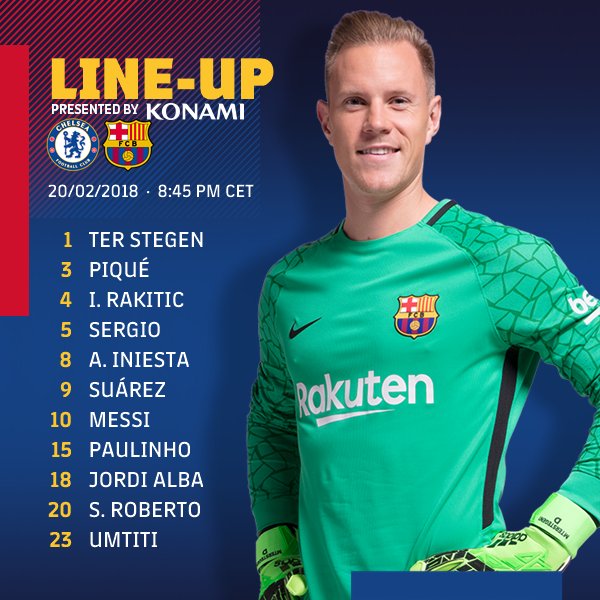 Advertisement
Everton defensive midfielder Idrissa Gana Gueye has signed a new long-term contract which ties him to the Premier League club until June 2022.
The 28-year-old Senegal international has scored three goals in 64 appearances for the Toffees since moving to Goodison Park from Aston Villa 18 months ago.
He told the club's official website: "Everton is the right place for me and this is why I have signed my new deal. I am very happy to sign a new contract with Everton. I believe in my team and I believe in this club."
Luke Rowe will return to competitive racing for Team Sky six months after breaking his leg on his brother's stag do.
The 27-year-old Welshman, who was road captain for Chris Froome's fourth Tour de France win last year, will line up at the Abu Dhabi Tour which starts on Wednesday.
Rowe has not raced since crossing the finishing line on the Champs Elysees in July, when he finished with the slowest time of all those who completed the Tour de France to be presented with the lanterne rouge.
The following month he went to the Czech Republic for his brother's stag do and on the first morning broke his leg while jumping into the water when he was white water rafting.
Rowe, who was present for Team Sky's camps in Mallorca over the winter, admitted he did not expect to be back racing this early in the season.
"Even at Christmas and going into the new year, I still thought that the middle of the season was realistic (for a return)," he said.
"When I got back on the bike properly, though, I realised I probably wasn't as unfit as I thought. I managed to suffer through it a bit at first and I got my head kicked in a few times, but the fitness and strength built up quite quickly.
"On training camp in January I felt good and I went to the team and said that I wanted to do Abu Dhabi. It's all been a bit of a whirlwind, really.
"It's a perfect race for me to come back. The sprints will be hectic for sure, but the roads are bigger and it's pretty flat so it's slightly less stressful."
Wigan manager Paul Cook described unsavoury post-match scenes as "not correct" after the Latics' FA Cup victory over Manchester City
Read the full story ›
Elise Christie's Winter Olympics ended in dramatic fashion as she crashed out of the women's 1000m before being disqualified.
Read the full story ›
Advertisement
Wigan are to carry out a full investigation into the crowd disturbances which marred the club's dramatic FA Cup victory over Manchester City on Monday.
City striker Sergio Aguero became involved in a physical exchange with a Wigan supporter as thousands of fans spilled onto the field following the final whistle at the DW Stadium.
A number of fans also headed towards the end where the visiting fans were sat to continue their celebrations, sparking further disorder.
Advertising hoardings were ripped out and thrown onto the field along with other objects, while missiles were also thrown from the field into the stand. There were also clashes between fans and police and stewards.
Wigan chief executive Jonathan Jackson said in a statement: "Whilst we appreciate that the vast majority of supporters who ran on to the pitch did so spontaneously to celebrate a famous victory, we were disappointed with the action of a minority of supporters who acted in an inappropriate manner.
"Player and staff safety is of paramount importance and we will conduct a full investigation."
Elizabeth Swaney went slow but steady in the qualifying round, coming last with 31.4 points out of 100
Read the full story ›
Former Manchester United and England striker Andy Cole has backed calls for an 'opt-out' organ donation system in the United Kingdom.
Read the full story ›
Man United want to replace Michael Carrick with Toni Kroos and other transfer rumours from the world of football.
Read the full story ›
Load more updates