St Paul's protesters arrested
Hundreds of police and bailiffs have cleared the Occupy London protest camp at St Paul's Cathedral in London. They moved in just after midnight to enforce the High Court orders for the removal of the tents and equipment. 23 arrests have been made.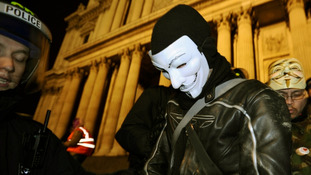 Occupy London protesters put up a final struggle against police and bailiffs during a night-time eviction of their City camp.
Read the full story
23 arrested during St Paul's eviction
City of London Police say 23 people have been arrested following the protest and obstruction of bailiffs outside St Paul's cathedral, as of 9am.
Advertisement
St Paul's clean-up to take 3 days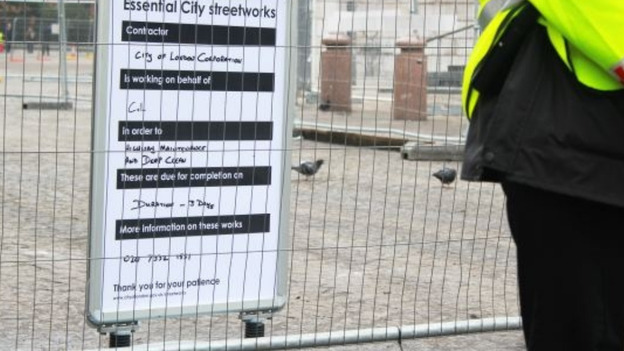 The City of London Corporation has acted on its High Court warrant to evict the protest camp from outside St Paul's cathedral in London. The warrant sanctioned the removal of tents and equipment only, but the area will be cleaned before people are allowed to use it again.
St Paul's eviction now complete
The City of London Corporation has completed its eviction of the protest camp from outside St Paul's Cathedral in London. Stuart Fraser, Policy Chairman of the City of London Corporation, said:
The site has now been cleared and the area is undergoing a deep clean. Some areas of the site may be cordoned offduring this cleaning but we will complete the work as quickly as possible, in order to return the site to its regular use.
Protester: this looks like the end
One protester, calling himself Alpha X, told ITV News this would be the end of the protest camp.
Police remove protesters from St Paul's camp
Advertisement
Former St Paul's Canon Chancellor: 'really proud' of protesters
Really proud of the way Occupy conducted themselves last night.
From
@giles_fraser
on Twitter:
Protesters: this is only the beginning
Occupy London released this statement Tuesday morning in the wake of the eviction of the St Paul's protest camp:
They [City of London Corporation and St Paul's Cathedral] will not derail a movement ... people will need time to rest, reflect and recharge, to take stock and learn the lessons of the past four and a half months. But be assured that plans are already afoot.
The statement is peppered with hints of future action. One sentence reads: "May is one of our favourite months." It continues:
We'll miss Occupy London Stock Exchange but not because of the tents, or even the kitchen shelves: it was a makeshift, loosely cooperative, occasionally quarrelling and fiercely idealistic group of people who came together to achieve something extraordinary ... This is only the beginning.
Labour MP: 'They can take away the tents but they can never destroy the ideas'
Woke up to hear news #OccupyLondon evicted.They can take away the tents but they can never destroy the ideas unleashed by the occupations.
From
@johnmcdonnellMP
on Twitter:
20 arrests overnight as St Paul's protest camp is removed
As police confirm that 20 people were arrested during the St Paul's evictions, here's a selection of the most defiant protesters, resistant to their removal:
Load more updates
Back to top