Prayers for fallen British soldiers
Six British soldiers killed in Afghanistan are being remembered at church services in Yorkshire, Lancashire and Warminster.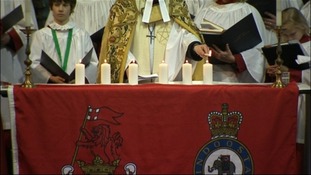 Hundreds of people filled Halifax Minster in Yorkshire to pay their respects to the six soldiers killed in Afghanistan earlier this week.
Read the full story
Reverend Canon Hilary Barber lit six candles during today's service, one for each of the soldiers who were killed in Afghanistan on Tuesday.
Advertisement
Prayers have been said and candles lit for the six soldiers killed in Afghanistan at a sombre service attended by hundreds of people paying their respects.
Halifax Minster in Yorkshire filled with people of all ages, many among them old soldiers proudly wearing their campaign medals, to remember the men who died when a Taliban roadside bomb destroyed their Warrior armoured vehicle in Helmand Province on Tuesday.
by Paul Brand: ITV News reporter
Reverend Gibbons of Warminster tells his congregation:
People of Warminster are strong and proud. We will stand by our boys'
The names of all six fallen soldiers have been read out by member of Royal British Legion. A bugle sounded and then silence fell.
by Paul Brand: ITV News reporter
Veterans are out in force for special service of remembrance for six fallen soldiers at Warminster's Minster Church. One veteran, with a tear in his eye, told me this week's events remind him of colleagues lost during his service in the Suez War.
Advertisement
Thousands of football fans have paid a silent tribute to the six British soldiers killed in a bomb attack in Afghanistan.
A hush fell over the Galpharm Stadium, home of Huddersfield Town FC, the area of Yorkshire three of the men called home.
The stadium - full of home and visiting fans from Rochdale FC, went silent before kick-off as a mark of respect.
It is understood some of the men's families attended the game.
Huddersfield Town are leading the town's commemorations this afternoon with a minute's silence ahead of their home game against Rochdale at 3pm.
Members of the Armed Forces have been invited to attend the match
Minutes silence emotional especially with young faces of the killed soldiers, could be any player or supporter in the prime of their lives
Load more updates
Back to top