PM: Afghan mission to continue
David Cameron has told ITV News the international mission in Afghanistan will continue despite the Taliban's decision to pull out of peace talks.
Security sources have told ITV News that eight Turkish soldiers and two children have died after a NATO helicopter crashed in the outskirts of Kabul, Afghanistan's capital.
A NATO helicopter, believed to be Turkish, has crashed just outside the Afghan capital of Kabul.
It is thought five people were killed.
Advertisement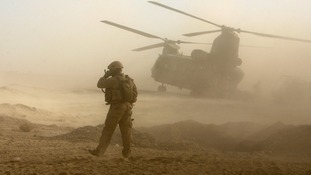 Afghan President Karzai is calling for NATO forces to pull back from villages and remain in base camps after 16 civilians were shot dead.
Read the full story
It is possible that President Karzai is making these comments for a domestic political audience but if he actually means that Nato forces must stay inside their bases, then that would utterly undermine the counter-insurgency strategy.
The strategy is about winning support, elder-by-elder, village-by-village, valley-by-valley, if Nato forces cannot patrol then they will cede vast swathes of territory to the Taliban and that would be militarily catastrophic.
I think the collapse in talks with the Taliban is less significant, after all there was no sign they were going anywhere anyway.
The central problem tonight is that the President and Prime Minister were yesterday standing shoulder-to-shoulder in the Rose Garden saying progress was being made in Afghanistan, but in just 24 hours the central diplomatic and central military strategy is looking in severe jeopardy.
Anyone who has been to Ground Zero will testify it is a remarkable memorial and given its iconic importance in America it is no surprise David Cameron has come here today.
The subliminal message and the often stated message is that al-Qaeda is not defeated but its ability to harm all of us has been degraded.
It is a difficult message to get across on a day when in Afghanistan things are not going very well.
David Cameron has told ITV News' Tom Bradby that the mission in Afghanistan will continue "with or without a political settlement" with the Taliban, after the terrorist group earlier withdrew from preliminary peace negotiations.
Advertisement
US officials have downplayed President Karzai's call for Afghan troops to take the lead for nationwide security in 2013.
Pentagon spokesman George Little said President Obama's transition plan was "consistent with President Karzai's comments today."
He also said it reflected "President Karzai's strong interest in moving as quickly as possible to a fully independent and sovereign Afghanistan".
The White House has said it remains committed to the Afghan reconciliation process, despite the Taliban's announcement of a suspension of talks with the US.
The Taliban in Afghanistan have given an explanation for the breakdown in negotiations with the US:
The US has not fulfilled conditions for peace negotiations to proceed
Peace negotiations with Afghan government are 'pointless'
The main obstacle to talks was "shaky, erratic and vague standpoint of the Americans".
The Taliban in Afghanistan have suspended all talks with the US.
Load more updates
Back to top