Afghan shooting suspect named
US Staff Sgt Robert Bales, the man suspected of shooting 16 Afghan civilians, has arrived back on US soil and is in a high security military prison at Fort Leavenworth in Kansas.
The US soldier accused of killing 16 Afghan villagers, including nine children, has arrived at a maximum-security military prison.
Advertisement
The US army has confirmed that Sgt Robert Bales, the soldier suspected of killing 16 Afghan villagers, will be held in a solitary cell awaiting charges.
The Army confirms that Staff Sergeant Robert Bales was transferred to Fort Leavenworth, Kansas. Bales is being held in pre-trial confinement.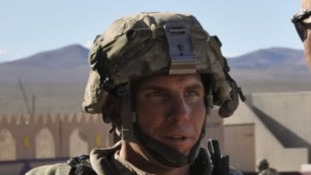 Soldier accused of shooting dead 16 Afghans last week has arrived at Fort Leavenworth to await trial in the US Army's high security prison.
Read the full story
Back to top