Muamba continues recovery
Bolton Wanderers footballer Fabrice Muamba, who suffered a cardiac arrest during a game, was released from hospital a month after his heart attack.
A spokesman for Barts Health NHS Trust has confirmed that Bolton Wanderers footballer Fabrice Muamba has been discharged from hospital. In a statement, Mr Muamba said:
"I am naturally very pleased to be discharged from hospital and would like to take this opportunity to pay tribute to every single member of staff at The London Chest Hospital who have played a part in my care.
Their dedication, professionalism and expertise is simply amazing and I will forever be in their debt. I also wish to say thank you to all the many well-wishers who have sent thousands of messages of support. Now I am out of hospital, I am looking forward to continuing my recovery and spending precious time with my family."
– Fabrice Muamba, Bolton Wanderers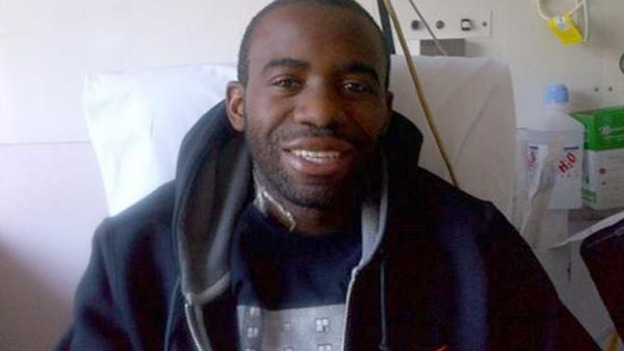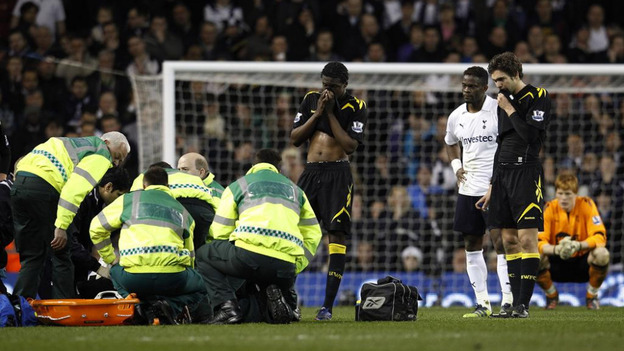 Bolton Wanderers footballer Fabrice Muamba, who suffered a cardiac arrest during a game last month, was today discharged from hospital, Barts Health NHS Trust said.
Advertisement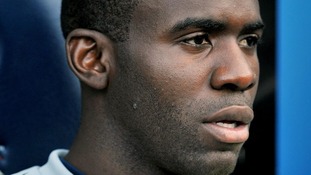 Muamba continues to make "strong and steady improvements" in his recovery from a cardiac arrest as he celebrates his 24th birthday.
Read the full story
Fabrice Muamba's remarkable recovery continues, with manager Owen Coyle today confirming the player has been walking around in hospital less than three weeks after suffering a cardiac arrest.
The Bolton midfielder turns 24 tomorrow.
He has done some short periods of walking down the corridor he is in as part of the unit, staying in intensive care.

He is taking steps, talking and has that big smile which we love to see, so he is certainly progressing the right way.

We are keeping in touch. It has been great to see that smile and he continues to get better.

We have to stress that he still has a long way to go, but the improvement has been remarkable and long may that continue.
– Owen Coyle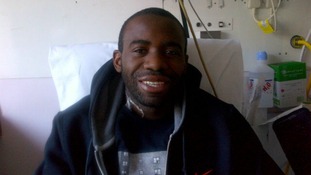 The fiancee of Fabrice Muamba has released a photograph of the Bolton midfielder in his hospital bed, as he recovers in hospital.
Read the full story
A student who mocked soccer star Fabrice Muamba on Twitter after he collapsed with a heart attack lost his appeal against a 56-day jail term today.
Liam Stacey, of Pontypridd, south Wales, sobbed as he was taken away following the failed sentence appeal hearing at Swansea Crown Court.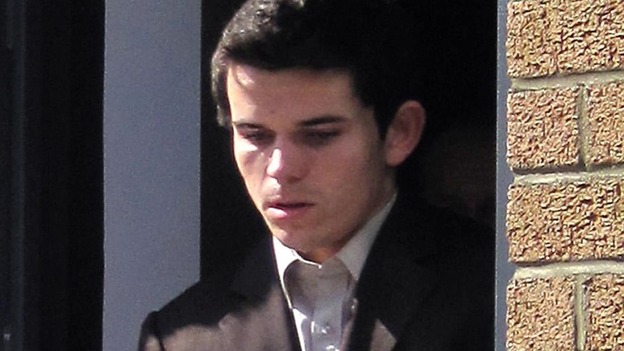 Mr Justice Wyn Williams told the 21-year-old he rejected an argument that Stacey had already been punished enough.
He said the Swansea University biology student had admitted an offence, racially aggravated public disorder, of intent.
Advertisement
University student Liam Stacey, who was jailed for sending offensive messages on Twitter following the collapse of footballer Fabrice Muamba, has had his appeal against his sentence rejected at Swansea Crown Court.
A student who used Twitter to mock footballer Fabrice Muamba after a near fatal heart attack during a FA Cup match, attempts to win his release today.
A handcuffed Liam Stacey, 21, was taken away in tears on Tuesday after being jailed for 56 days for admitting a racially aggravated public order offence.
His lawyers come before a high court judge at Swansea Crown Court today to appeal against the sentence.
Liam Stacey jailed for 56 days for comments made on Twitter about Bolton midfielder Fabrice Muamba.BLOODY GOOD JOB. Be warned idiots !
Liam Stacey jailed for 56 days for what he said on twitter regarding the footballer Fabrice Muamba.People who abuse twitter take note.
So happy that twitter troll Liam Stacey, who was writing disgusting things about Fabrice Muamba has been jailed! Think next time you tweet..
As requested, here's the Fabrice Muamba vid that was shown on the big screen prior to the Blackburn game - http://t.co/YsWp02Bo
Load more updates
Back to top